SDV 3100 HV
Streaming DAC Preamp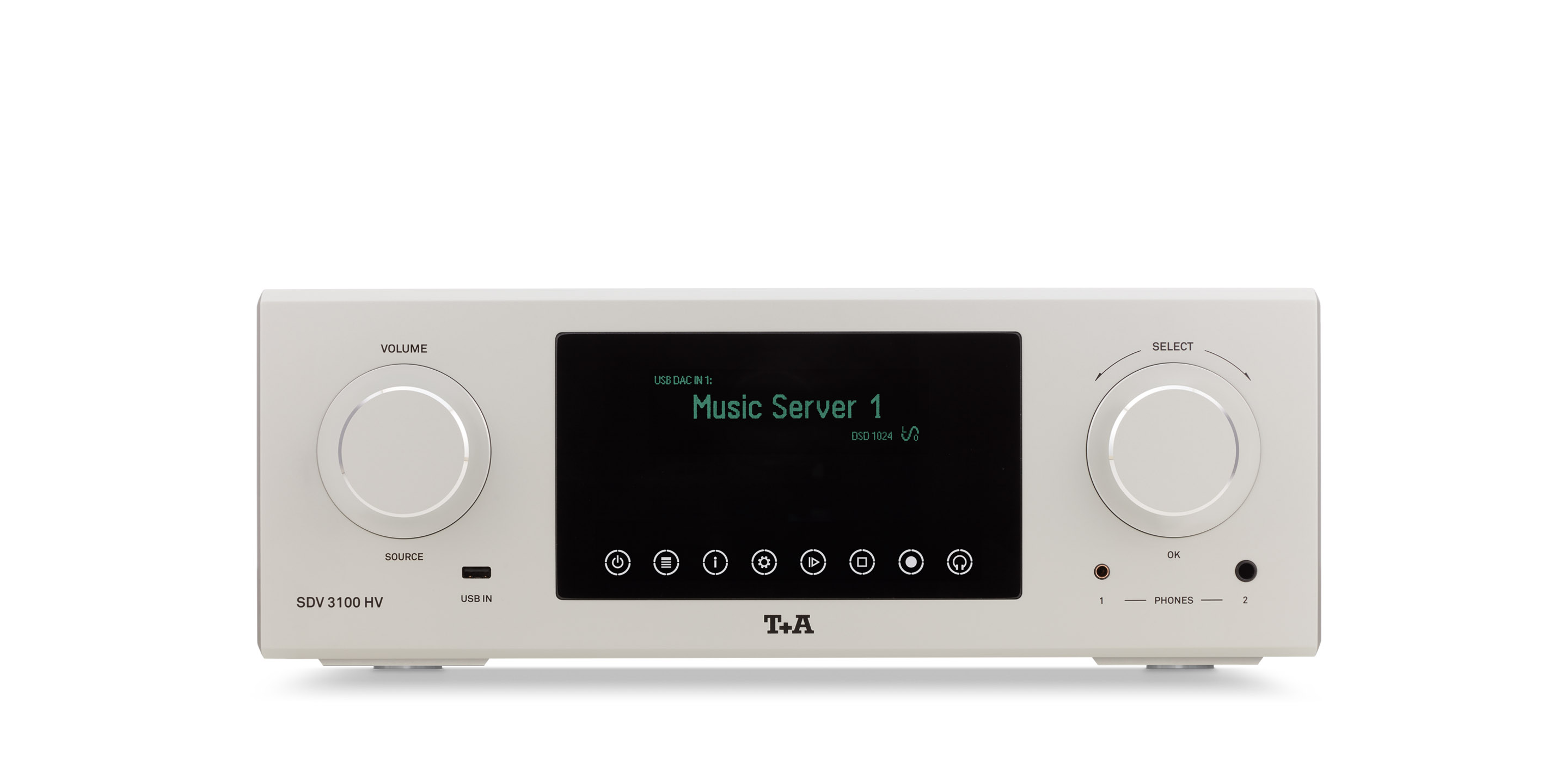 The Streaming DAC Preamp
In the SDV 3100 HV we have now created a digital / analogue converter which is even more complex and sophisticated than our previous converters, allowing us to double previous resolution levels: 32-bit / 768 kHz for PCM and DSD 1024 for bitstream data. This improvement required us to carry out meticulous refinement work on the previous converters, and at the same time develop a completely new USB receiver for these high frequencies.
The SDV 3100 HV and SD 3100 HV are identical in their mechanical and electronic construction except for the pre-amplifier section, which is additionally equipped with the SDV 3100 HV.
The SDV 3100 HV – and also a full HV system – can be controlled using the F 3100 remote control handset or one of the T+A apps.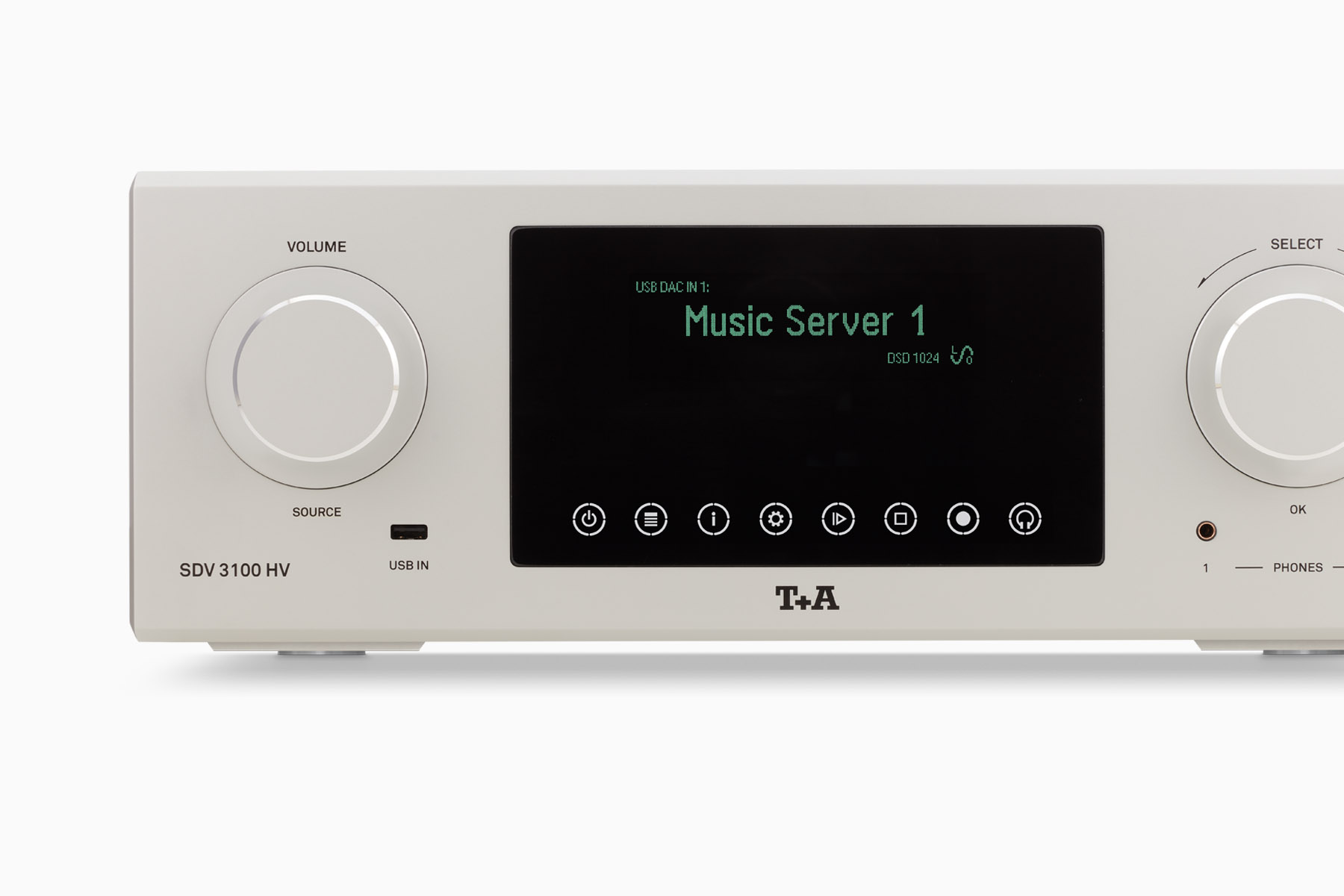 Technology
There are three aspects which have a crucial influence on the sound characteristics of high-quality Hi-Fi equipment: their mechanical construction, their analogue technology and their digital signal processing. Only if the development team balances all three facets perfectly can the device as a whole satisfy the most demanding requirements.
This is why all our HV devices are built of pure aluminium, without any ferro-magnetic materials at all, and features five compartments separated and shielded by aluminium dividing walls.
The current / voltage stages – crucial to sound quality – which follow the D/A converter stages are of totally discrete, channel-separate construction, and feature our HV technology, as does the analogue output stage. This ensures that a pre-amplifier or integrated amplifier connected to it are fed the ideal input signal.
Audiophile music enthusiasts like to use high-quality headphones, that's why we have build in a particularly good, high-performance analogue headphone amplifier.
The SDV 3100 HV is fitted with the volume control module of the P 3000 HV and has one analogue input, enabling it to be employed as pre-amplifier in a complete HV system.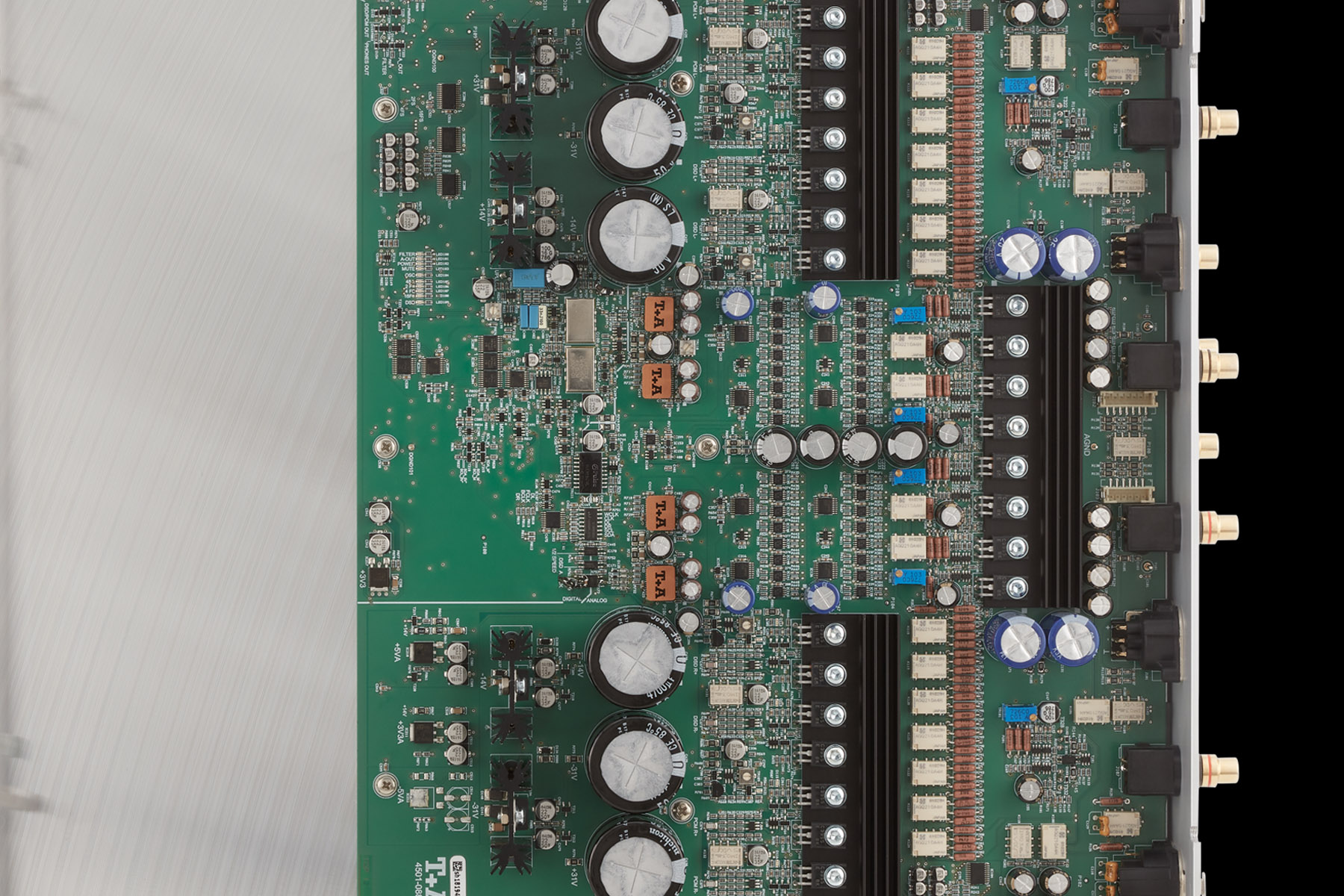 Frequency response +0 /-3dB
0,5 Hz - 300 kHz
Signal / noise ratio
108 / 112 dB
THD | Intermodulation | Channel separation
< 0,001 % | < 0,001 % | > 108 dB
Nominal input sensitivity
High level (RCA) | Balanced (XLR)
250 mVeff ... 9 Veff / 10 kOhm | 500 mVeff ...18 Veff / 20 kOhm
Analogue output RCA | XLR
nom 1 Veff, max 9,5 Veff / 50 Ohm | nom 1,45 Veff, max 19,6 Veff / 50 Ohm
Headphone output
6,3 mm Klinke (6 Ohms) and 4,4 mm Pentaconn (6 Ohms)
Digital output
1x coax, IEC 60958 S/P-DIF (LPCM)
Digital inputs
1 x AES-EBU 32...192 kHz / 16-24 Bit
6 x S/P-DIF:
2 x Standard Coax
2 x high quality BNC 32...192 kHz / 16-24 Bit,
2 x optical TOS-Link 32...192 kHz / 16-24 Bit

2 x USB DAC:
Device-Mode with max. 768 kSps (PCM) und DSD 1024*,
supports asynchronous data transfer.
*DSD512 und DSD 1024 with Windows PC with appropriate driver installed or Linux PC with 4.4 Kernel or higher only.

2 x USB Master-Mode for USB-Mass storage (Stick or HDD)
2 x HDMI IN, 1 x HDMI OUT with ARC
1 x IPA (LVDS)

Network connection
LAN: Fast Ethernet 10/100/1000 Base-T,
WLAN: 802.11 b/g/n
PCM
Double-Differential-Quadruple-Converter with four 32-Bit Sigma-Delta D/A-Converter per channel. 705,6 / 768 kSps conversion rate
DSD
T+A-True-1Bit DSD D/A-Converter, up tp DSD 1024 (49,2 MHz), native bitstream
Upsampling (PCM)
T+A-Signalprocessor – synchronous upsampling
with 4 selectable oversampling algorithms
FIR short, FIR long, Bezier/IIR, Bezier
Analogue filter
Phase-linear Bessel filter 3rd order, switchable
with 60 or 120 kHz cut off frequency
Frequency response
PCM 44.1 kSps: 2 Hz - 20 kHz
PCM 48 kSps: 2 Hz - 22 kHz / DSD 64: 2 Hz - 44 kHz
PCM 96 kSps: 2 Hz - 40 kHz / DSD 128: 2 Hz - 60 kHz
PCM 192 kSps: 2 Hz - 80 kHz / DSD 256: 2 Hz - 80 kHz
PCM 384 kSps: 2 Hz - 100 kHz / DSD 512: 2 Hz - 100 kHz
PCM 768 kSps: 2 Hz - 120 kHz / DSD 1024: 2 Hz - 120 kHz
Channel separation
> 110 dB
Formats / Standards
MP3, WMA, AAC, OGG Vorbis, FLAC, WAV, AIFF, ALAC / UPnP AV, T+A Control
Data rates
PCM 32...192 kHz,16/24 Bit; MP3 bis 320 kBit,
variable and constant bit rate
Music services
Tidal, Deezer, qobuz (Subscription required)
Features
Gapless Playback for MP3 (Lame), WAV, FLAC
T+A MusicNavigator App for iOS und Android
Internet Radio
Airable Internet Radio Service (> 11000 Stationen weltweit)
FM, FM-HD
87,5 - 108 MHz; sensitivity 1 µV; S/N > 65 dBA
DAB, DAB+
168 -240 MHz (Band III); sensitivity 2,0 µV, S/N > 96 dBA
Features
RDS/RDBS, Stationname (PS), Programm type (PTY), Radiotext (RT)
Bluetooth Standard / Codec
A2DP (Audio), AVRCP 1.4 (Control) / aptX®, MP3, SBC
Mains / Accessories / Dimensions
Mains
2 x 110-120 V or 220-240 V, 50-60 Hz
Operation: 2 x 40 W
Dimensions (W x H x D) / Weight
17 x 46 x 46 cm / 26 kg
Accessories
2x power cord, remote control F 3100, BNC adapter
Finishes
silver laquer 47 or titanium laquer 64
NASZYM ZDANIEM
Nie mam zadnych watpliwosci, ze zestaw T+A składajacy sie z transportu CD/SACD PDT 3100 HV i przetwornika SDV 3100HV to jedno z najbardziej wszechstronnych i najnowoczesniejszych,
ale i najlepiej brzmiacych zródeł cyfrowych, jakie mozna dzis kupic.
Nie wyobrazam sobie, by mozna było nie docenic tego, z jak fantastycznym połaczeniem własciwie wszystkich pozadanych przez
miłosników muzyki i audiofilów cech, mamy tu do czynienia. Mozna sie pokusic o stwierdzenie, ze ten dzielony odtwarzacz bardziej trafi
w gusta osób preferujacych geste, niezwykle bogate i muzykalne brzmienie, ale nie da sie zaprzeczyc, ze dorzuca do tego znakomita
rozdzielczosc, ze gra w czysty, uporzadkowany i bardzo energetyczny sposób. Czego mu wiec brakuje? Jak dla mnie – niczego!
Hirn trifft Herz
Der Streamer-Wandler-Vorverstärker SDV 3100 HV hat bei jedem Musikliebhaber, der sich nur annähernd in einer solchen Preisklasse bewegen kann, einen Platz ganz weit oben auf der Favoritenliste verdient. Der gilt selbstverständlich auch für das PDT 3100 HV Referenz CD/SACD-Laufwerk, das mit seinem reinrassigen Audio-SACD-Laufwerk von Sony einen erstaunlichen Beitrag zur gemeinsamen Performance der T+A-Geräte leistet. Bei T+A funktioniert nicht nur die Theorie, sondern auch die Anwendung. Und wie!

The Absolute Sound 3/2020 Editor´s Choice
The SDV 3100 HV DAC/preamp must be one of the most sophisticated and comprehensive digital products ever made. Able to handle virtually any of today's formats, the SDV 3100 HV boasts a host of advanced digital and analog circuits that have been refined over the company's 40-year history, including custom digital filters, advanced upsampling algorithms, dual-differential DACs, and a custom discrete DSD converter with an entirely separate signal path. Sound quality is exceptional in all formats and modes, with the PCM conversion approaching the best out there, and DSD reproduction in a class by itself. The battleship build-quality, extensive features, fabulous casework, and beautiful fit 'n' finish suggest a product of twice the price.
The Absolute Sound 1/2020
The pinnacle
Beautifully built, highly capable, feature-laden, and a joy to use, T+A's SDV 3100 HV DAC and PDT 3100 HV CD/SACD transport are at the pinnacle of digital's ascent from the early CD players
to today's highly sophisticated machines. The vast array of formats accessible by the SDV, coupled with the superb user interface, opens up a vista of musical discoveries.
The SDV 3100 HV and PDT 3100 HV exemplify the astonishing transformation of the CD player into a highly sophisticated multi-format platform. In my view, there is no better way to exploit
today's vast array of options for accessing and enjoying digital music than via this T+A duo.
Unvorstellbar
Wir sind ein bisschen stolz, wir freuen uns: Die beste Quelle, die uns je begegnet ist, stammt aus Deutschland. T+A hat mit dem SDV 3100 HV eine neue Welt erschaffen – in der Entwicklung, im Finish und vor allem in der Klangqualität. So kühl die Komponente von außen aussieht, der hörbare Output glüht vor Intensität. Hier gibt es ein unvorstellbares Maximum an Informationen und Emotionen. 24900 Euro sind grausam teuer. Aber: Dafür bekommt man das Vollkommene.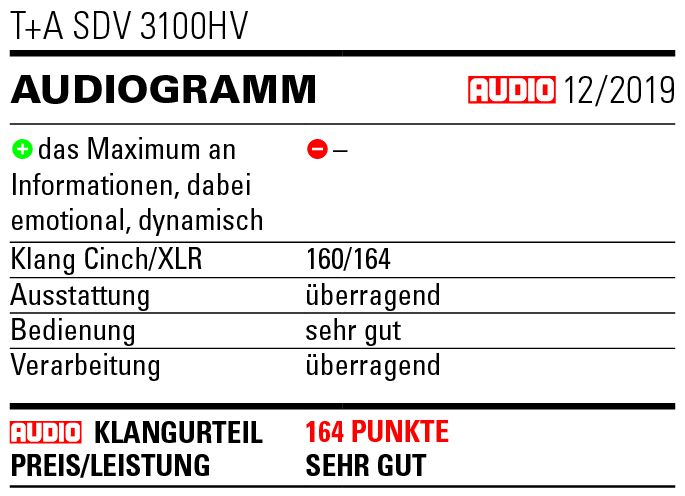 T+A PDT/SDV 3100 HV
Towering in every sense, this T+A digital pairing is both a massive engineering achievement and a fabulously refined way to bring together the two worlds of physical media and file-based / streaming music. It´s as future proofed as you might hope for, and while not exactly red in tooth and claw, it transcends mere sonic firework by reproducing the most bombastic musical event with unmistakable style.
Der Perfektion verpflichtet
Das in jeder Hinsicht perfekte Anschluss- und Featurewunder SDV 3100 HV repräsentiert die derzeit wohl vielseitigste digitale Quell- und Schaltzentrale sowie einen schon unglaublichen DAC und bietet sich obendrein als Vorverstärker an. Der Klang übertrifft sogar die angesichts des Preises sehr hohen Erwartungen.
Klangurteil: 100 Punkte
Willkommen in der Weltspitze
Ein Tausendsassa, der alles kann – und alles auf höchstem Niveau. Dazu gesellt sich die ebenso aufwendige wie piekfeine Verarbeitung und der umfassende Bedienkomfort dieser ultramodernen Medienzentrale bis hin zu ultimativen Datenraten. Mehr geht nicht.

For a period of three years after last distribution of this product or its firmware, T+A offer the right to any third party to obtain a complete machine-readable copy of the corresponding source code on physical storage medium (DVD-ROM or USB stick) for a charge of 20€. To obtain such copy of the source code, please write to the following address including information about product model and firmware version: T+A elektroakustik, Planckstr. 9-11, 32052 Herford, Germany.
For a period of three years after the last sale of this product or its firmware, T + A offers any third party the right to receive a complete machine-readable copy of the corresponding source code on a physical storage medium (DVD-ROM or USB stick) for a fee of € 20 to obtain. In order to receive such a copy of the source code, please write to us, specifying the device type of the relevant product and the firmware version:T+A elektroakustik, Planckstr. 9 -11, 32052 Herford, Deutschland