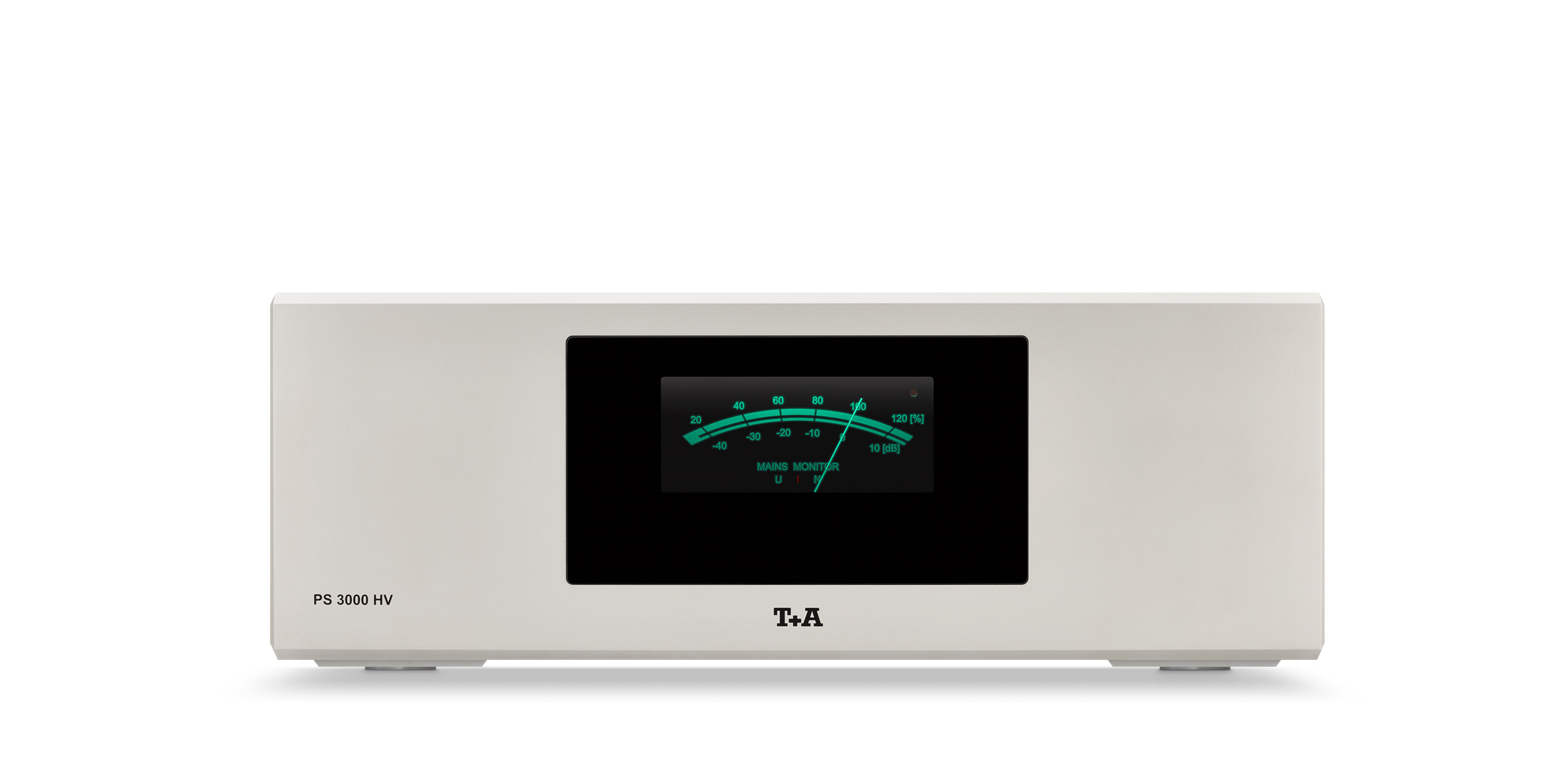 The Power Supply
The PS 3000 HV is a supplementary mains unit which was developed specifically for the A 3000 HV power amplifier and the PA 3100 HV integrated amplifier. Both deliver more than 500 Watts of power into 4 Ohms, and at such a high level of sound quality and performance that simply increasing the output power – and with it the voltage – produces no significant improvement in sound. Our research and development work in high-performance amplifiers – including the M10 and S10 – and the development of the HV design philosophy which flowed from this work, have shown clearly and unambiguously that the stability of the voltage and current supplied by a mains unit is of major and even crucial importance to the sound quality of an power amplifiers. From this we have drawn the only rational conclusion, and developed a supplementary external power supply.

The principle is ingenious, and functions in the following way: if the PS 3000 HV is connected to the A 3000 HV or PA 3100 HV using the special PowerLink with M 23 high-current connectors, the A 3000 HV's or PA 3100 HV internal power supply is used to supply energy to the input stages and the high-voltage amplifier; much lower power is required for this part of the system, and as a direct result the interference generated in the A 3000 HV or PA 3100 HV itself is much lower. The external PS 3000 HV supplies the energy for the output stages, i.e. it is responsible for the high currents required by the power output stages. With an output of 1200 VA the PS 3000 HV is substantially more powerful than the mains unit of the A 3000 HV or PA 3100 HV itself, and can also call upon twice the reservoir capacity. The net result is a substantial improvement in the current delivery capacity and stability of the system as a whole.
Show more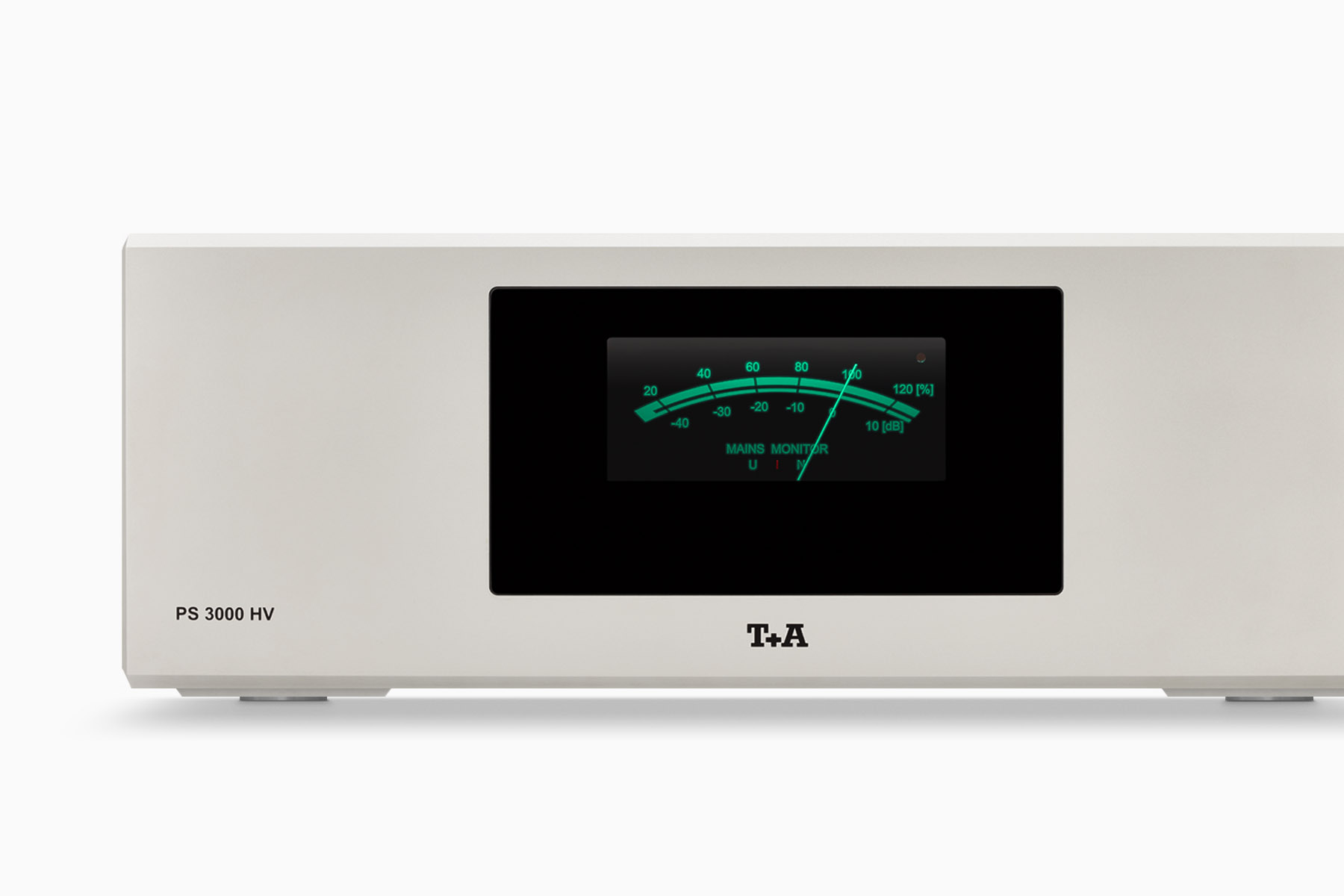 Technology
The great advantage of this arrangement in terms of sound quality is that the A 3000 HV is effectively isolated from the load currents and mains-induced interference which can have an adverse effect upon sound quality.
The PS 3000 HV is controlled completely by the A 3000 HV/PA 3100 HV amplifier via the HLink bus and the PowerLink connection. For each A 3000 HV one PS 3000 HV is required if you want to improve the power supply.
The heart of the PS 3000 HV is a 1200 VA transformer which is painstakingly encapsulated and potted in an aluminium ring. The insulating compound material completely saturates the windings and bonds them together, thereby eliminating any risk of mechanical movement in the winding wires! The encapsulated transformer is effectively shielded, and is screwed to the 10 mm thick base plate with bi-directional resonance absorbers as mechanical de-coupling measure.
This tremendously sophisticated arrangement is used in all HV-series machines, and effectively prevents any hint of unpleasant transformer hum despite the enormous power levels.
The transformer's huge power requires a corresponding level of reservoir capacity: 24 high-performance 100 V capacitors with low inductivity provide 240,000 µF of reservoir capacity. Internal resistance and inductivity are further reduced by parallel wiring, with the result that the mains unit is able to deliver vast quantities of energy up to 1200 Joule almost without time delay, even when required to cope with extremely fast peak signals.
To ensure that all the household fuses are not instantly tripped when the system is switched on, all HV devices are equipped with a Soft-Start function: the control processor limits the initial power-on current, and only allows the machines to ramp up gradually!
The large VU meter can be set up to display various items of information such as the power supply voltage or the current delivered.
Show more
Reservoir capacity
240000 μF
Mains / Accessories / Dimensions
Mains
110-120 V/60 Hz or 220-240 V/50 Hz / 1800 W
Dimensions (H x W x D)
17 x 46 x 46 cm
Finishes
Case: silver laquer 47 or titanium laquer 64
Heat sink: black 42
Technical modifications reserved
The PA 3100 HV, despite its size, is the antithesis of a big bruiser amplifier. More BMW than Porsche, it delivers a refined confident listening experience with excellent weight, poise and speaker-driving ability. The improvements brougth by adding the power supply PS 3000 HV are noticable enough – the sound becomes even more surefooted –  but justifying the extra outlay will be a matter of personal preference.
Zart mit eiserner Faust
Ohne langes Wenn und Aber einer der vielleicht zwei,drei besten Vollverstärker überhaupt. Klanglich absolut souverän, aber auch zart und eindringlich. Diese an sich unmögliche Kombination aus PA 3100 HV und PS 3000 HV hat ihren Preis – und ist ihn auch wert.
Kraft für Zwei
Unglaublich faszinierend klingender Endverstärker der absoluten Top Liga. Enorme Leistung und Stabilität mit gleichzeitig luftigem wie voluminös-souveränem Klangbild. Wunderbar. Topreferenz.
Mit dem Extra-Netzteil nimmt die Kontrolle im Klangbild nochmals zu. Der Bass wirkt nun staubtrocken, wie in einen Schraubstock gespannt. Das gesamte Klangbild wird moderner, kontrollierter und straffer.

Unendliche Weiten
Die T+A-Komponenten spielen so geschlossen, wie man es von solch immensen Bauteilvorkommen nicht erwartet. Auffällig ist allerdings die Geschmeidigkeit und Luftigkeit des Hochtons, den ich in dieser Qualität bisher nur bei Verstärkern erleben durfte, die keine derart exemplarische Kontrolle im Bass bieten konnten.
Apropos Investitionen: Die drei HV-Komponenten von T+A haben meine Maßstäbe verschoben. Sie haben etwas geschafft, was anderen, auch teureren Kollegen vor Ihnen nicht gelang.
Kraft-Werk – Auf der Suche nach dem allerfeinsten Klang scheint es keine Grenzen zu geben.
Fazit: Mit der P 3000 HV / A 3000 HV hat sich T+A ein eigenes Denkmal gesetzt. In 30 Jahren wird man sagen: "Das war die ultimative Vor-/Endkombi."
Die Ergänzung mit dem Zusatznetzteil PS 3000 HV brachte überraschenderweise weniger "Qualm" als vielmehr kräftigere, leuchtendere Klangfarben ins Spiel. Insgesamt wirkte die aufgepimpte Kombi mit der Zusatzversorgung noch eine Spur agiler.

T+A's 'no compromise' HV series components are designed for the luxury audiophile market. In that context, this latest amp combo is sensational value. We've said this so often of T+A's separates there's a danger of it becoming tedious: if they were made by a boutique audio manufacturer they'd come with price tags two or even three times larger. Little wonder the German company is selling them hand over fist.