CALA CDR
Streaming CD Receiver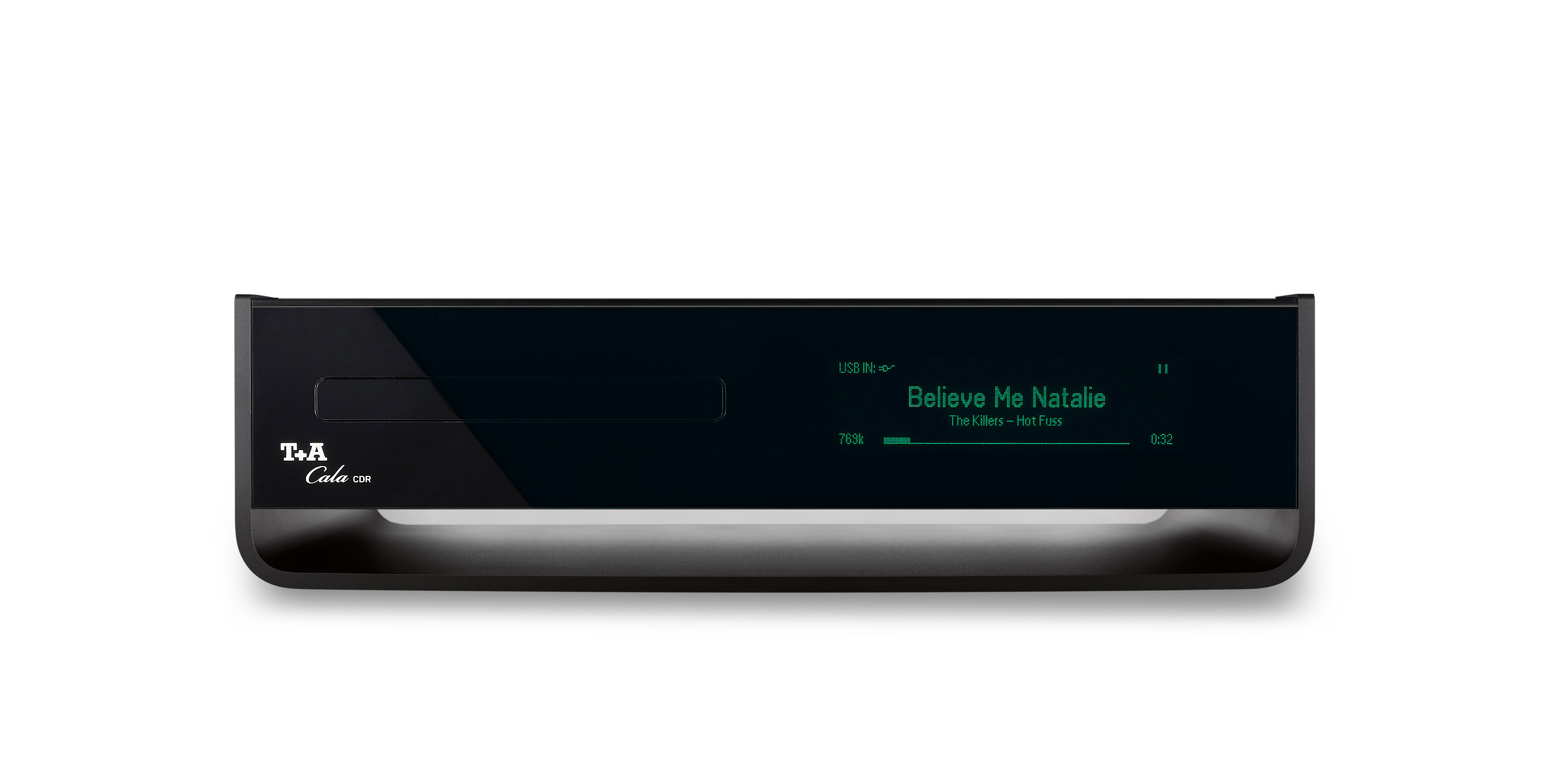 The Streaming CD Receiver
The CALA® CDR is the larger model in the CALA® Receiver range. From the point of view of overall design philosophy and technical facilities the machine is a close relative of the CALA® SR, but it also features a high-quality CD mechanism, output stages with twice the power, and a high-performance mains section. 100 Watts continuous power is available per channel, which is ample for use with large loudspeakers. To accommodate these additional features the case is larger and heavier, but it remains very compact, and maintains the same overall design and proportions as the CALA® SR. Since both devices are based on one and the same motherboard, their music sources and connection facilities are also identical. The plinth of CALA® receivers can be illuminated, since we have integrated an LED strip light in the rear part of the machine's backplate. For ambient lighting you can choose between different color modes and white, blue, green and red light, and the intensity of the lighting is user-variable.
The machine's high-performance digital signal processor makes it simple and convenient to set it up to suit individual system configurations. For example, it is possible to switch off inputs which are not required, and the sensitivity of one analogue input can be switched to act as a phono MM and High output MC preamplifier. For operation in a surround system the device features a Surround-Pass-Through Mode.
A further feature is a range of sound fields designed to achieve optimum sound quality under a variety of conditions and positions, catering also for relatively small loudspeakers. A bass management system regulates all settings if a subwoofer / satellite system is employed.
Show more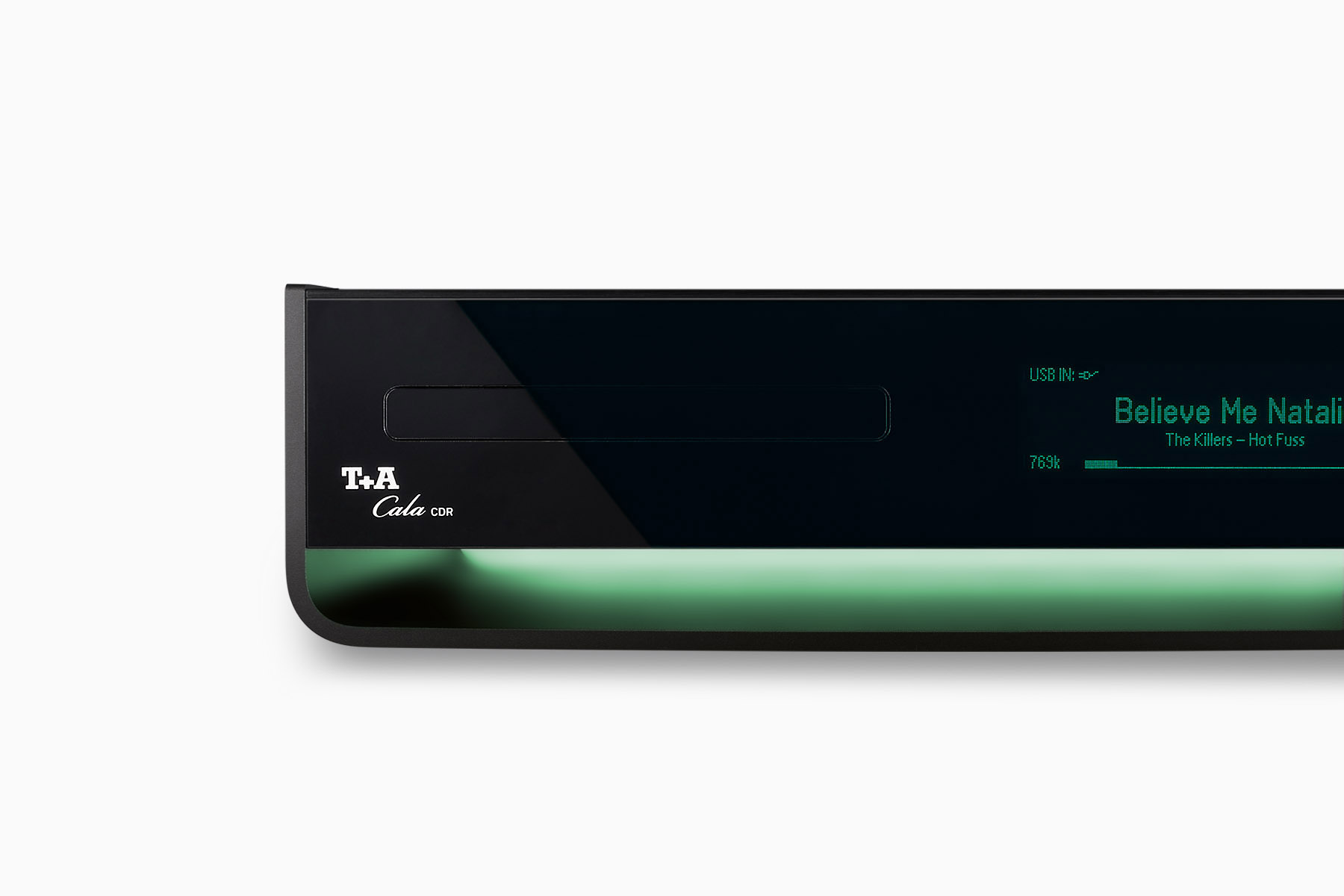 Technology
For the CALA® receivers T+A has developed an ingenious fully digital design principle which performs the entire signal processing in the digital domain. This provides a crucial improvement in sound quality, since it eliminates the need for the additional conversion of digital sources; all the data processing is carried out consistently in HD audio quality.
The CALA® is a versatile, fully featured receiver with a great performance, and this is only possible through the use of the latest technologies and components. All the audio signal processing is carried out by a high-performance digital signal processor which generates the sound fields for various set-up conditions and virtual surround, controls – where necessary – all the tone settings and cut-off frequencies for the primary loudspeakers and sub-woofer (bass management), processes and controls the output signals for the speaker channels, and converts the two analogue inputs into digital data, so that these can also be processed digitally.
The integral amplifiers are based on high-speed bridged switching output stages with high continuous power and current delivery capacity. Their output is sufficient even for large loudspeakers and spacious listening rooms. A mains section which is very stable under load makes ample energy available at all times. Naturally a sophisticated protective circuit monitors all the machine's operating states.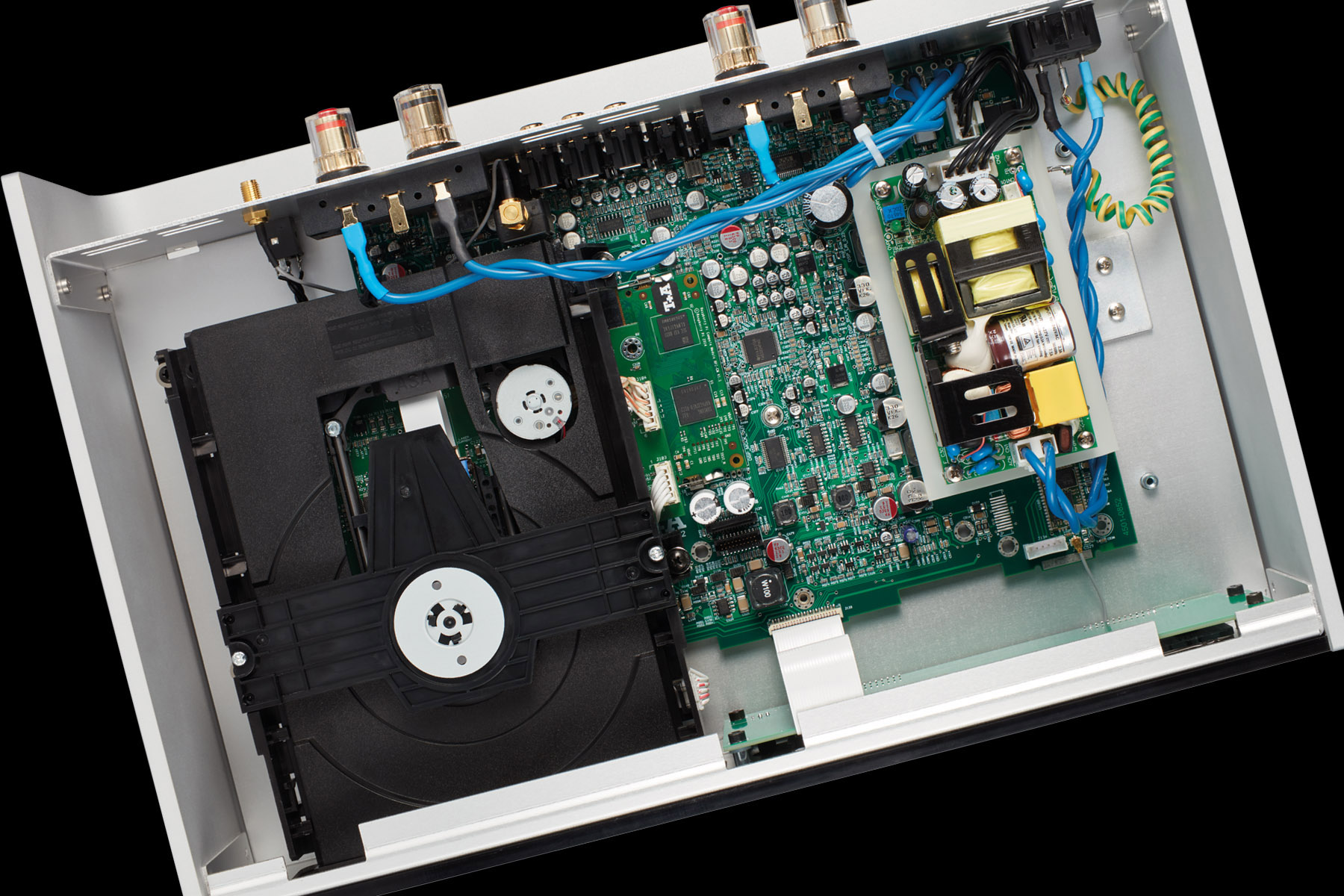 Formats
CD/DA, CD-R, CD-RW
Frequency response
2 Hz - 20 kHz / 100 dB
Formats
MP3, AAC, OGG-Vorbis, FLAC, WAV, AIFF, ALAC
Data rates
PCM 32...192 kHz,16/32 Bit; MP3 up to 320
kBit; constant and variable data rate
Features
Gapless Playback for MP3 (Lame), WAV, FLAC
T+A MusicNavigator App for iOS and Android
Services
Tidal, Deezer, qobuz, Roon Ready
(subscription required)
Interfaces
LAN: Fast Ethernet 10/100 Base-T,
WLAN: 802.11 b/g/n with WPS
Protocol
A2DP Bluetooth audio protocol AVRCP control
MP 3, AAC, SBC
Mode
2 x USB 2.0 Mastermode
Internet Radio
airable Internet Radio Service
(> 11000 Stations worldwide)
FM, FM-HD
87,5 - 108 MHz;
Sensitivity 1 μV;
S/N > 65dBA
DAB, DAB+
168 -240 MHz (Band III);
Sensitivity 2,0 μV,
S/N > 96 dBA.
Features
RDS/RDBS, Station name (PS), Program type
(PTY), Radiotext (RT), Clock
Inputs
2 x Aux adjustable sensitivity. Phono and
Surround-Pass-Through Mode configurable.
SP/DIF: 2x coax (192kHz), 1x TOS-Link (96kHz)
Nominal output per channel
100 Watts into 4 Ohms
Total harmonic distortion
< 0,02 %
Sound management
DSP controlled sound characteristics /
Virtual Surround
Bass management
Full range, 40 Hz, 60 Hz, 100 Hz, 150 Hz
Outputs
Pre-Amp, Subwoofer, Headphone
digital IEC 60958 (CDDA/LPCM)
Mains / Accessories / Dimensions
Mains
100 - 240 V, 50 - 60 Hz
Power consumption max.
200 Watts
Power consumption idle
13 Watts
Auto power off function
yes (after 90 minutes without audio signal)
Accessories
IR-remote control FM1000; WLAN-antenna;
power cord, user manual
Dimensions (H x W x D)
10,5 x 37 x 24,5 cm /
4,1 x 14,9 x 8,6 inch
Finishes
Case: Alu silver 43 or Alu black 42,
Front: Acrylic black 91
Technical modifications reserved
Update your CALA CDR to the latest firmware. Select the "Device Info" menu item in the device configuration menu. Now select "Update" and confirm the set selection "WEB". Wait until the update is finished. Make sure that your PC and your CALA CDR are connected to the same network. Next, sign up for a Roon membership and download Roon for your PC or MAC. You can also download the Roon app for Android or iOS devices.
For a period of three years after last distribution of this product or its firmware, T+A offer the right to any third party to obtain a complete machine-readable copy of the corresponding source code on physical storage medium (DVD-ROM or USB stick) for a charge of 20€. To obtain such copy of the source code, please write to the following address including information about product model and firmware version: T+A elektroakustik, Planckstr. 9-11, 32052 Herford, Germany.
For a period of three years after the last sale of this product or its firmware, T + A offers any third party the right to receive a complete machine-readable copy of the corresponding source code on a physical storage medium (DVD-ROM or USB stick) for a fee of € 20 to obtain. In order to receive such a copy of the source code, please write to us, specifying the device type of the relevant product and the firmware version:T+A elektroakustik, Planckstr. 9 -11, 32052 Herford, Deutschland
Cala Ad Astra
Früher – war die Welt nicht besser. Die All-in-One-Komponenten ka-men als raumfressende Monstren daher, ohne wirklichen Vorteil ge-genüber den Einzelkomponenten. Die T+A Cala CDR zeigt eine Ent-wicklung und gewaltige Vorteile: Der Signalfluss hat Stringenz, das Konzept ist schlüssig, klangstark und elegant bis in die feinste Ver-ästelung der Bedienung. Der Preis ist nicht klein, aber angesichts der Fülle der Optionen fast bescheiden.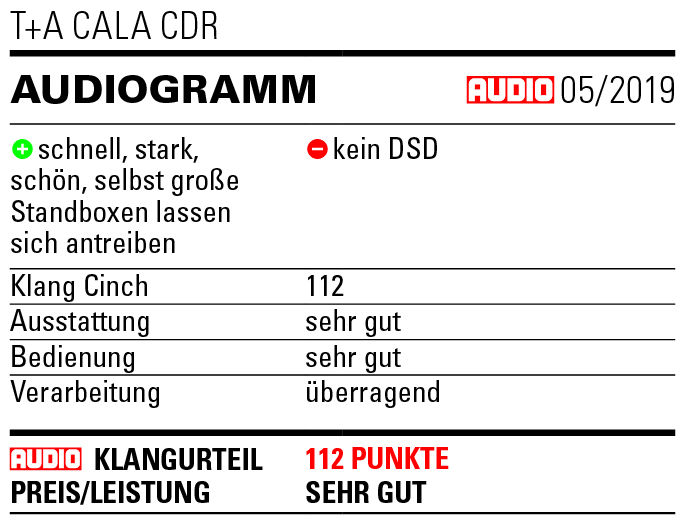 Colourful Cala
If you want a single box to do everything the T+A Cala may just be the right choice. A comprehensive range of inputs allied to a rich sound.
An excellent one-box-system. Flexible, good-sounding and able to handle a wide range of inputs.

Gutes Aussehen und reichlich Funktionaliäten sind bei T+A nur die Kirschen auf der Audio-Sahne. Denn auch in einer weniger eleganten Version oder mit einem Bruchteil der Eingänge und Features wäre CALA CDR noch begehrenswert, denn klanglich steckt in diesem Alleskönner echte T+A-Qualität. Wer also "hervorragende Streaming-Server-Receiver-Verstärker-CD-Spieler" meint, darf ab sofort T+A CALA CDR sagen.
Den gesamten Test lesen… Den gesamten Test lesen…

Komplettanlage neu definiert
Die CALA CDR ist T+As gelungene Neu-Interpretation der beliebten Musiktruhe aus den 1950er und -60er Jahren. Das originelle Design, die gute Verarbeitung Made in Germany, vor allem aber die umfassenden Anschluss- wie Einstellmöglichkeiten dieses Multi-Source-Streaming-CD-Receivers lassen das Pendel weit zu Gunsten der T+A CALA CDR ausschlagen.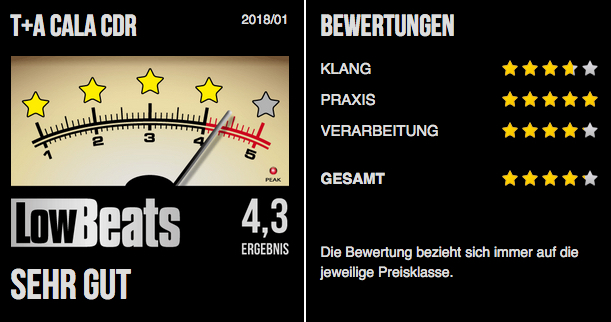 Rich and impressive
This little package can pound out music without losing its details.
Compact, solidly put together and stylish – well, once you tame the
lightshow – this little system takes the qualities of past T+A Cala
models and ups the game with an excellent mix of performance and
flexibility.
Toller Ton, tollers Bild
Ein klasse Allrounder, diese CALA: extrem vielseitig, kompakt und im edlen Outfit, klanglich ausgezeichnet –  und auf Wunsch sogar mit Beleuchtung.
Mit allen klassischen und neuzeitlichen Funktionen ausgestattetes Universalgerät mit tollem Klang, das auch den UKW und DAB+ Empfang nicht vernachlässigt.

So geht kompakt

Unschlagbare Vielfalt trifft moderne Form bei diesem Multitalent-Receiver der einen ganzen HiFi-Turm ersetzt. Bedienung und der feinsinnig lebendige Klang werden viele Design-Käufer zu Highendern machen. So gehört die Cala + Pulsar R 20 Kombi mit Sicherheit zu den weltbesten Kompaktanlagen.