Speaker Hex
All T+A cables feature very good frequency neutrality and low inductivity values. Damping ratios are excellent due to the optimum combination of resistance (cable material), inductivity and capacitance (construction and insulation), and this provides the essential basis for well-balanced sound. Speaker Hex has a large overall cross-sectional area, and is fitted with six twisted stranded copper conductors.
Shielding takes the form of PE monofilament braid and an anti-static external sleeve with an anti-static additive; the latter gives the cable its carbon colour, and significantly reduces surface resistance. The cable terminates in solid aluminium sleeves with an integral ferrite RF ring, each routing three stranded conductors to the high-end BFA banana plugs or optional spades terminals with rhodium-plated surfaces of superb quality.

Show more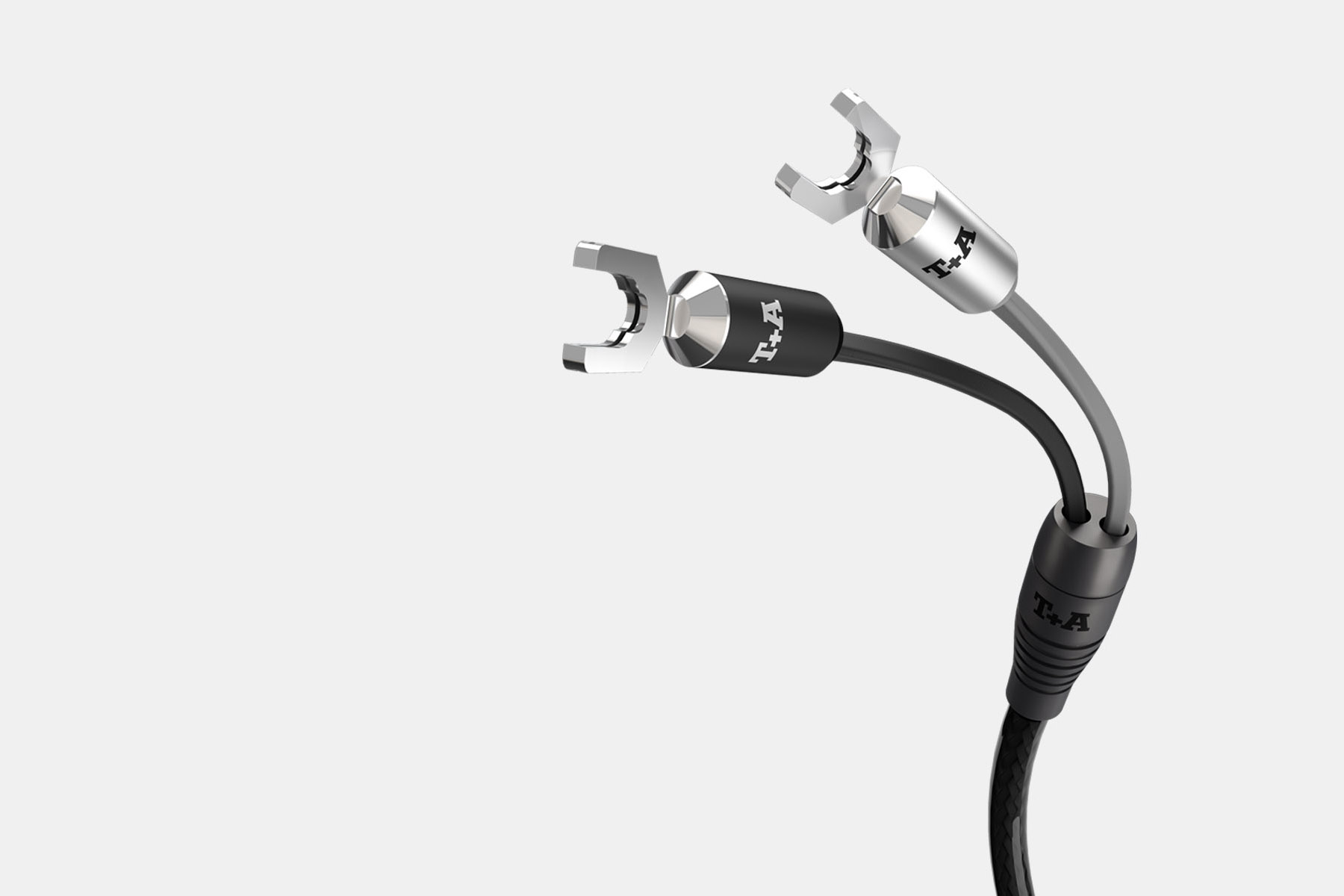 Technology
This round cable consists of six groups of ultra-pure oxygen-free copper conductors, each containing 37 strands, insulated with high-quality PE. The six groups are tightly wound around a core of three twisted PE braids, and are colour-coded in such a way that three opposed bundles are wired to each channel. This assembly is enclosed in a carbon-coloured monofilament sleeve which provides mechanical damping. The outer sleeve is extruded onto the internal components. The external sleeve is a very close, tight fit, in order to prevent any tendency to breathe or pulsate even when very high currents are flowing. An anti-static agent is added at the production stage to prevent static build-up. Despite an outside diameter of just 9 mm, the total cross-sectional area is twelve square millimetres. The net result of this sophisticated construction is extremely well balanced measured data, constant over all frequencies and all parameters. This is the key to the superb sound of Speaker Hex.