Support K 8 – 7.1 Blu Ray Receiver
Since the machines of the T+A K-series incorporate modules which exploit innovative Flash technology, it is possible to update the machine's software without opening the case.
The current update package is available for this version of the machine. It offers the following new features:
T+A K8   Version: P 1.43 (25/06/14)
ATTENTION:
The K8 with main processor V1.xx can be used only in conjunction with the BluRay firmware Update to BD_firmware_REG_B_Ver_4 from 04.05.2012 (Region B) / BD_firmware_REG_C_Ver_4 from 11.05.2012 (Region C).
– When the main processor version is V2.xx no update of the BluRay module is necessary.
– The update process may be interfered by devices which have been connected to the serial interface of the K8.
– This is particularly true for connected LOEWE TVs.
– So please disconnect the serial connection or the mains cable of the connected device before starting the update !!!
New / improved functions: (GEN) = General, (SCL) = Streaming Client, (VID) = Video, (GW) = Gateway, (BD) = BluRay Player, (VID) = HDMI/Video
GEN
– Added basic TV control für Loewe-chassis 2xx.
Firmwareupdate via USB-stick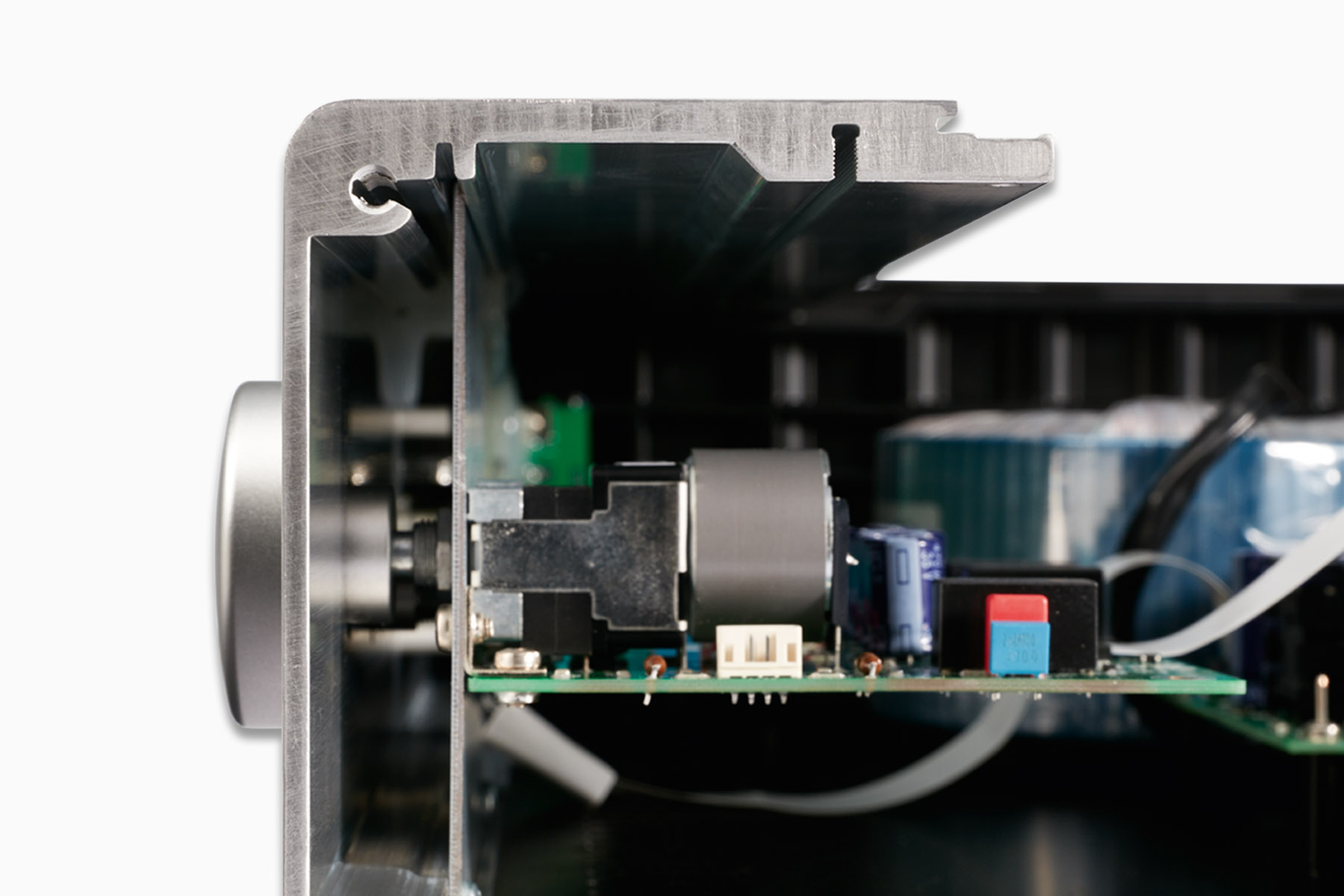 Drive
3-laser BluRay linear drive on vibration dampening subchassis
Playable media Video
BluRay Disc, DVD, VCD, SVCD
Playable media Audio
CDDA (Audio CD), MP3 CD, CD R, CD/RW, Hybrid SACD CD Layer
Playable media Photo
JPEG, Picture Disc
Container + other formats
MKV, MPG, AVI, VOB, MP4, WMV
Other features
BD-Live (with external USB memory stick)
Movie mode 1080p/24 Hz, extended colour space (xvYCC)
Formats
MP3, WAV, FLAC, AAC, OGG-Vorbis, WMA (WMDRM 10)
Bit rates all formats
8 … 48 kSps / 16Bit, variable bit rate (VBR)
Other bit rates WAV, FLAC
96 kSps / 24Bit
Media server, network memory (PC, NAS)
UPnP AV + DLNA compatible streaming servers
Internet Radio
Web radio with vTuner internet radio service
Interfaces LAN
Ethernet 10/100 Mbit
Interfaces USB
1x USB 2.0 for memory stick or harddisk drive (HDD)
1x USB 2.0 for iPod or 2nd memory stick / HDD
Other features
Favourite lists, station memory for web radio stations
Digital iPod audio playback
Charging function for iPod
iPod
Playback of audio and video files from iPod incl. iPod navigation and remote control
Strong signal immunity
> 125 dBμV
Stereo crosstalk suppression
> 40 dB
RDS functions
Station name, programme type, radio text, clock
Other features
Station lists, station memories (presets)
HDMI inputs
3 x HDMI 1.4
HDMI Ethernet Channel (HEC)
HDMI output
HDMI 1.4
Audio return channel (ARC), HDMI Ethernet channel (HEC)
control interface (CEC)
Analogue A/V inputs
2 x YUV, 2x Video Composite (CVBS) or S-Video
A/D conversion
Conversion of analogue AV signals to HDMI
Scaling
All digital (HDMI) or analogue AV input signals to 576, 720, 1080 interlaced or progressive output format
Image correction
Colour, contrast, sharpness, aspect ratio, overscan
Other features
Scaler bypass
3D pass through (3D ready)
Auto mode (automatic image size adaptation to monitor)
Type
7.1 HighDefi nition (HD) surround decoder with 2 freely programmable 56 Bit dual core signal processors (DC DSP)
Formats
Stereo, DOLBY ProLogic IIx, DOLBY Digital (AC3), DOLBY EX, DOLBY Digital Plus, DOLBY TrueHD, dts, dts-96/24, NEO:6, dts-ES, dts-ES discrete, dts-HighResolution, dts-HD Master Audio
Speaker configurations
2.0, 2.1, 3.0, 3.1, 4.0, 4.1, 5.0, 5.1, 6.0, 6.1, 7.0, 7.1
Other features
DOLBY Volume
Downmix function for line out and stereo sound for side rooms
Automatic calibration function for loudspeakers
Analogue audio inputs
3 x stereo line inputs 2 V / 20 kOhms
4 x stereo inputs 2 V / 20 kOhms, (as part of the analogue AV inputs)
Digital audio inputs
2 x SP/DIF coax
stereo up tp 192 kSps / 24Bit (IEC 958 ),
DOLBY + dts surround formats (IEC 1937)
Digital audio inputs optical
1 x SP/DIF optical
stereo up tp 96 kSps / 24 Bit (IEC 958),
DOLBY + dts surround formats (IEC 1937)
Analogue audio outputs fixed level
1x Stereo Line Out 2 V, 100 Ohms
Analogue audio outputs variable level
1x Subwoofer 2 V, 200 Ohms (e.g. for tape recorder)
Analogue audio outputs with volume control
1x stereo out e.g. for acoustic supply of side rooms
1x stereo out for active surround speakers or side room
1x stereo out for active rear speakers or side room
Digital audio output
1x SP/DIF coax
Other features
3 audio outputs with 5 V power supply e.g. for wireless audio
transmission modules, remote turn-on of active loudspeakers etc.
Design
High-class 24 Bit / 192 kSps Burr-Brown D/A converters for all 7.1 channels
Dual-converter differential DAC for the front channels L/R
Volume control
Loss-free, high-precision volume control with professional
studio-grade volume attenuaters
Frequency response
2 Hz - 60 kHz (Mode 1)
2 Hz - 44 kHz (Mode 2)
2 Hz - 22 kHz (Mode 3)
Total harmonic distortion / Intermodulation
< 0.002 % / <0.004% (Mode 1), (Mode 2) / (Mode 3)
Signal / noise ratio
110 dB (Mode 1), (Mode 2), (Mode 3)
Effective system dynamic range
110 dB / 98 dB (Mode 1), (Mode 2) / (Mode 3)
Channel separation
100 dB (Mode 1), (Mode 2), (Mode 3)
Modes
Mode 1 = SP/DIF 192/24 Digital_In or HD-BluRay
Mode 2 = SSP/DIF 96/24 Digital_In or 96/24 HD streaming
Mode 3 = SP/DIF 48/16 Digital_In or 48/16 streaming
each measured on the stereo preamp outputs
Headphone Output
for dynamic headphones > 30 Ohms, with automatic speaker muting
7 high performance switching power modules
(T+A Linear PWM design)
Nominal output power per chanel (stereo)
95 W into 8 Ohms
150 W into 4 Ohms
Peak output power per chanel (stereo)
130 W into 8 Ohms
230 W into 4 Ohms
Total harmonic distortion
< 0,005 %
Intermodulation
< 0,005 %
Frequency response
1 Hz – 60 kHz
Mains / Accessories / Dimensions
Additional Features
Wake-up timer, iPOD charging function,
Ethernet switch: distribution of an Ethernet uplink connection to BluRay player, streaming client, TV monitor (via HDMI / HEC) and up to 3 source devices (via HDMI / HEC), up to 2 more external devices (via LAN cable) (e.g. playing console)
Mains
EU-Version: 220-230 V / 50-60 Hz,
US-Version: 110-117 V / 50-60 Hz
Power consumption
max. 650 W
Eco - Standby
< 0,4 W (IR remote control, wake-up timer)
Comfort - Standby
< 3,5 W (plus Ethernet router, iPOD charging)
Dimension (H x W x D)
14,5 x 44 x 37,5 cm
Finish
Aluminium silver, aluminium piano gloss black
Technical modifications reserved