The Solitaire P headphones
Our first headphones represent a new and ground-breaking development which pushes the magneto-static principle to the point of perfection. We have designed these open headphones with no hint of compromise and without regard to cost, for we had only one goal in mind: musical reproduction to the very highest standard of perfection.
The headphone transducer systems are of sophisticated construction, and all components and sub-assemblies are manufactured to the tightest of tolerances using precision tools. Wherever possible and sensible, the headphones employ aluminium components machined from solid metal. The ingenious construction of the diaphragms, drive magnets and sound guides linearises the sound field and the dispersion characteristics. Music is reproduced without distortion: the Solitaire P adds nothing and takes nothing away. Totally natural reproduction is the first commandment for all T+A devices.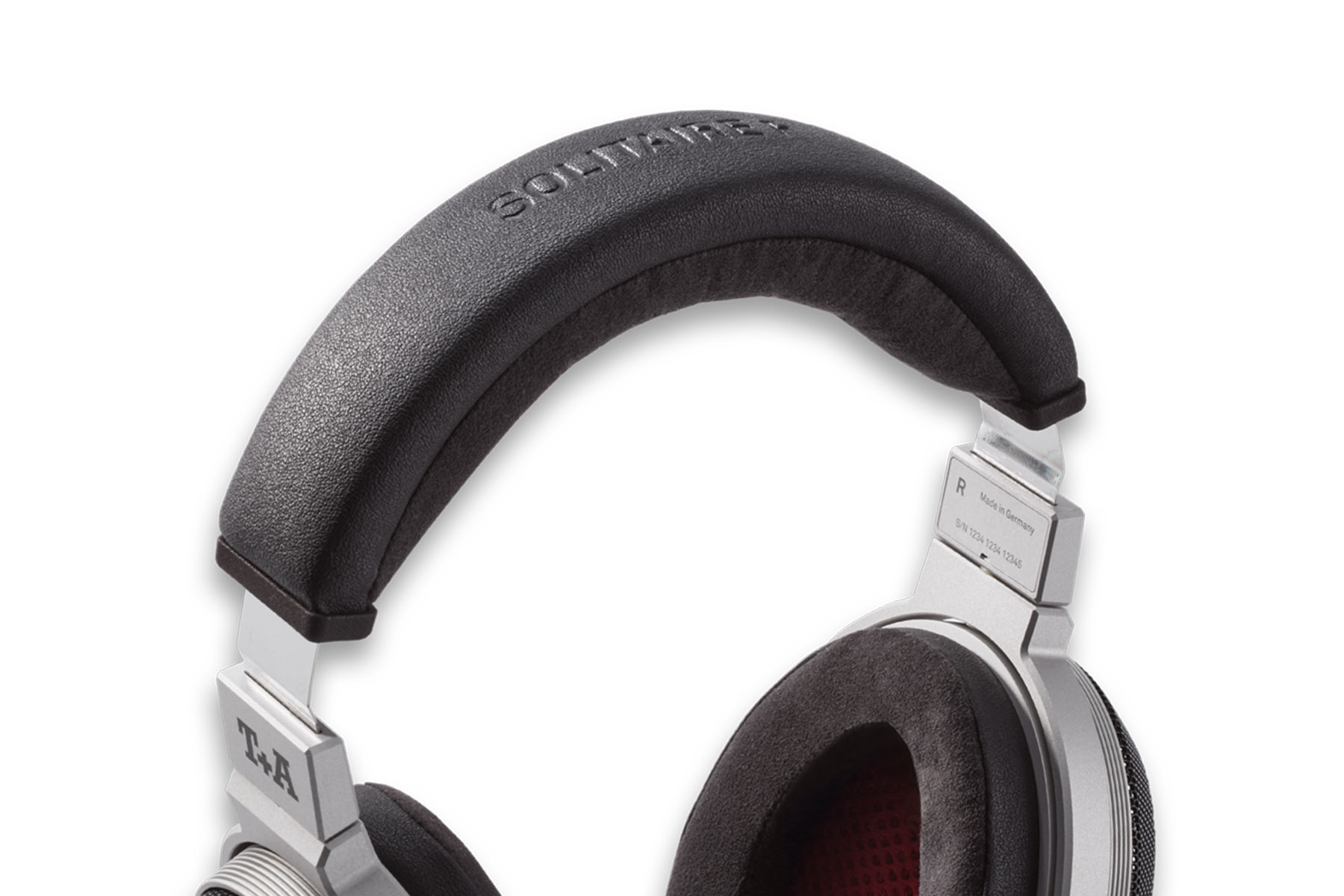 Technology
Many planar-magnetic headphones exhibit significant inherent disadvantages, including low efficiency, high weight and – very often – very low impedance. From the outset we designed our headphones to avoid these problems. A crucial factor in this purpose was the adoption of a new approach to the problems. We invested considerable effort in the design, and insisted on the use of the finest materials. The headphones incorporate several close-tolerance sub-assemblies which fit together pefectly; they can only be manufactured using precision tools. These parts consist of high-strength plastics or carbon in accordance with their function, and are made to tolerances of a few hundredths of a millimetre in order to guarantee a perfect fit.
The high-performance neodymium magnets are made with an accurately calculated segment shape as well as being precisely matched in length to suit the oval outline of the diaphragm; this ensures that the magnetic field lines generated have a homogeneous course, and that no air turbulence occurs; the airflow remains laminar at all times. The precise design of the retaining rings and the magnet mount maintains the diaphragm's position accurately in the linear part of the magnetic field, ensuring that it is able to generate high sound pressures without distortion and with an enormous dynamic range, virtually devoid of inertia. This design also eliminates the need for supplementary opposed magnets, helping to keep the headphones' weight low. The diaphragm is able to oscillate freely in the direction of the ear cushions, since there is no acoustic hindrance between the transducer diaphragm and the ear. The diaphragm itself consists of a special ultra-thin – and therefore ultra-lightweight – film, coated with an accurately routed and calculated conductor array whose impedance is around 80 Ohm. The open construction of the Solitaire P avoids the resonance problems of closed systems, and allows the diaphragm to vibrate unimpeded.
All sub-assemblies are attached to solid aluminium cups which are machined from solid using a precision 5-axis milling machine. The machining of a single cup takes more than an hour, starting from a 35 mm thick solid aluminium plate. The yokes and yoke connections are also machined from the solid. Although these sub-assemblies are very complex and difficult to produce, we decided to employ aluminium for them because it does not suffer from ageing problems, and always maintains its shape and strength.
The ear and head cushions are hand-made, and manufactured for us by a specialist company here in Germany, They consist of allergen-free synthetic leather and Alcántara. For this reason they are very pleasant in contact with the skin even when the headphones are worn for long periods.
Of particular interest to us is the sound quality of the connecting cables. Ours are of symmetrical construction, with very low inductivity and capacitance, and designed with the optimum impedance. They consist of ultra-pure copper (OFC) conductors with a carefully defined silver layer. The four signal conductors are embedded in cotton threads, and permanently wrapped in a silver-plated woven shield. This construction isolates electro-magnetic influences, and damps mechanical resonances. The connectors are of the highest quality. Professional military-grade two-pole connectors are used in the headphones. The entire cable harness, including connectors and splitters, is encased and sheathed in a single manufacturing process, resulting in an extremely robust, durable cable which remains very flexible. The cable insulators consist of high-quality Hytrel® and TPE; these elastomers are free of PVC and latex, and are manufactured without the addition of toxic softening agents. Two cable sets are supplied with the headphones: one with a 6.3 mm barrel connector, and the second with a symmetrical 4.4 mm Pentaconn connector which offers optimum transfer resistance for the best possible sound quality. As you would expect, all contacts are gold-plated.
Show more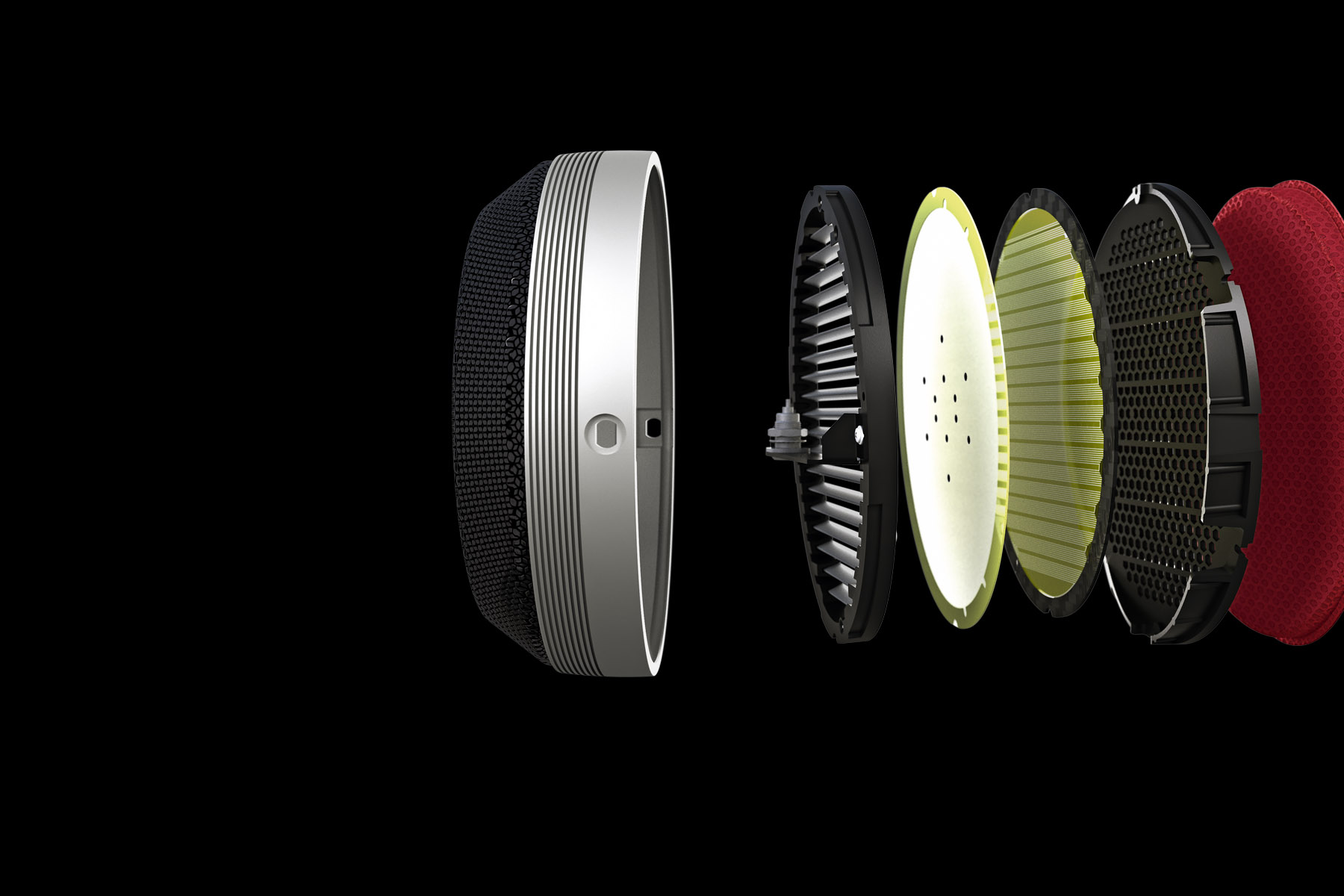 Transducer principle
Planar-magnetostatic
Frequency responce
5 Hz - 54 kHz
Distortion
< 0,015 % @ 100 dB
Maximum sound pressure level
> 130 dB
Transducer size
elliptic 110 x 80 mm
Type of construction
Open, over ear
Connectivity
Wired transmission (3m)
Version 1: unbalanced cable with 6.3 mm connector and balanced cable with 4.4 mm pentaconn connector
Version 2: unbalanced cable with 6.3 mm connector and blanced cable with 4-pin XLR connector
Material
Aluminum, steel, allergen-free synthetic leather, Alcantara
Technical modifications reserved
Go big or go home
T+A has hit the ground running. This is the best headphone I've ever tested and it has a depth of talent that is almost unprecedented in terms of how it balances its talents and capabilities.
Simply incredible sonic performance.
Exceptionally well made.
Comfortably and surprisingly practical.
Der Himmel des Möglichen
Einatmen, ausatmen, den Startknopf betätigen. Danach geht eine Welt auf. Der Solitaire P setzt die Kirsche auf das Sahnehäubchen-mehr Informationen gehen nicht, mehr Leidenschaft ist ebenso schwer denkbar.

First Strike
Bravo, T+A: ein sehr gelungenes Debüt. Der Solitaire P ist super geworden, der HA 200 noch besser. Oder um es anders auszudrücken: Es gibt Stand heute keinen besseren Kopfhörerverstärker. Damit sind der HA 200 und der Solitaire P die neuen AUDIO-Referenzen und -Arbeitsgeräte.
Neutral abgestimmt, ungeheuer präzise.
Klang: 100 Punkte
Ausstattung: sehr gut
Bedienung: sehr gut
Verarbeitung: hervorragend
HiFi and Music Source 5/2020
Solitaire P – Hifi Review
These T+A Solitaire P headphones are the Rolls Royce of headphones….they are designed for the longer journey, enabling you to arrive without fatigue, knowing you've experienced the best your money can buy.
In substance, as I have already stated, the T+A Solitaire P headphones deliver a wonderfully warm sound with such fabulous detail and they have a soundstage to stand up for. I can award these headphones nothing less than 'Outstanding', 5 stars.
Forbes 5/2020 Mark Sparrow
These T+A Solitaire P Headphones Are Probably The Best You'll Ever Hear.
Verdict: Thanks to some amazing technology involving advanced materials and clever placement of magnets, the T+A Solitaire P headphones set the benchmark for all other manufacturers of planar magnetic headphones to reach. Of course, like any high-end headphones, the Solitaires need an impeccable source because they are ruthless in the amount of detail they can reveal. If you feed substandard signals it will be no surprise if the music sounds as bad as it is. Cheap headphones can disguise a multitude of sonic sins. The musicality and abundant detail that these headphones offer is a pure delight. Normally, I can't manage more than an hour or two of headphone listening at a time, but with these headphones not only could I listen all day in comfort, I knew my ears wouldn't be fatigued and I could spend days rediscovering my favorite music, finding new sounds and instruments that I never knew were there. T+A may not be a household name in high-end audio, but it really deserves to be. If you are an ardent headphone fan and you want the very best that money can buy, I can heartily recommend T+A's Solitaire P headphones.
Dem deutschen High-End Hersteller T+A gelingt mit der überragenden Kombination aus SOLITAIRE P und HA200 somit ein veritabler Raketenstart in das internationale Kopfhörersegment, den man in diesem Maße so nicht erwarten konnte.

Sehr weit gesprungen
Wir machten die Probe auf Exempel mit Peter Gabriels "Come, talk to me"- und waren baff. Wie grollend und mächtig der sythetische Bass hier in staubtrockener Art daherkam, das überzeugte uns dann endgültig davon, dass man in Herford keinesfalls ein "me too"-Produkt auf die Beine gestellt hat, sondern wie beim Materialaufwand auch, klanglich in die Vollen gegangen ist. Da meldet sich der "Habenwollen-Effekt" trotz des Preisschildes ganz energisch zu Wort. T+A hat das fast Unmögliche geschafft und aus dem Stand einen Referenzhörer entwickelt.

T+A Solitaire P Review
Owing to the ultra-low distortion (a record-breaking < 0.015% at 100 dB), the Solitaire P is a leader of micro-dynamics and capably highlights gradations in small volume changes.
Den gesamten Testbericht lesen…