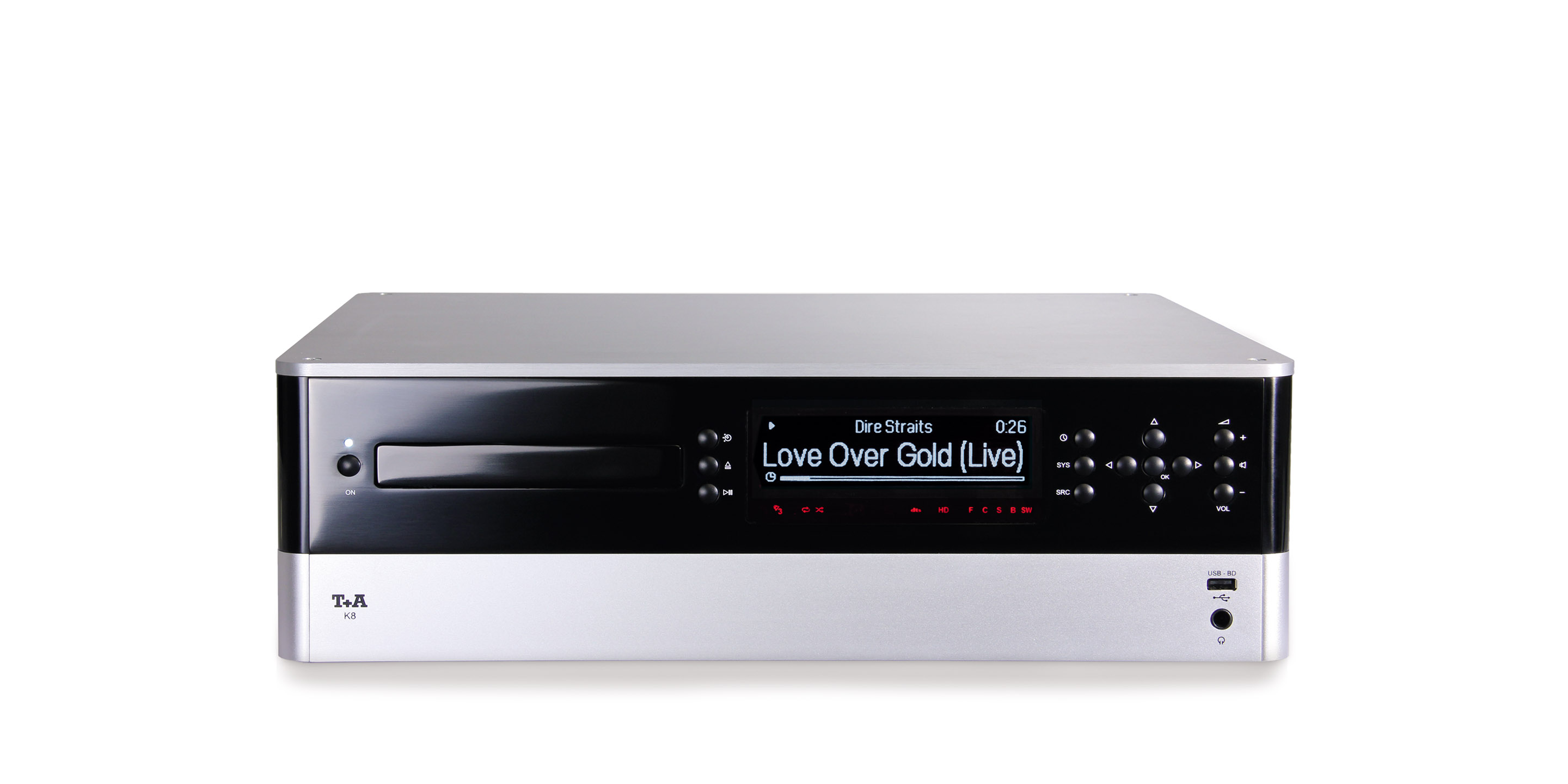 The K 8
The K8 is certainly a highly refined 7.1 surround receiver, but it actually constitutes the control centre for a large number of external sources such as set-top boxes, Playstations or digital recorders. At the same time its integral components also offer the facility to play BluRay or DVD films, listen to CD or FM radio, and access the home network via the Streaming Client for Internet radio and playback from servers and hard discs. Classic analogue and digital inputs are also present.
The controls in the classic T+A style make the K8 dead easy and intuitive to operate, despite its multitude of functions. All essential functions are directly accessed on the device.
The FM100 premium system remote control is very neatly structured and colour-coded. Its function blocks are distinctly separated with a clearly readable lettering. Beyond the normal operation, the FM100 allows to use additional functions and text entries. Basic adjustments like loudspeaker levelling, balance, tone controls and the selection of the surround sound matrix are made via simple menus on the remote. It is even more comfortable using our FD 100 bi-directional radio remote control handset with screen, the optinal Gateway (radio receive module) has to be installed in the machine. The T+A Control App can be used as well and offers very comfortable operation of the system.
Mehr anzeigen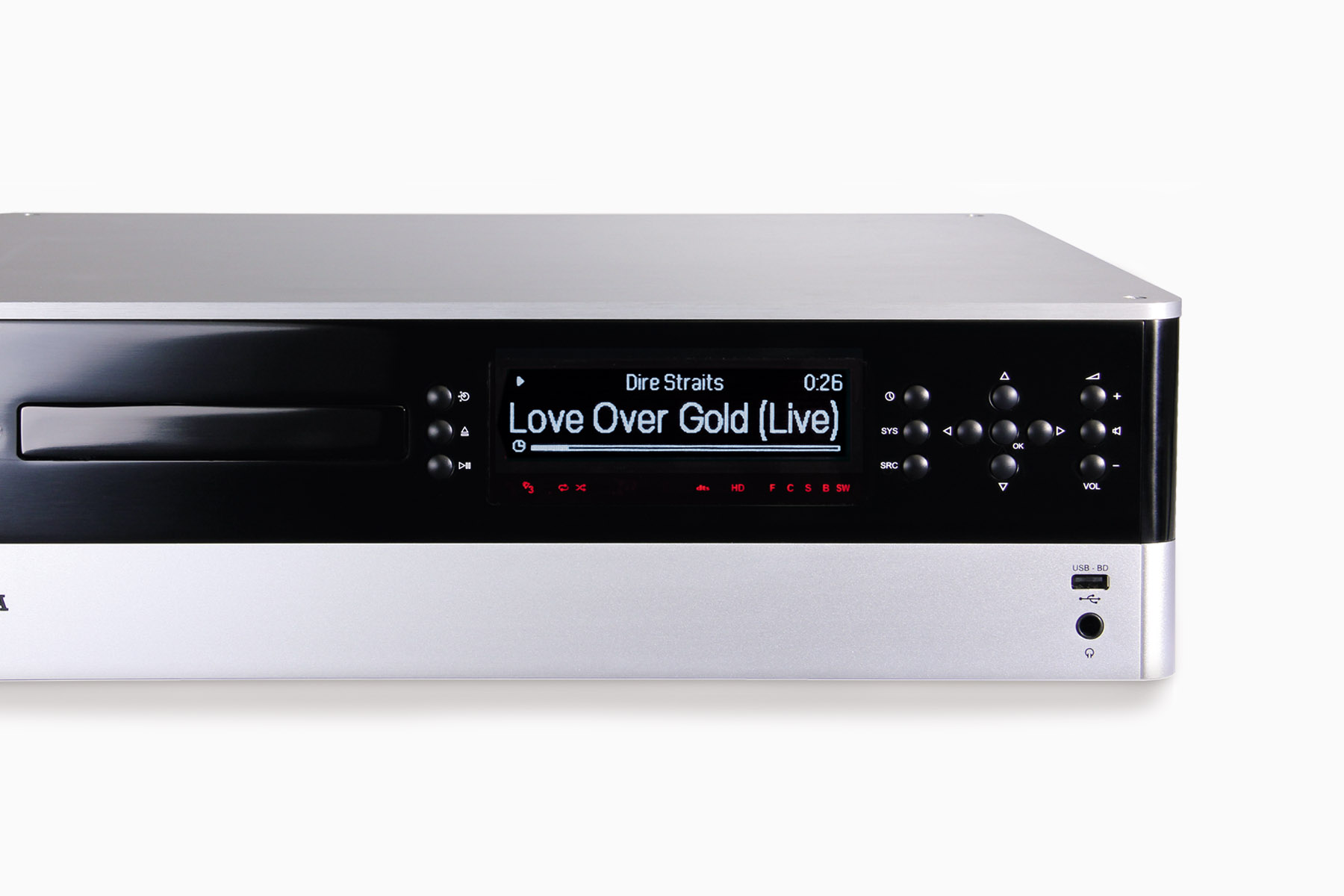 Technology
Concerning A/V devices, we at T+A also attach great importance to great sound quality, which is why we use a high-grade BluRay drive with three lasers. It does not only deliver a superb picture with BluRay and DVD, but also a notably good CD reproduction. We use only first-class audiophile D/A converters by Burr-Brown, for the front channels (stereo) even in the balanced differential mode. All current Dolby and DTS HD formats are available and will be decoded by our highend audio board.
The video board designed by T+A has an outstanding picture quality, for it uses a cutting-edge video processor from Genesis whose sophisticated scaler can upscale the video data from the analogue inputs and from DVDs to 1080p at the most. So you can also connect older source devices without HDMI output to the K8 and run them with ultimate quality via the HDMI 1.4a output. Thus all modern TV sets, beamers and panels can be fed in an optimal manner. For external video sources there are three HDMI inputs which transfer 3D formats as well.
The front panel USB port is linked to the BluRay player and allows to enter and playback LPCM, MP3, photo, JPEG and movie data files or the use of a USB stick for BD-Life usage. The high-class headphone socket has been purposefully designed very upmarket for large jack plugs and has its own power amplifier. When used, the loudspeaker outputs will be turned off completely.
The comprehensive array of sockets indicates the enormous range of facilities provided by the K8 – it really is a command centre. Seven passive loudspeakers can be connected to the high-quality speaker terminals, which are made of gold-plated pure brass. As you would expect, an output for an active sub-woofer is available for the primary listening area. The K8 can be configured for various modes of operation, in which the loudspeaker outputs are used in different ways. The standard configuration is a 7.1 surround set-up for the main room. If this is not required, an alternative 5.1 configuration can be selected, in which case the BACK channel power amplifiers can be used to provide a stereo downmix signal in Zone 2 (adjacent room), with its own volume control. If the optional 3.1 configuration is chosen, i.e. if you just want to use main speakers, Centre and sub-woofer in the main room, then the surround channel power amplifiers can again be employed to provide sound in Zone 3. Permanent provision is made for a fourth Zone in the form of a RCA output, but this does require supplementary power amplifiers or active speakers, such as our CM Active. RCA outputs are also provided for Zones 2 and 3 or the BACK and SURROUND channels. The volume can be set independently in the different rooms (or zones) if the supplied E 2000 receiver is connected to the RC socket for that zone, and installed in the adjacent room. A USB socket can be used as power supply for an audio radio transmission module.
A further facility offered by the K8 is to use the BACK channel power amplifiers as supplementary bi-amping power amplifiers for the primary channel, or to switch the Zone 4 RCA outputs to the front channels. This requires a change to internal jumpers in the machine; this work must always be carried out by an authorised dealer.
Mehr anzeigen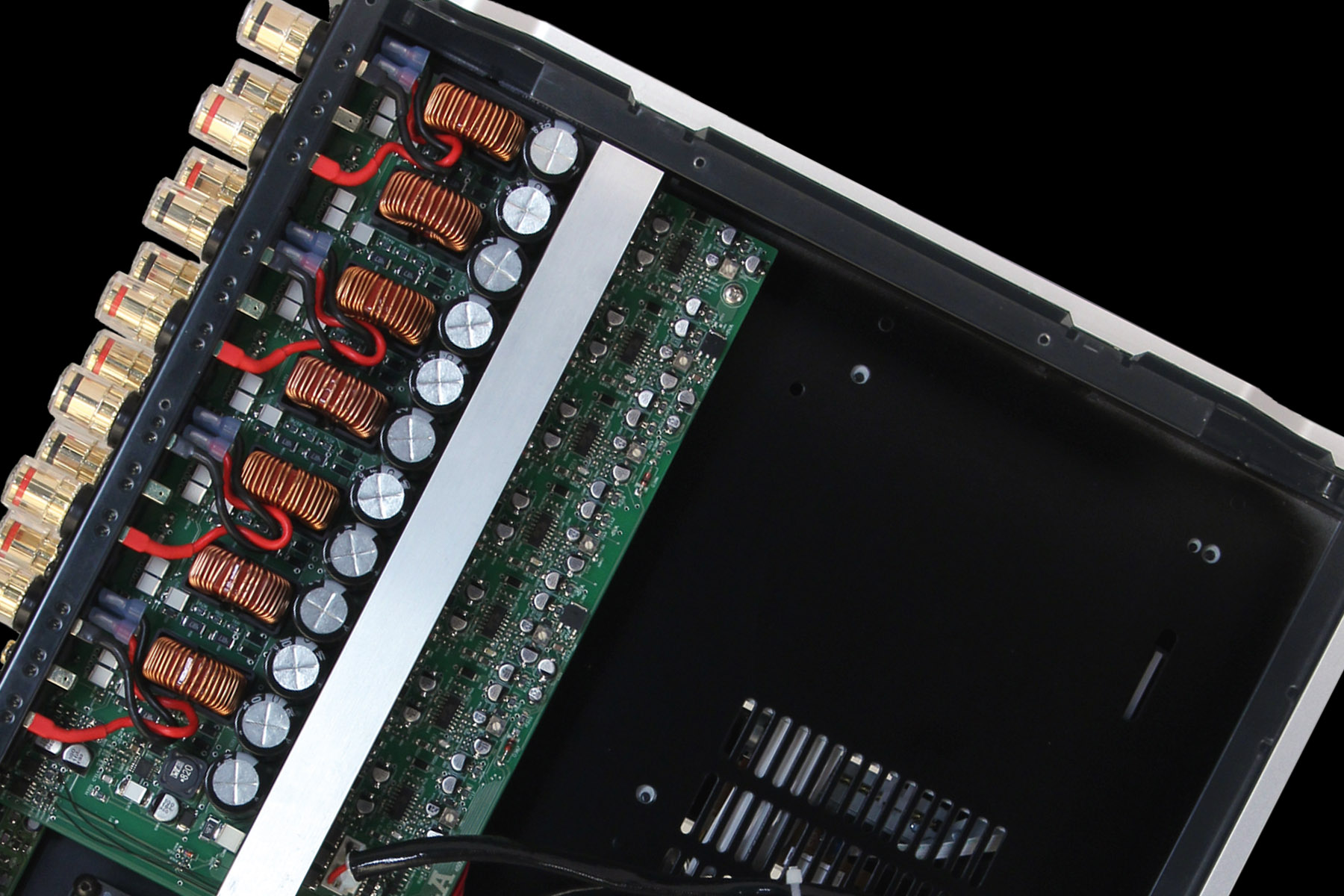 Drive
3-laser BluRay linear drive on vibration dampening subchassis
Playable media Video
BluRay Disc, DVD, VCD, SVCD
Playable media Audio
CDDA (Audio CD), MP3 CD, CD R, CD/RW, Hybrid SACD CD Layer
Playable media Photo
JPEG, Picture Disc
Container + other formats
MKV, MPG, AVI, VOB, MP4, WMV
Other features
BD-Live (with external USB memory stick)
Movie mode 1080p/24 Hz, extended colour space (xvYCC)
Formats
MP3, WAV, FLAC, AAC, OGG-Vorbis, WMA (WMDRM 10)
Bit rates all formats
8 … 48 kSps / 16Bit, variable bit rate (VBR)
Other bit rates WAV, FLAC
96 kSps / 24Bit
Media server, network memory (PC, NAS)
UPnP AV + DLNA compatible streaming servers
Internet Radio
Web radio with vTuner internet radio service
Interfaces LAN
Ethernet 10/100 Mbit
Interfaces USB
1x USB 2.0 for memory stick or harddisk drive (HDD)
1x USB 2.0 for iPod or 2nd memory stick / HDD
Other features
Favourite lists, station memory for web radio stations
Digital iPod audio playback
Charging function for iPod
iPod
Playback of audio and video files from iPod incl. iPod navigation and remote control
Strong signal immunity
> 125 dBμV
Stereo crosstalk suppression
> 40 dB
RDS functions
Station name, programme type, radio text, clock
Other features
Station lists, station memories (presets)
HDMI inputs
3 x HDMI 1.4
HDMI Ethernet Channel (HEC)
HDMI output
HDMI 1.4
Audio return channel (ARC), HDMI Ethernet channel (HEC)
control interface (CEC)
Analogue A/V inputs
2 x YUV, 2x Video Composite (CVBS) or S-Video
A/D conversion
Conversion of analogue AV signals to HDMI
Scaling
All digital (HDMI) or analogue AV input signals to 576, 720, 1080 interlaced or progressive output format
Image correction
Colour, contrast, sharpness, aspect ratio, overscan
Other features
Scaler bypass
3D pass through (3D ready)
Auto mode (automatic image size adaptation to monitor)
Type
7.1 HighDefi nition (HD) surround decoder with 2 freely programmable 56 Bit dual core signal processors (DC DSP)
Formats
Stereo, DOLBY ProLogic IIx, DOLBY Digital (AC3), DOLBY EX, DOLBY Digital Plus, DOLBY TrueHD, dts, dts-96/24, NEO:6, dts-ES, dts-ES discrete, dts-HighResolution, dts-HD Master Audio
Speaker configurations
2.0, 2.1, 3.0, 3.1, 4.0, 4.1, 5.0, 5.1, 6.0, 6.1, 7.0, 7.1
Other features
DOLBY Volume
Downmix function for line out and stereo sound for side rooms
Automatic calibration function for loudspeakers
Analogue audio inputs
3 x stereo line inputs 2 V / 20 kOhms
4 x stereo inputs 2 V / 20 kOhms, (as part of the analogue AV inputs)
Digital audio inputs
2 x SP/DIF coax
stereo up tp 192 kSps / 24Bit (IEC 958 ),
DOLBY + dts surround formats (IEC 1937)
Digital audio inputs optical
1 x SP/DIF optical
stereo up tp 96 kSps / 24 Bit (IEC 958),
DOLBY + dts surround formats (IEC 1937)
Analogue audio outputs fixed level
1x Stereo Line Out 2 V, 100 Ohms
Analogue audio outputs variable level
1x Subwoofer 2 V, 200 Ohms (e.g. for tape recorder)
Analogue audio outputs with volume control
1x stereo out e.g. for acoustic supply of side rooms
1x stereo out for active surround speakers or side room
1x stereo out for active rear speakers or side room
Digital audio output
1x SP/DIF coax
Other features
3 audio outputs with 5 V power supply e.g. for wireless audio
transmission modules, remote turn-on of active loudspeakers etc.
Design
High-class 24 Bit / 192 kSps Burr-Brown D/A converters for all 7.1 channels
Dual-converter differential DAC for the front channels L/R
Volume control
Loss-free, high-precision volume control with professional
studio-grade volume attenuaters
Frequency response
2 Hz - 60 kHz (Mode 1)
2 Hz - 44 kHz (Mode 2)
2 Hz - 22 kHz (Mode 3)
Total harmonic distortion / Intermodulation
< 0.002 % / <0.004% (Mode 1), (Mode 2) / (Mode 3)
Signal / noise ratio
110 dB (Mode 1), (Mode 2), (Mode 3)
Effective system dynamic range
110 dB / 98 dB (Mode 1), (Mode 2) / (Mode 3)
Channel separation
100 dB (Mode 1), (Mode 2), (Mode 3)
Modes
Mode 1 = SP/DIF 192/24 Digital_In or HD-BluRay
Mode 2 = SSP/DIF 96/24 Digital_In or 96/24 HD streaming
Mode 3 = SP/DIF 48/16 Digital_In or 48/16 streaming
each measured on the stereo preamp outputs
Headphone Output
for dynamic headphones > 30 Ohms, with automatic speaker muting
7 high performance switching power modules
(T+A Linear PWM design)
Nominal output power per chanel (stereo)
95 W into 8 Ohms
150 W into 4 Ohms
Peak output power per chanel (stereo)
130 W into 8 Ohms
230 W into 4 Ohms
Total harmonic distortion
< 0,005 %
Intermodulation
< 0,005 %
Frequency response
1 Hz – 60 kHz
Mains / Accessories / Dimensions
Additional Features
Wake-up timer, iPOD charging function,
Ethernet switch: distribution of an Ethernet uplink connection to BluRay player, streaming client, TV monitor (via HDMI / HEC) and up to 3 source devices (via HDMI / HEC), up to 2 more external devices (via LAN cable) (e.g. playing console)
Mains
EU-Version: 220-230 V / 50-60 Hz,
US-Version: 110-117 V / 50-60 Hz
Power consumption
max. 650 W
Eco - Standby
< 0,4 W (IR remote control, wake-up timer)
Comfort - Standby
< 3,5 W (plus Ethernet router, iPOD charging)
Dimension (H x W x D)
14,5 x 44 x 37,5 cm
Finish
Aluminium silver, aluminium piano gloss black
Optional accessories
iPOD docking station digital (only audio), or analogue (AV),
E 2000 external remote control receiver, FD100 bidirectional FM
remote control with display
Technical modifications reserved
Die neue Generation Heimkino
Der K8 ist mehr als ein gewöhnlicher AV-Receiver, vereint er doch dessen Eigenschaften mit vielfältigen, weiteren Funktionen.Selten haben wir einen AV-Receiver oder eine Kombination wie den K8 so klar im Klang erleben dürfen.Das Klangbild wirkt sehr dynamisch und ausgeglichen mit einem leichten, warmen und harmonischen Grundtimbre.
Preis/Leistung sehr gut
Gesamtergebnis ausgezeichnet

Mit dem K8 gelang T+A eine Komplettanlage auf der Höhe der Zeit, mit üppigster Ausstattung, neuesten Funktionen –  und wunderbar klarem Klang.
Klang: Absolute Spitzenklasse
Gesamturteil: überragend
Preis/Leistung: sehr gut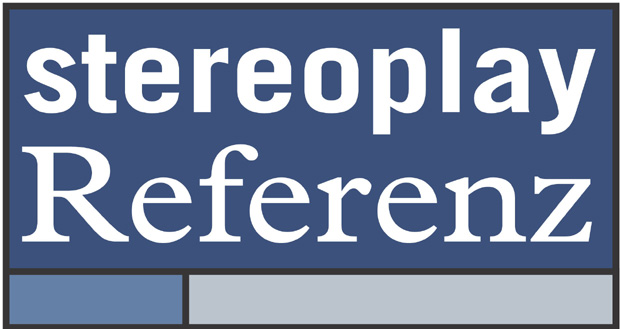 Wie der Music Receiver spielt der K8 sehr frisch und anspringendhat eine exzellente Freindynamik und gerät selbst bei tiefsten Impulsen nicht aus der Ruhe,Ideal für´s Heimkino aber auch hervorragend bei der Musikwiedergabe.
Klangqualität: sehr gut
Ausstattung: sehr gut
Verarbeitung: hervorragend
Gesamtnote: sehr gut

Der T+A K 8 ist ein Rundum-Sorglos-Paket für aktuelle Medien mit feinem Sound.
Klangqualität: sehr gut
Ausstattung: sehr gut
Verarbeitung: hervorragend
Gesamtnote: sehr gut

Das Schweizer Messer unter den Komplettsystemen: vielseitig und von herausragender Qualität. Ob Surround- oder Stereo-Klang – auf die K8 ist Verlass.
Klang Stereo / HD-Surround: 88 / 110 Punkte
Bild DVD / BD: sehr gut / hervorragend
Ausstattung: überragend
Bedienung: gut
Verarbeitung: überragend
Klangurteil: 99 Punkte