CWT 1000-8 SE

Floor-standing speaker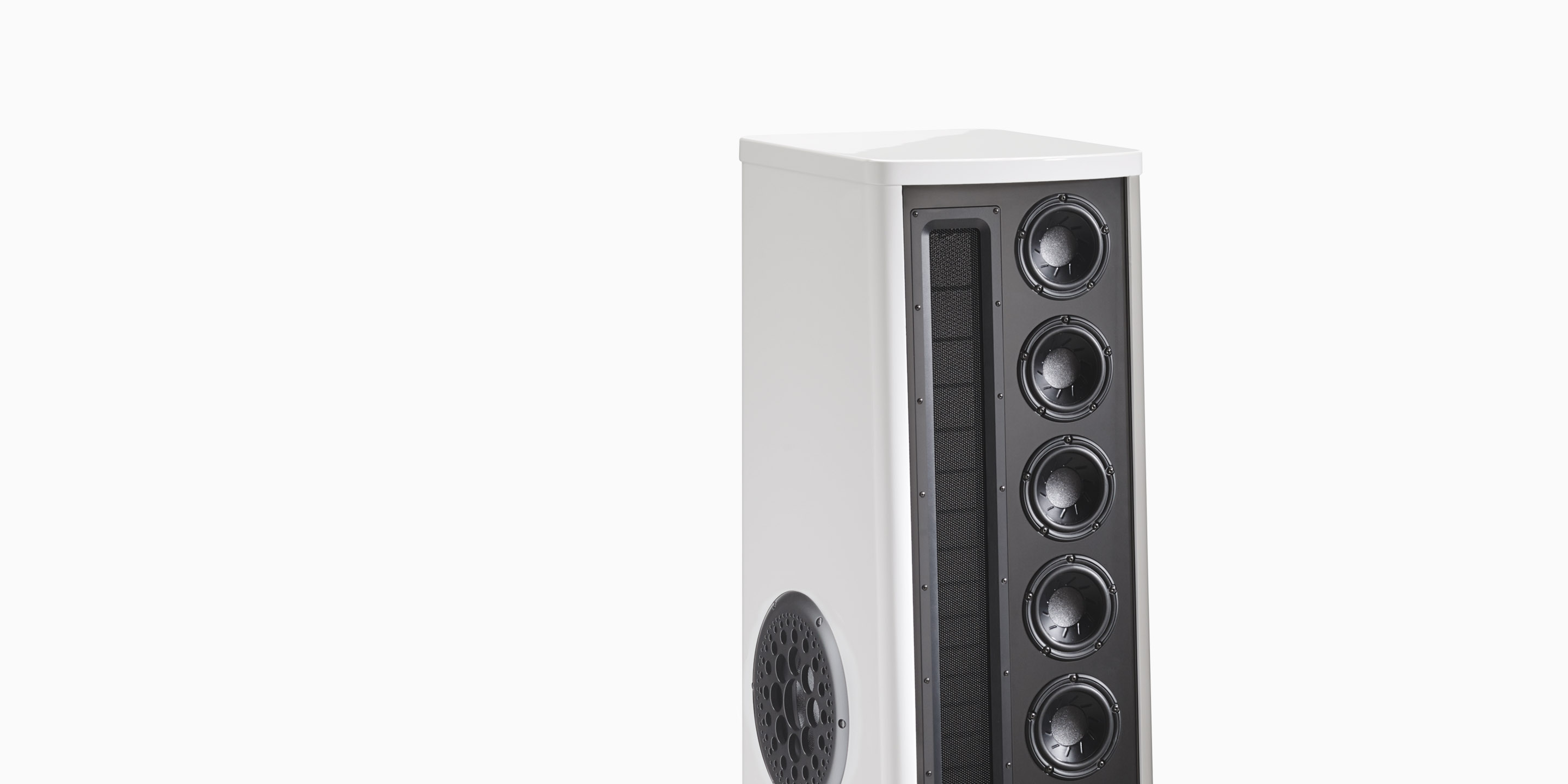 CWT 1000-8 SE



Floor-standing speaker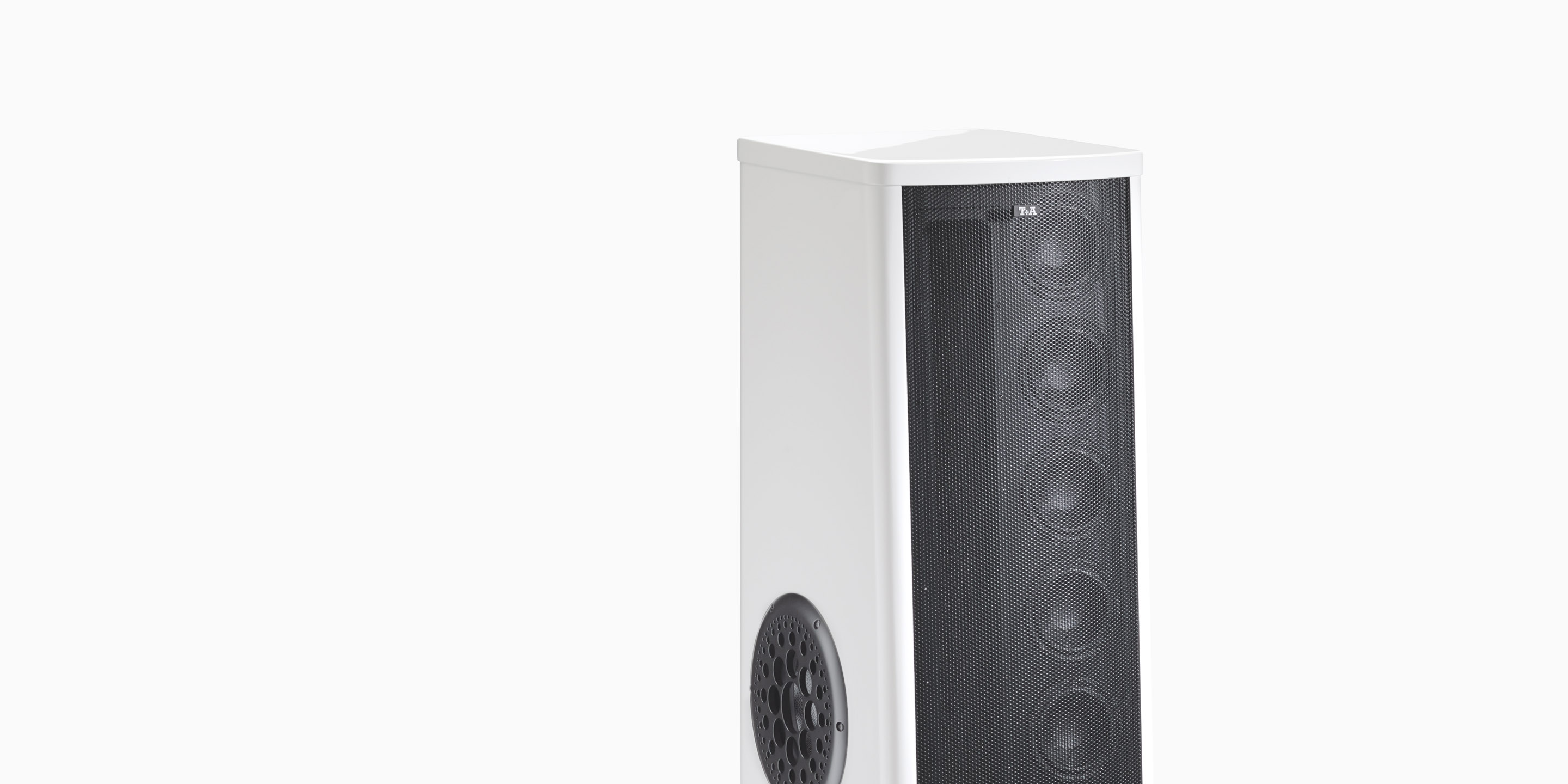 The CWT 1000-8 SE
In the truest sense of the term, the CWT 1000 SE is the slightly smaller brother of the CWT 2000 SE. Its overall design is identical, but the cabinet and the mid-range and bass drivers are slightly smaller. The CWT 1000 has been revised and has received two additional mid-range drivers, which improve the radiation pattern in the crossover section between mid-frequency and high-frequency range.
The electrostatic unit is of identical construction to that of the CWT 2000, and its circuitry is similar. For this reason it is equally effective at transmitting the entire high-frequency range from just under 2000 Hz to more than 40 kHz – even well off-axis!
The 12 cm mid-range unit is of similar design to the 15 cm mid-range driver, and offers the same superb ability to handle the full vocal range from 200 to 2000 Hz. Once again this unit's outstanding attributes are its dynamic ability, its inherently lively nature, and its unbelievably natural sound. With this size of cone a phase plug is not sensible, and unnecessary in any case.
The damping of the speaker cone is very effective, eliminating any hint of resonance, and the cone features integral stiffening channels. The large magnet and the carefully calculated suspension system ensure perfect transient response characteristics in the separate mid-range chamber. Since the loudspeaker is fitted with an array of no fewer than eight of these units, the cone excursion is very small even at extreme levels, and this eradicates potential intermodulation effects in the mid-range.
A sealed bass enclosure houses four large, perfectly matched 22 cm bass units, with big magnets, extremely stiff cones, ultra-long linear excursion and very low resonant frequency; these drive units are responsible for the speaker's surprisingly deep, powerful bass, which is incredibly dry and precise.
Both models are equipped with very complex, double-sided three-way crossover units (FSR). The crossover is accurately calculated, and fine-tuned for optimum transient response and transmission characteristics. It effortlessly handles even the highest levels, and ensures that the three frequency ranges are matched perfectly to each other. The filter stages and bandpass filters are carefully optimised for accurate phase and group delay. These networks play a crucial role in the superb imaging and radiation characteristics of the speaker system as a whole. Switches are provided for fine-tuning the bass, mid and high-frequency ranges.
Show more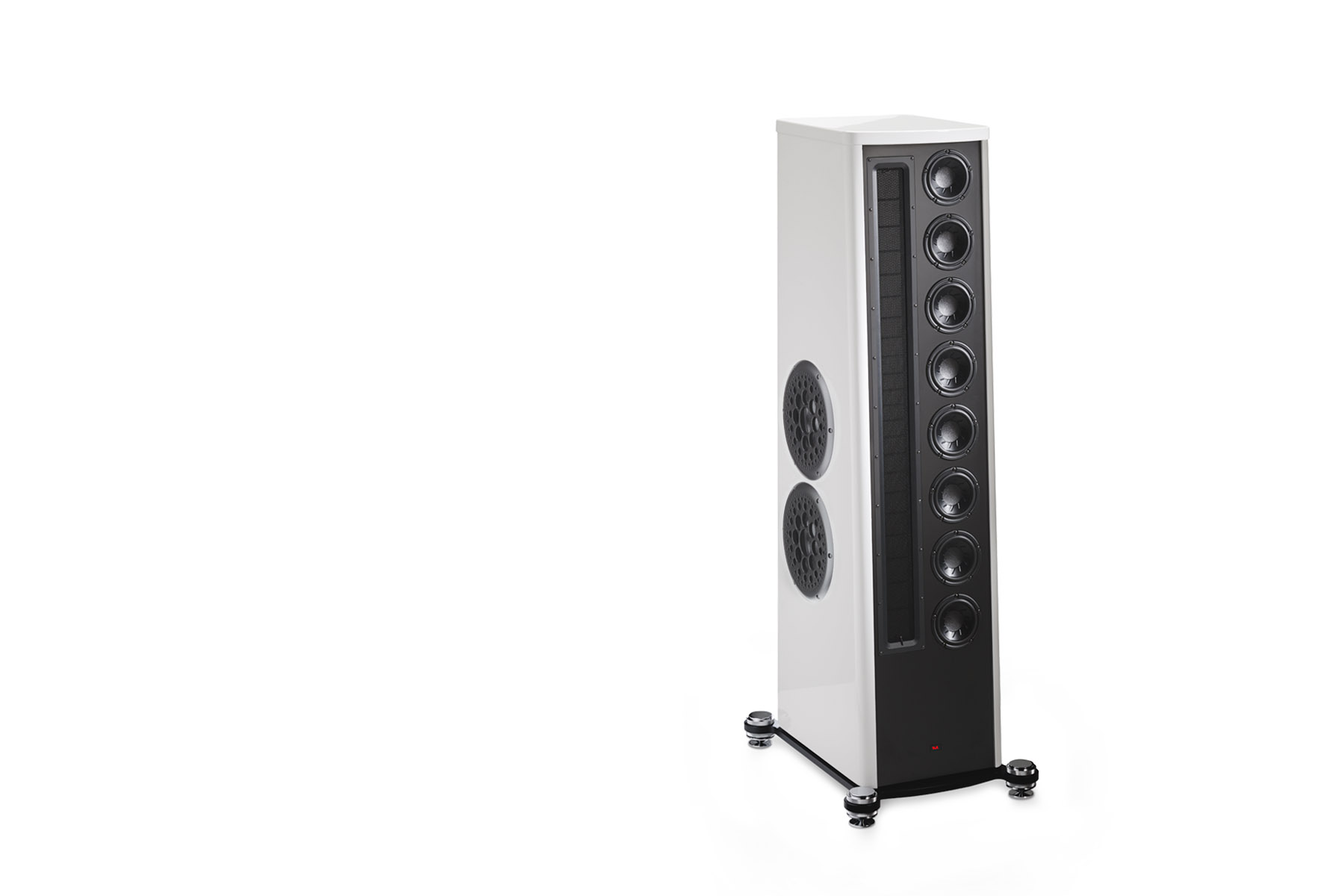 Technology
A sealed cabinet offers many advantages, but the design is extremely demanding when required to generate a very low cutoff frequency. This calls for bass units with a very low resonant frequency, capable of extensive excursion, with an exceptionally powerful magnet, and designed to cope with extreme loads. Our drive units fulfil these requirements perfectly! Since the speaker units are subject to enormous acceleration forces, the cones are impregnated with an extremely hard fibre / carbon mixture.
The demands on the dynamic ability of the mid-range drivers are very high, since the electrostatic unit and the bass units exhibit very sophisticated excursion characteristics, and are capable of generating very high sound pressures. For this reason the new mid-range drivers are amongst the most advanced in existence: this superb unit features a gigantic magnet, a large coil, an effectively damped cone with integral stiffeners and a modern diecast aluminium basket.
The units offer perfect radiation characteristics and transmit the entire vocal range without a hint of discoloration.In principle it is the bass drivers which are subject to the most extreme forces, because they have the most mechanical work to do in any loudspeaker. The pressure waves emanating from the cones when excursion and acceleration are high tend to excite the cabinet walls as well as the baskets themselves to oscillate, and that is why our baskets are made of diecast aluminium to endow them with extreme strength. The forces which occur are completely eliminated, because the opposed drive units are permanently connected to each other by means of screwed aluminium rods, and the forces cancel each other out in opposite phase.
Show more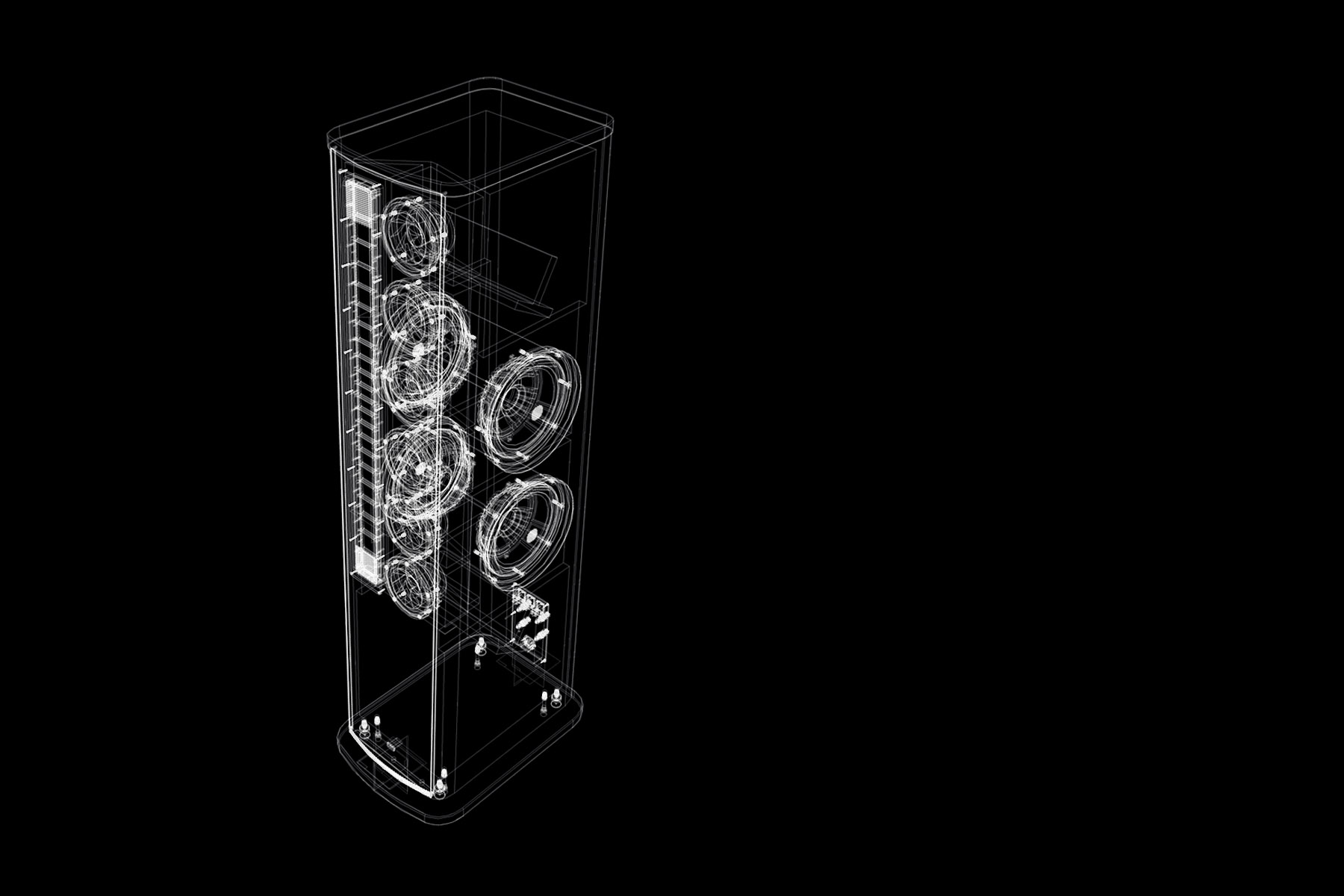 Floor-standing
3-way closed
Frequenca range
26 - 40000 Hz
Sensitivity (1 Watt / 1 m)
88 dB
Bass drive unit
4 x 210 mm
High-frequency drive
920 x 50 mm Electrostatic
Crossover frequencies
190 / 1400 Hz
Dimensions H x W x D
134 x 32 x 46 cm
Technical modifications reserved
Faszinierend in der Konstruktion, faszinierend im Klang. Die Solitaire CWT 1000 -8 SE okkupiert den Raum, bringt enormen Drive und die maximal stabile Abbildung – satt und ultradynamisch.
Klang: Absolute Spitzenklasse
Preis/Leistung: Sehr gut

Es ist keine leichte Aufgabe, einen hervorragenden Lautsprecher noch besser zu machen. Mit der CWT 1000-8 SE haben die Herforder nun gar den Anschluss an die Top-Referenzklasse souverän gefinden.
Klang Niveau: 99%
Preis/Leistung: Exzellent

Die runderneuerte CWT 1000 erzielt einen Klangcharakter voller Rasse und Rundheit, gepaart mit einer Dynamik zum Niederknien. Raumakustische Schwächen wie auch große Hörentfernungen verlieren durch die Ausbildung einer Zylinderwelle ihren Schrecken.
wohlerzogen, neutral und spielfreudig, beherrscht von zart bis brarchial alle Facetten, Weltklasse Bass
Klangurteil: 107 Punkte
Preis/Leistung: High-Endig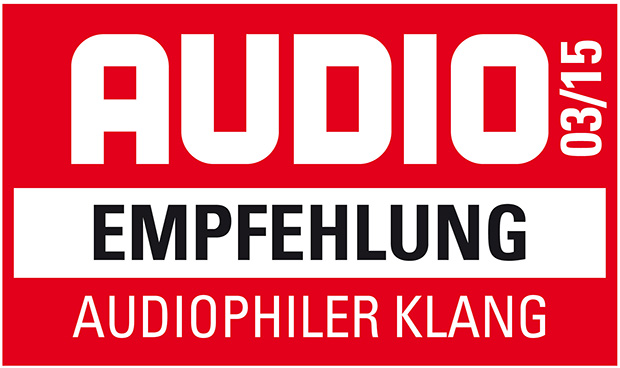 Klingt extrem dynamisch und detailreich, ohne je zu nerven. Überbrückt große Distanzen, wirkt sagenhaft souverän. Speziell der Hochtonbereich müsste Audiophilen vorkommen wie Weihnachten uind Ostern zusammen.
Klangurteil: 105 Punkte
Preis/Leistung: sehr gut
Verarbeitung: überragend

Vorzüglich verarbeiteter Schallwandler mit präzisen Bass und überragender Feinauflösung. Dank ihrer starken Schallbündelung im Mittelhochtonbereich ist die CWT 1000 der ideale Lautsprecher für große, akustisch kritische Räume.
Klang: Absolute Spitzenklasse
Gesamturteil: sehr gut
Preis/Leistung: sehr gut

Maßstab 1:1
T+A hat sich mit der Solitaire-Serie abseits abgetretener Entwicklungspfade bewegt und keine Beschränkungen auferlegt. Dabei herausgekommen sind in jeder Hinsicht unkonventionelle Lautsprecher mit enormem Materialaufwand und komplexer Konstruktion.
Klang: überragend
Ausstattung: sehr gut
Verarbeitung: sehr gut

Mit einem Paukenschlag meldet sich T+A in der Riege der Weltbesten zurück.Konzeptionell und von der Art der Schallabstrahlung alles andere als Mainstream, verstehen sie es, den Hörer in ihren Bann zu ziehen!
Klang Niveau: 98%
Preis/Leistung: exzellent

Eine schier unglaublich reiche Höhenauflösung perlte mir bei Mozart´s Don Giovanni entgegen. Die CWT 1000 fächerte Chor und Orchester weit und genauestens auf. Mit der Transparenz eines Elektrostaten servierte sie die gesamte Partitur, mühelos ließ sich jede einzelne Stimme mitverfolgen.