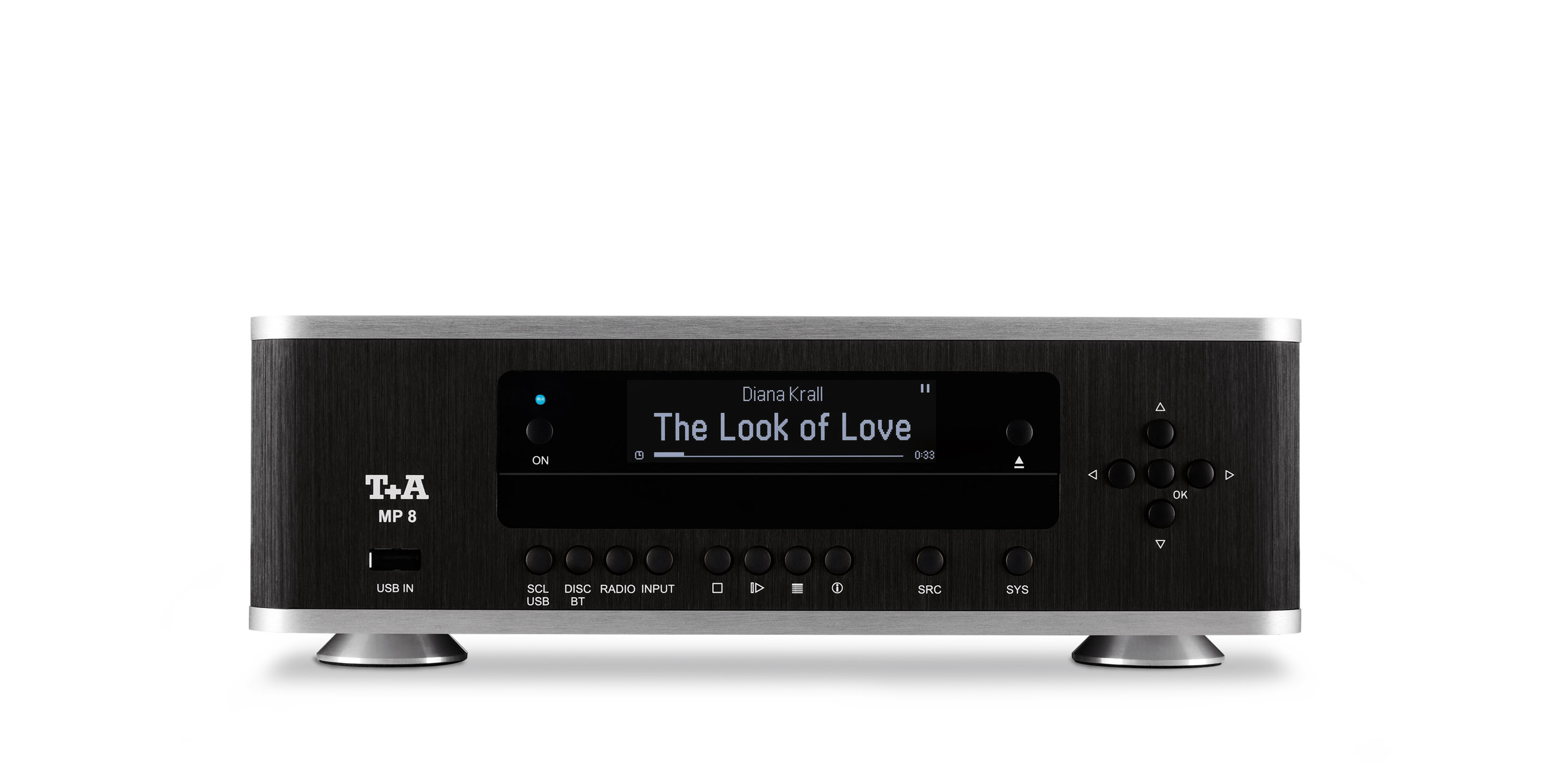 The MP 8
The MP 8 looks small and inconspicuous. At first glance the casual observer may think it is just a classic CD player, but its true capabilities extend far beyond this. Our multi-source player houses a first-class CD mechanism; a high-performance digital tuner offering FM, FM-HD and DAB+ reproduction; a high-quality Bluetooth streaming module for receiving music from mobile devices, a streaming client with Internet radio and music services for connection to the home network via LAN and WLAN, USB Master Mode and HD streaming plus a digital connecting board with inputs for external sources (two USB device mode and three HD-S/P-DIF). The wide range of connections allows external equipment to exploit the machine's superb signal processing to the full.
Please note: the MP 8 is not a computer; it is a high-end audio device incorporating many supplementary functions designed to ensure that all modern digital sources can be used, reproduced and processed to a D/A converter in the highest possible quality.


The MP 8 can provide any converter with high-quality audio data (up to 192 kHz) via its S/P-DIF output, but the perfect match is our DAC 8 DSD. The SYS OUT and DAC 8 LINK outputs are used to exchange control data and transmit audio signals with optimal routing to the DAC 8 DSD. When using the T + A App, the entire Series-8 system is controlled via the MP 8.
The MP 8 delivers a stunning experience in sound reproduction, and finally exploits the full potential of digital music sources.
Show more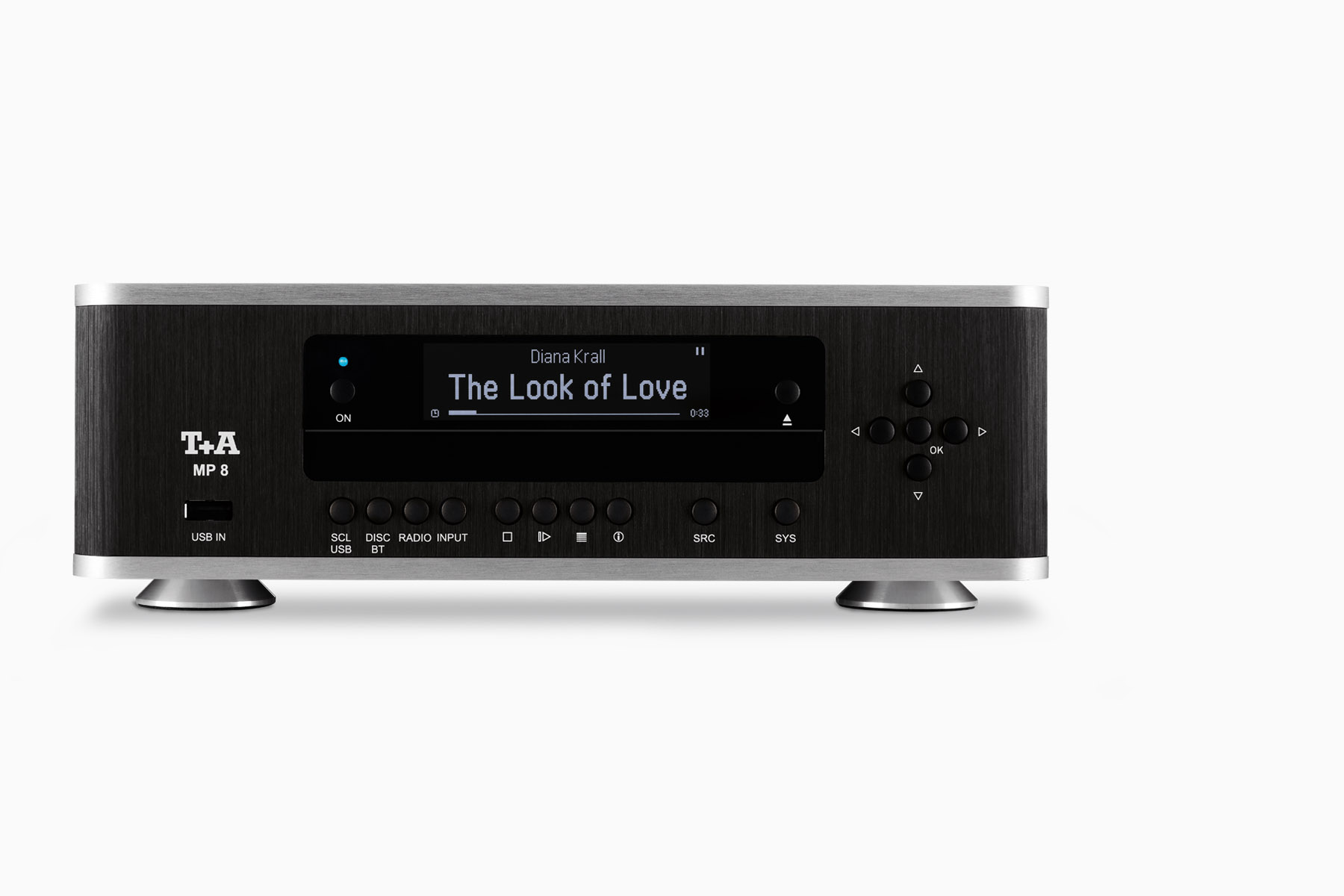 Technology
T+A was one of the first High-End manufacturers to install additional digital sources in its CD players. This was an unusual idea, but can now be seen to be a consistent and logical approach. We call these devices Multi Source Players, and all our High-End series now include them. Our design engineers were asked to integrate five high-quality digital sources in the very small case of the Series 8 range, and this represented a particular challenge to them.
The first source is a high-quality CD mechanism boasting very fast access times, and its error correction is outstandingly good. Although the CD has been very largely superseded by streamed content, it is very clear that our customers still harbour the wish to be able to play CDs. We have developed a disc mechanism featuring refined mechanical design and a floating suspension. It just barely finds space in the small cabinett of the MP 8.
The machine's second digital source is the streaming client (SCL), which takes the form of a network-enabled processor board designed with audiophile sound performance in mind. It features USB Master mode ports as well as WLAN and LAN ports. The board creates a high-quality connection to networks and the Internet, and is capable of streaming audio data using UPnP at up to HD quality (192/24). We deliberately eschewed a standard computer solution, as its high-frequency interference signals would have had an adverse effect on sound quality.
The SCL is a T+A development and supports high-resolution formats, music services and media servers, and includes the convenient airable Internet radio service at no charge.
The digital tuner is the third of the MP 8's digital sources. Fully digital intermediate frequency (IF), demodulation and stereo decoder stages ensure that the tuner provides outstanding sound quality. It has excellent sensitivity, high crosstalk attenuation and overload margins, and sounds excellent when using cable and aerial systems. The tuner delivers FM, FM-HD and DAB+ radio services, and offers Radiotext, presets and various supplementary functions depending on the service selected.
A high-quality Bluetooth receiver module forms the fourth digital source. Its purpose is to transfer music files from mobile devices at very high quality using aptX® technology. This process makes it possible to transfer data – such as uncompressed FLAC files – even using the limited bandwidth available with a Bluetooth radio link.
The fifth digital source is the digital connecting board featuring three digital inputs. This is used to connect any external sour­ces – such as set-top boxes, drives, digital recorders and players – at HD quality . The jitter-free S/P DIF digital output allows the connection of any external D/A converter.
Show more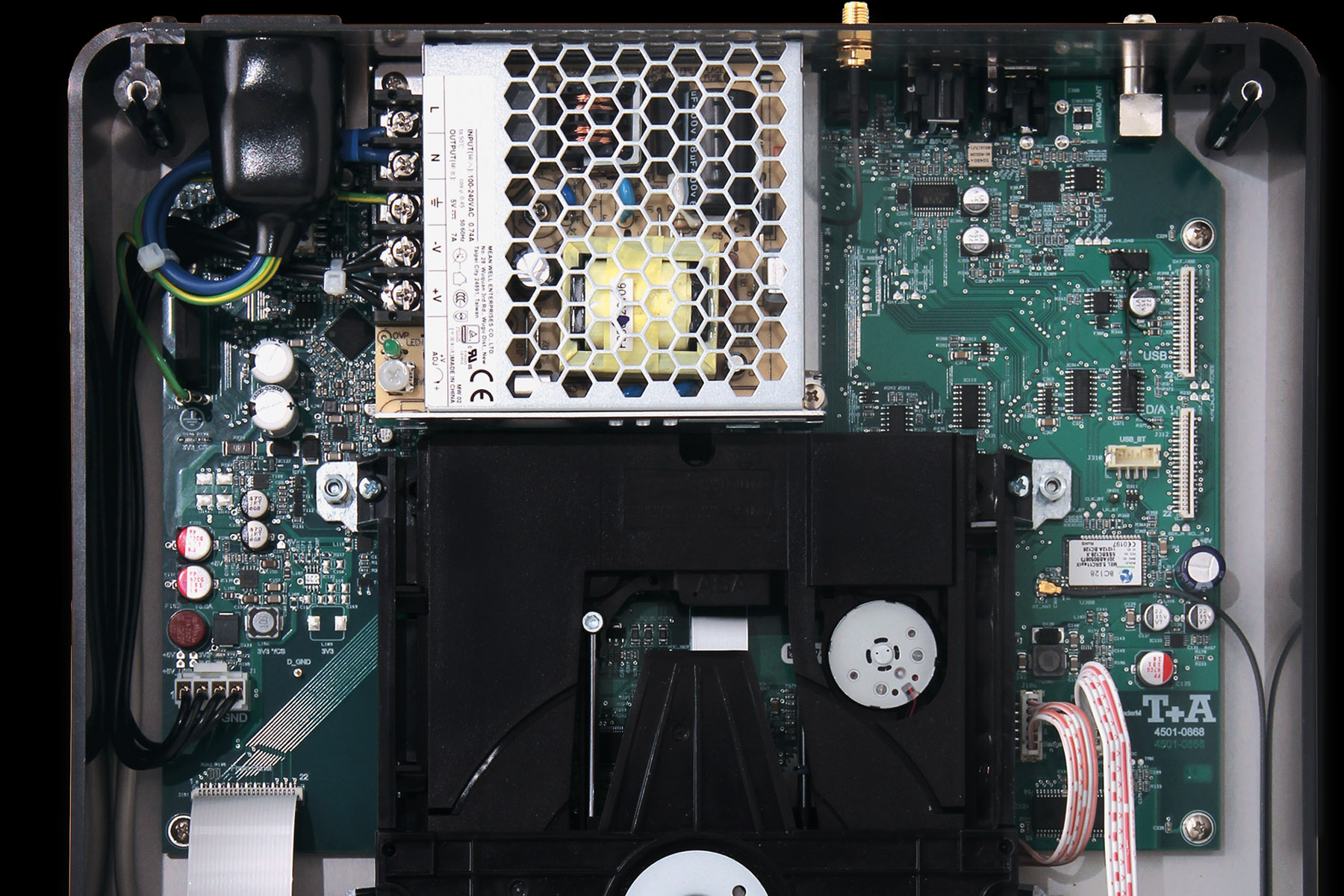 CD drive unit
High precision linear tracking drive CD: 785 nm
Formats
CD, CD-R, CD-RW, CD Text
Frequency response and dynamics
CD: 2 Hz - 20 kHz / 100 dB
Formats / Standards
MP3, WMA, AAC, OGG Vorbis, FLAC, WAV, AIFF, ALAC
Data rates
PCM 32...192 kHz,16/24 Bit; MP3 to 320 kBit, variable and constant bit rate
Music services
Tidal, Deezer, qobuz, Roon Ready
(Subscription required)
Features
Gapless Playback für MP3 (Lame), WAV, FLAC. T+A MusicNavigator App for iOS and Android
Interfaces
LAN: Fast Ethernet 10/100 Base-T, WLAN: 802.11 b/g/n with WPS
Internet Radio
Airable Internet Radio Service (> 11000 stations)
FM, FM-HD
87,5 - 108 MHz; sensitivity 1 µV; S/N > 65 dBA
DAB, DAB+
168 -240 MHz (Band III); sensitivity 2,0 µV, S/N > 96 dBA
Features
RDS/RDBS, Stationname (PS), Programm type (PTY), Radiotext (RT)
Bluetooth Standard / Codes
A2DP (Audio), AVRCP 1.4 (Control) / aptX®, MP3, SBC
Digital output
1 x coax, IEC 60958 S/P-DIF (LPCM)
Digital inputs (digital connecting board)
3 x S/P-DIF: 2 x standard coax 192 kHz / 24 Bit, 1 x optical TOS-Link 96 kSps /24 bit.
2 x USB Master-Mode for USB-mass storage (Stick oder HDD)
1x USB: Device-Mode is passed through to DAC 8 DSD

Mains / Accessories / Dimensions
Remote Control
Infrared remote control FM8, included
Accessories
USB interconnect cabel from USB A to USB B, SYS Link Cable
Mains
100-240 V, 50-60 Hz

Power consumption max.
20 Watts
Auto power off function
yes (after 90 minutes without audio signal)
Dimensions
9,5 x 27 x 27 cm, 3.7 x 10.6 x 10.6 inch
Finishes
Case black aluminium 42, cover silver aluminium 43
Technical modifications reserved
Update your T+A device to the latest firmware. Select the "Device Info" menu item in the device configuration menu. Now select "MP8". Confirm the set selection "WEB". Wait until the update is finished. Make sure that your PC and your MP 8 are connected to the same network. Next, sign up for a Roon membership and download Roon for your PC or MAC. You can also download the Roon app for Android or iOS devices.

If a DAC 8 DSD is also present in your setup, please carry out a firmware update for the DAC 8 DSD, too. The DAC 8 DSD is a "Roon Tested" device and can be controlled by Roon.
For a period of three years after last distribution of this product or its firmware, T+A offer the right to any third party to obtain a complete machine-readable copy of the corresponding source code on physical storage medium (DVD-ROM or USB stick) for a charge of 20€. To obtain such copy of the source code, please write to the following address including information about product model and firmware version: T+A elektroakustik, Planckstr. 9-11, 32052 Herford, Germany.
For a period of three years after the last sale of this product or its firmware, T + A offers any third party the right to receive a complete machine-readable copy of the corresponding source code on a physical storage medium (DVD-ROM or USB stick) for a fee of € 20 to obtain. In order to receive such a copy of the source code, please write to us, specifying the device type of the relevant product and the firmware version:T+A elektroakustik, Planckstr. 9 -11, 32052 Herford, Deutschland
Stereo & Video Tschechien 1/2020
Nechcete mít nedostatek? Kupte si T+A!
Puvodne bylo mým zámerem zaradit oba prístroje do prehledu toho, co umejí streamery (viz príští vydání S&V). Pri srovnání možností prístroju T+A a ostatních mi to prišlo nelogické a pro T+A degradující. Navíc schopnosti obou modelu jsou natolik nadprumerné, že si zaslouží vlastní profil.
Mit vorzüglicher Hochachtung
So tief konnte ich noch nie ins effektvolle Wohlklangbad eintauchen. Allein das hörspielhafte, bis zum Einsatz von Jeff Becks Leadgitarre dauernde Intro lief während des Testlaufs fünfmal hintereinander. Ohne den MP 8 als Zuspieler bleibt der Suchtfaktor viel kleiner. Das verdient alle Hochachtung, und für mich steht definitiv fest: Der MP 8 ist ein würdiger T+A Repräsentant – vom Aludeckel bis zum Absorberfuß.
Multi Source Player mit Teamgeist
"Unterschätzt die Kleinen nicht", schrieb T+A in seiner Werbung zur Serie 8. Und das ist keine hohle Marketing-Worthülse. Der T+A MP 8 Multi Source Player bietet digitalen Musikgenuss auf vielfältige Weise und auf einem sehr hohen Gesamtniveau. Insbesondere in Kombination mit seinem Lieblingstanzpartner DAC 8 DSD. Steigerungen in Sachen Klang oder Ausstattung gegenüber diesem dynamischen Duo dürften teuer werden und sind kaum noch in großen Schritten vorstellbar.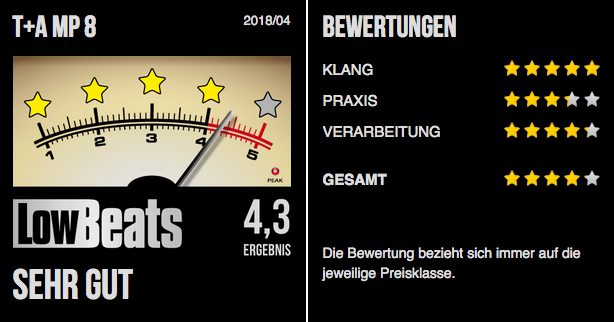 Wunderkisten
Hier ergänzen sich zwei Multitalente: der DAC 8 DSD überzeugte schon vor einiger Zeit mit überragenden Wandlungsfähigkeiten und seiner feinsinnigen Wiedergabequalität. Jetzt ergänzt ihn T+A mit einer Digitalquelle die keine Wünsche offen lässt. Der MP 8 bietet Streaming-Funktionen, CD-Player und ein UKW/DAB-Radio. Zusammen bilden die beiden kompakten Geräte eine digitale Komplettanlage, die klanglich wie optisch höchsten Ansprüchen genügt.