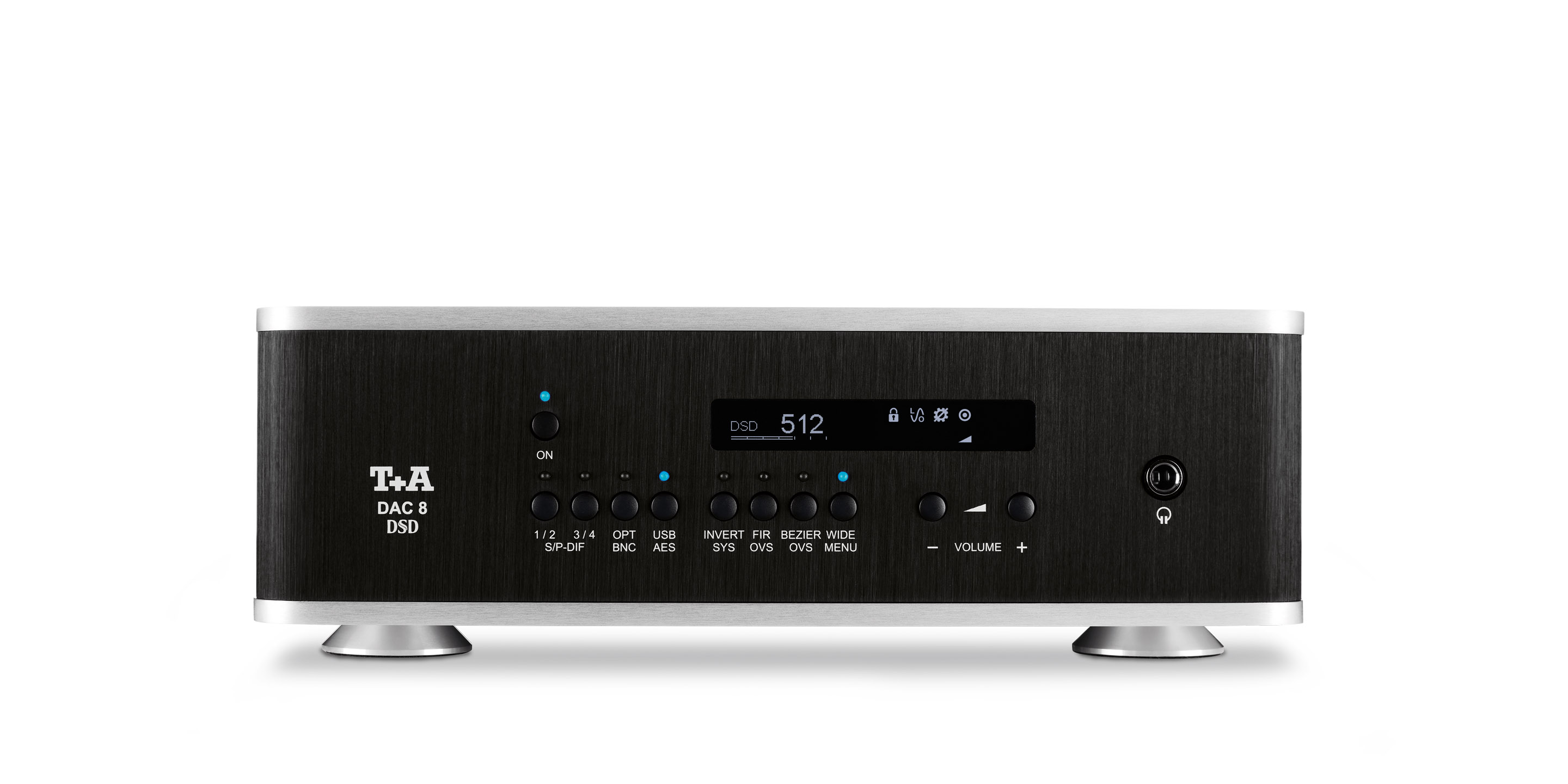 The DAC 8 DSD
Fundamentally our new DAC 8 DSD is capable of doing everything necessary to convert every form of digital source into analogue signals at the very highest quality, including DSD right up to the highest possible resolution. We have again further improved the unit's outstanding pre-amplifier, and incorporated a volume control of fully analogue construction based on High-End Melf resistors. The "State of the Art" output stage is of fully symmetrical design and discrete construction. Its impedance is very low, and it is equipped with symmetrical(XLR) and asymmetrical (RCA) outputs. These features make the DAC 8 DSD more than just a High-End converter: it is also a High-End pre-amplifier of supreme quality.
The seriousness of our claim that the DAC 8 DSD is one of the world's finest high-end converters can be judged by the fact that we employ two separate, sophisticated mains power supplies for the analogue and digital sections. A volume control is another unusual feature in a DAC, but it makes good sense if the user wishes to install active loudspeakers, or employ the DAC 8 DSD as a pre-amplifier in conjunction with external power amplifiers. The volume control is of highly refined design, and exploits analogue control elements down to low volumes, as they avoid any loss of dynamic quality even at low listening levels. Two gold-contact relays are provided to by-pass the volume control, i.e. it can be removed entirely from the signal path when not required.
We placed particular emphasis on the development of a very good headphone amplifier with the ability to handle high currents. This further widens the practical applications of the DAC 8 DSD.
Show more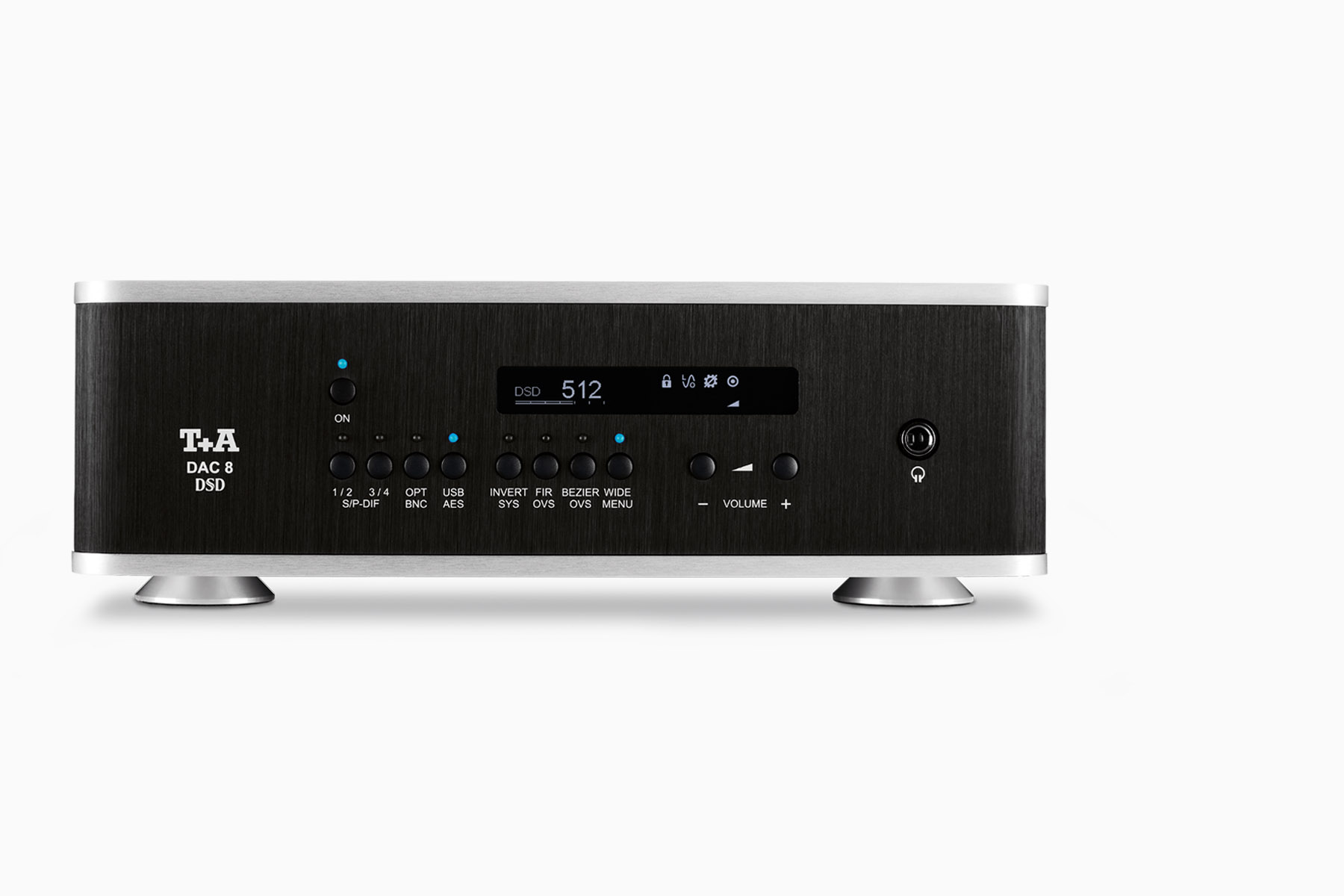 Technology
The core of the DAC 8 DSD is the converter. As in our high-end players this device also employs the superior quadruple arrangement with eight 32-bit converters from Burr-Brown in a double symmetrical circuit. This circuit provides perfect compensation for non-linearities, and the residual background noise – which is excellent in any case with the 32-bit converters we employ – is reduced by approximately a further 6 dB. The result is a dynamic performance which is hardly capable of improvement, with a perfect "black level", extreme linearity and freedom from distortion, even in critical passages and the most minute musical details. Oversampling is carried out by a modern 56-bit signal processor, for which T+A has developed algorithms specific to our equipment, offering perfect timing characteristics. They are based on Bezier polynomials: Bezier interpolation and Bezier / IIR combination. A standard FIR filter and a short FIR filter are also provided. These options make it possible to select the optimum sound quality to suit the individual piece of music. The DAC 8 DSD can even invert the absolute phase of the audio signal at the digital level, and thereby correct material recorded with incorrect absolute phase.
For the purpose of handling DSD data which can be supplied via the PC-USB input we have developed a unique, dedicated converter: the T+A True One Bit DSD Converter. This is of fully analogue construction and constitutes a genuine one-bit converter, since – unlike other manufacturers – we did not want to use the DSD mode of a PCM converter. This development ensures that DSD data are processed in a genuine one-bit stream process, uncoloured and without detrimental additional conversion, as in our PDP 3000 HV High-End DSD / PCM player.
Fifteen long years ago we developed a means of galvanically separating the converter from the analogue section for use in our high-end players: this provides complete galvanic isolation of the digital section from the analogue section using extremely fast digital isolators made by Silicon Labs in the DAC 8 DSD. The result is to prevent any interference from the source devices finding its way into the analogue section. Computers, in particular, generate enormous levels of interference noise which would ruin the superior sound qualities of the audiophile output stage without this measure. The "State of the Art" analogue stages are of fully discrete and symmetrical construction, and do not employ OP-AMPs. Their linearity is not a function of "hard" negative feedback, as is typical of OP-AMPS, but rather due to the quality of the circuit design and the components employed, which are selected and matched to very fine tolerances. A further unique feature of the DAC 8 DSD is its switchable analogue bandwidth, which has already proved so effective in our high-end players. The limit frequency of the DAC 8 DSD's analogue reconstruction filter can be switched between 60 kHz and 120 kHz; the "ultra-wide" 120 kHz setting is the key to perfect frequency response and phase characteristics when used with power amplifiers with a broad-band output – such as those in the T+A range, naturally. The phase linearity and signal fidelity of the "ultra-wide" circuit also has a perceptible effect in the audible range, and allows an open sound image with phenomenally clear positioning and ultra-lively dynamics.
Show more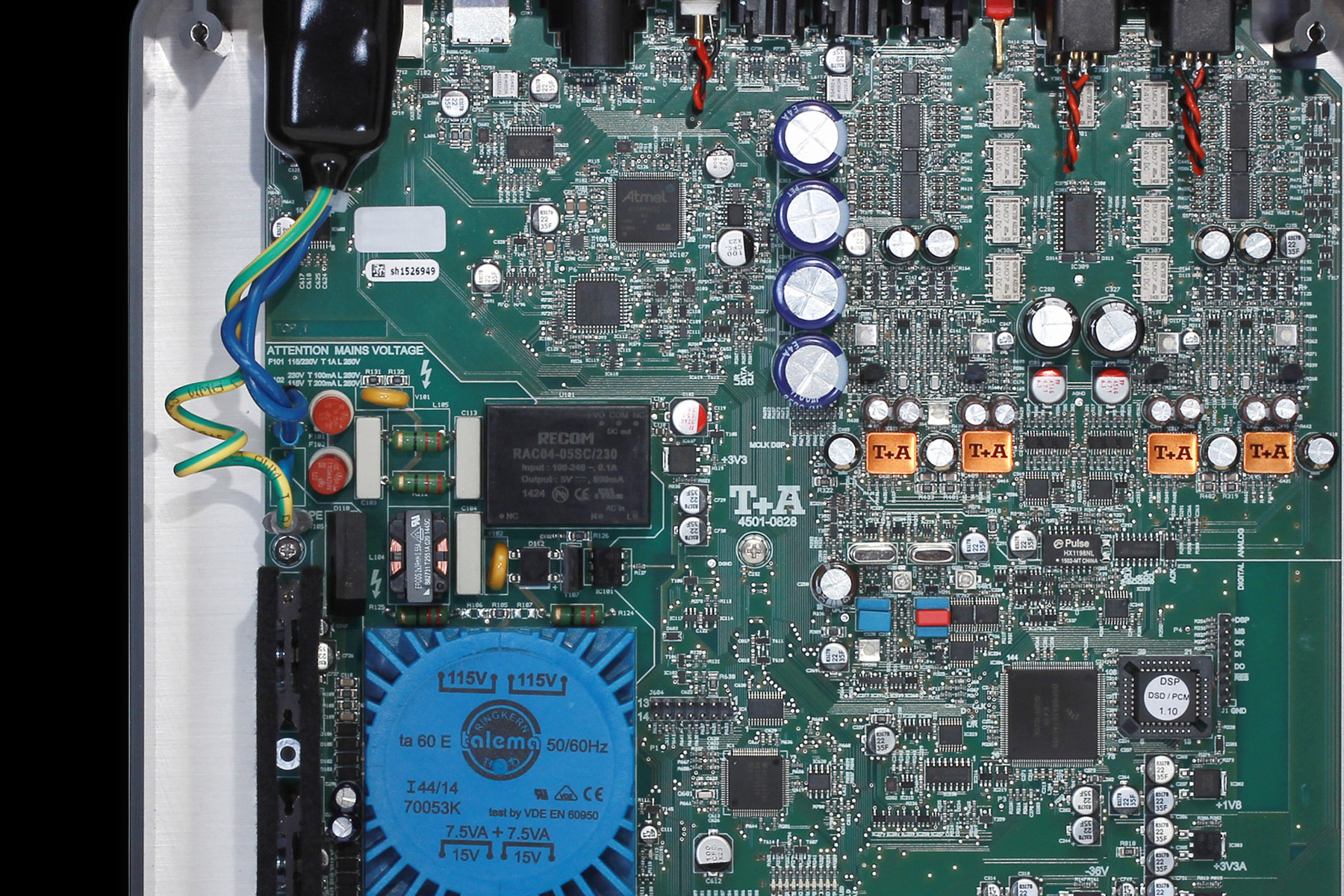 PCM
Double-Differential-Quadruple-Converter with 4 D/A-Converters per channel,
32-Bit Sigma Delta, 352,8 kSps/384 kSps. Eight times oversampling.
Upsampling: free programmable signal processor with four selectable oversapling algorithims. FIR kurz, FIR lang, Bezier/IIR, Bezier
DSD
Direct DSD Signal Path via T+A True 1 Bit Converter
Analogue filter
Phaselinear filter with bandwidth switching 60 kHz or 120 kHz
Frequency response PCM 44,1 kSps
2 Hz - 20 kHz
Frequency response PCM 48 kSps / DSD 64
2 Hz - 22 kHz / 2 Hz - 44 kHz
Frequency response PCM 96 kSps / DSD 128
2 Hz - 40 kHz / 2 Hz - 60 kHz
Frequency response PCM 192 kSps / DSD 256
2 Hz - 80 kHz / 2 Hz - 80 kHz
Frequency response PCM 384 kSps / DSD 512
2 Hz - 100 kHz / 2 Hz - 100 kHz
Total harmonic distortion
< 0,001 %
Signal to noise ratio
116 dB
Channel separation
110 dB
Analogue outputs high level (RCA)
2,5 Veff / 22 Ohms fix. 0 ... 2,5 Veff variable
Analogue outputs balanced (XLR)
5,0 Veff / 22 Ohm fix. 0 ... 5,0 Veff variable
Digital output
1 x coax, IEC 60958 (CDDA/LPCM)
Digital inputs S/P-DIF
4 x high quality Coax and
1 x opt. TOS-Link, 1 x BNC,
1 x AES/EBU; 32 kSps; 44,1 kSps; 48 kSps; 88,2 kSps; 96 kSps; 176,4 kSps; 192 kSps; 16/24 Bit
USB (Device mode)
USB Class 2 Mode; support for asynchronous data transfer
PCM-Mode: 44,1 kSps; 48 kSps; 88,2 kSps; 96 kSps; 176,4 kSps; 192 kSps;
352,8 kSps; 384 kSps; 16/24/32 Bit
DSD-Mode: DSD64; DSD128; DSD256; DSD 512; (MAC OS up to DSD 128)
Mains / Accessories / Dimensions
Mains
110-120 V or 220-240 V, 50 - 60 Hz
Accessories
Including remote control FM8,
asynchronous drivers for Windows are available on T+A homepage for download
Abmessungen (H x B x T)
9,5 x 27 x 27 cm
Dimensions (H x W x D)
4 kg
Finishes
Case black aluminium 42, cover silver aluminium 43
Technical modifications reserved
Software / Driver (Win10 only)
Software / Driver (Win 7 and Win 8)
Roon Tested devices have been profiled and tested by both Roon Labs and the device manufacturer for maximum compatibility.

Roon will recognize these devices and send them audio optimized for their capabilties.
DAC 8 DSD – Small in stature but big on features
Excellent sound quality, small and light, this DAC is more sophisticated than you might think. Underestimate it at your peril. We say: a purist´s DAC that does lots of things incredibly well.

Stereo & Video Tschechien 1/2020
Nechcete mít nedostatek? Kupte si T+A!
Puvodne bylo mým zámerem zaradit oba prístroje do prehledu toho, co umejí streamery (viz príští vydání S&V). Pri srovnání možností prístroju T+A a ostatních mi to prišlo nelogické a pro T+A degradující. Navíc schopnosti obou modelu jsou natolik nadprumerné, že si zaslouží vlastní profil.
Though I heard plenty of DACs this year, many with specific strengths, the T+A emerged as the best all-rounder. The DAC 8 DSD has a great feature set which includes selectable filters, headphone and preamp functions as well as all current digital formats. Efficient engineering keeps costs down and performance up, so this isn't a gratuitous statement piece, but instead a smart choice.
Fidelity International 5/2017
The ambitiously engeneered AMP 8 is the obvious match to the DAC 8 DSD, sporting the same high quality machining and pristine sound in a neat, compact enclosure. But the reasonable priced stereo power amp suits perfectly non-T+A equipment, too.

Ein doppelter Jackpot
Der äußerlich unscheinbare DAC 8 DSD hebt die CD-Wiedergabe auf ein sehr musikalisches Niveau. Aber das Sahnehäubchen ist der DSD-Wandler.
Achtung, Suchtgefahr!
Der DAC 8 DSD ist ein doppelter Jackpot. Der Nutzer hat den zweifachen Gewinn, dass er seine CDs neu genießen kann und durch den DSD-Wandler höchst preiswert an neue Ufer der digitalen Musikwiedergabe geführt wird.

Äußerlich dem DAC 8 entsprechend und in seiner Gehäusekonstruktion unverändert, ist auch der DAC 8 DSD ansprechend gestaltet und exzellent verarbeitet. Im Wesentlichen entsprechen auch die PCM-Sektion des Konverterteils und die Ausgangsstufe denen des Vorgängers, was bereits erprobtermaßen für hervorragende Klangqualität sorgt. Die neu hinzugefügte, diskrete DSD-Sektion mit echter 1-Bit-Wandlung krönt einen durchdachten, penibel sehr hochwertig aufgebauten D/W-Wandler und fügt sich klanglich auf überragendem Niveau ein. Mit gut produzierten DSD-Files erreicht der DAC 8 DSD eine Musikalität, die den Hörer sofort emotional ganz involviert und überzeugend für das Format plädieren kann.
Možno sa vám zdá, že tromf a adut jedno jest, ale význam slova adut sa vykladá aj ako dôkaz. Nemeckí inžinieri to opäť dokázali. V podobe prevodníka T+A DAC 8 DSD dávajú audiofilom do rúk mocnú zbraň na spracovanie ľubovoľného PCM a DSD signálu. Najvyššie možné rozšírenie s takými tromfami v rukáve, akými sú aplikované špičkové technológie, čisté spracovanie a nadčasový dizajn, robia túto mašinku, takpovediac na zožratie.
A Magical 8

I got to hear the T+A DAC 8 DSD/HQPlayer/SGM server, albeit an earlier incarnation, combination in Munich last year. While impressive, this system/room/music didn't quite grab me. Now, mixed in with my favorite bits in-Barn, the T+A grabbed me, shook me (well that was actually the music's domain), and didn't let go. Consider the DAC 8 DSD highly recommended for a very long term audition of your music's guts and glory.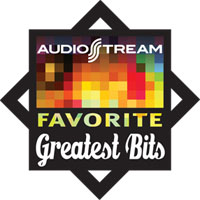 Der (gar nicht so) feine Unterschied

zwischen Wandlern gibt es keine klanglichen Unterschiede?
Mein Rat: T+A DAC 8 DSD anhören und Meinung ändern!
Ich kann nur feststellen, dass T+A mit dem DAC 8 DSD einen D/A-Wandler gebaut hat, der vollkommen unabhängig von der Preisklasse eines der führenden Angebote am Markt ist.

Audio Video Polen 06/2016
Nowa wersja DAC-a firmy T+A sprzedaje się zdecydowanie lepiej niż poprzednia. Nic dziwnego, skoro została znacznie ulepszona.

The DAC 8 DSD is pretty much impressive across the board: it´s format agnostic, lavishly equipped in terms of inputs and outputs, and has that battery of filters to play with – though the selection of these will be as much about personal choice as clear sonic advantages. You felt the punch of a huge instrument in a real space.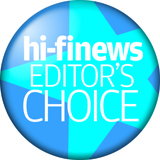 T+A hat mit dem DAC 8 DSD einen Wandler im Programm, dessen räumliche Größe nicht annähernd vermuten lässt, was an musikalischen Leistungsreserven in ihm steckt.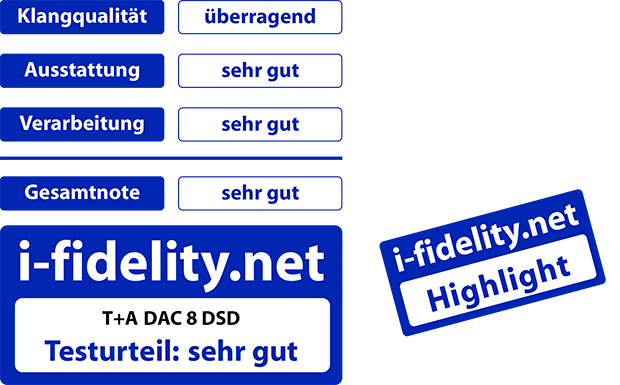 Klanglich lässt dieser Digital-Analog-Wandler keine Wünsche offen. Selbst hartgesottene Analogos dürfen gerne weich werden. Ich kenne zur Zeit kein Einzelgerät, das digitale Zahlenreihen, egal in welchem Format, so packend, so nuanciert, so dynamisch in Musik verwandelt. An diesem kompakten Prachtstück müssen die zum Teil extrem viel teureren Konkurrenten erst einmal vorbei. Der T+A DAC 8 DSD wird hiermit zur Wandlerreferenz der Redaktion.

Hochachtung
Nein, ein Streaming Client ist der DAC 8 DSD nicht. Er ist ein ganz besonderer D/A-Wandler mit USB-Eingang für den PC. Und ein weiterer Meilenstein in der T+A-Historie.
Eigenentwickelte DSD-Wandler verhelfen ihm zu allerfeinstem analogen Klang. Die PCM-Sektion bietet dank vier umschaltbarer Filter ein Klangspektrum, das von ultrapräzise bis ätherisch-räumlich reicht. Klanglich ist der DAC 8 DSD in jeder Beziehung sehr gut.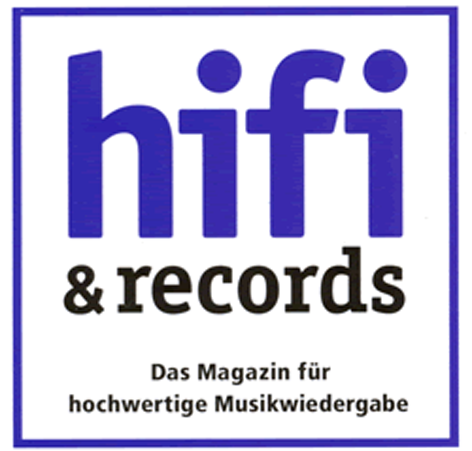 Tecnología potente y sofisticada pensada para la música y presentada en un formato compacto y vistoso para mayor gloria del sonido digital de alta resolución. Todo ello con la garantía de la más "alemana" de las "highenders" germanas.

Der Trick mit der 8
Er heißt DAC 8 DSD. Das it eigentlich eine Untertreibung, denn der neue T+A kann viel mehr als DSD und wandeln.
Sehr flexibler und klanglich überragender Multitalent-Wandler mit vollkommen getrennten Zweigen für DSD und PCM. Er beherrscht höchste Auflösungen und enttäuscht auch in CD-Qualität nicht.
Gesamturteil: überragend
Preis/Leistung: überragend