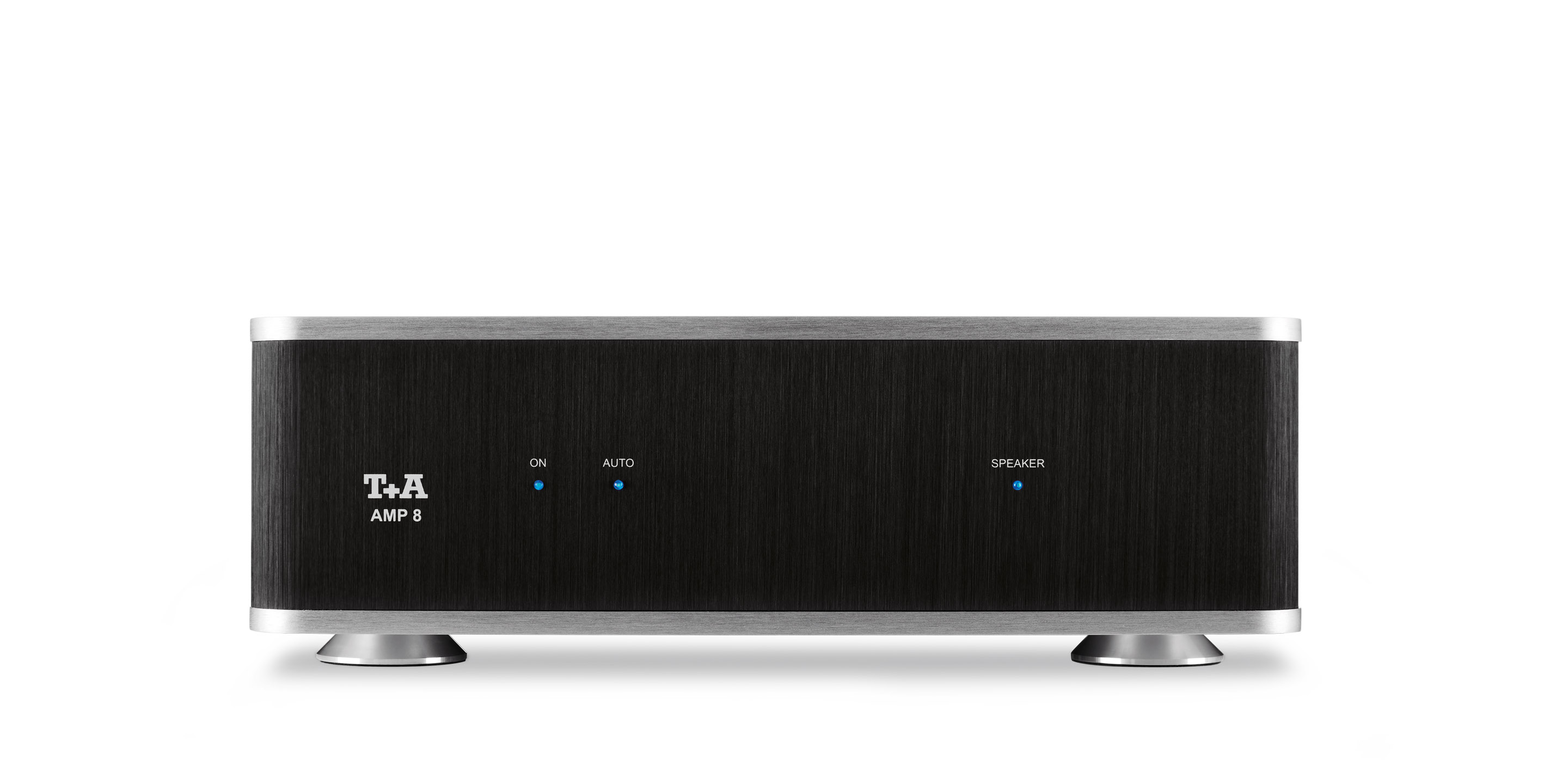 The AMP 8
In order to take full advantage of the enormous sound quality of the DAC 8 DSD, an extremely good amplifier is required, which is uncompromisingly constructed and equipped. This is why the AMP 8 is based on the circuit and design technology of our HV and R-series amplifiers. The design is fully symmetrical and the output stages are equipped with high-performance ThermalTrakTM audio transistors. A cleverly programmed mikro-processor monitors the AMP 8 and controls the protection circuit, which switches of the output relay in case of a short circuit, overheat and overload.
One must not be deceived by the small housing size, the AMP 8 can deliver due to its extremely stable power supply more than 100 watts of continuous output power in the highest quality. The slow-running cooling fan is silent, and is controlled by the micro-processor according to load and temperature. The AMP 8 sounds sensational: vigorous, dynamic, high-resolution yet delicate, subtle and audiophile. The combination of DAC 8 and AMP 8 sets new standards far beyond its price class.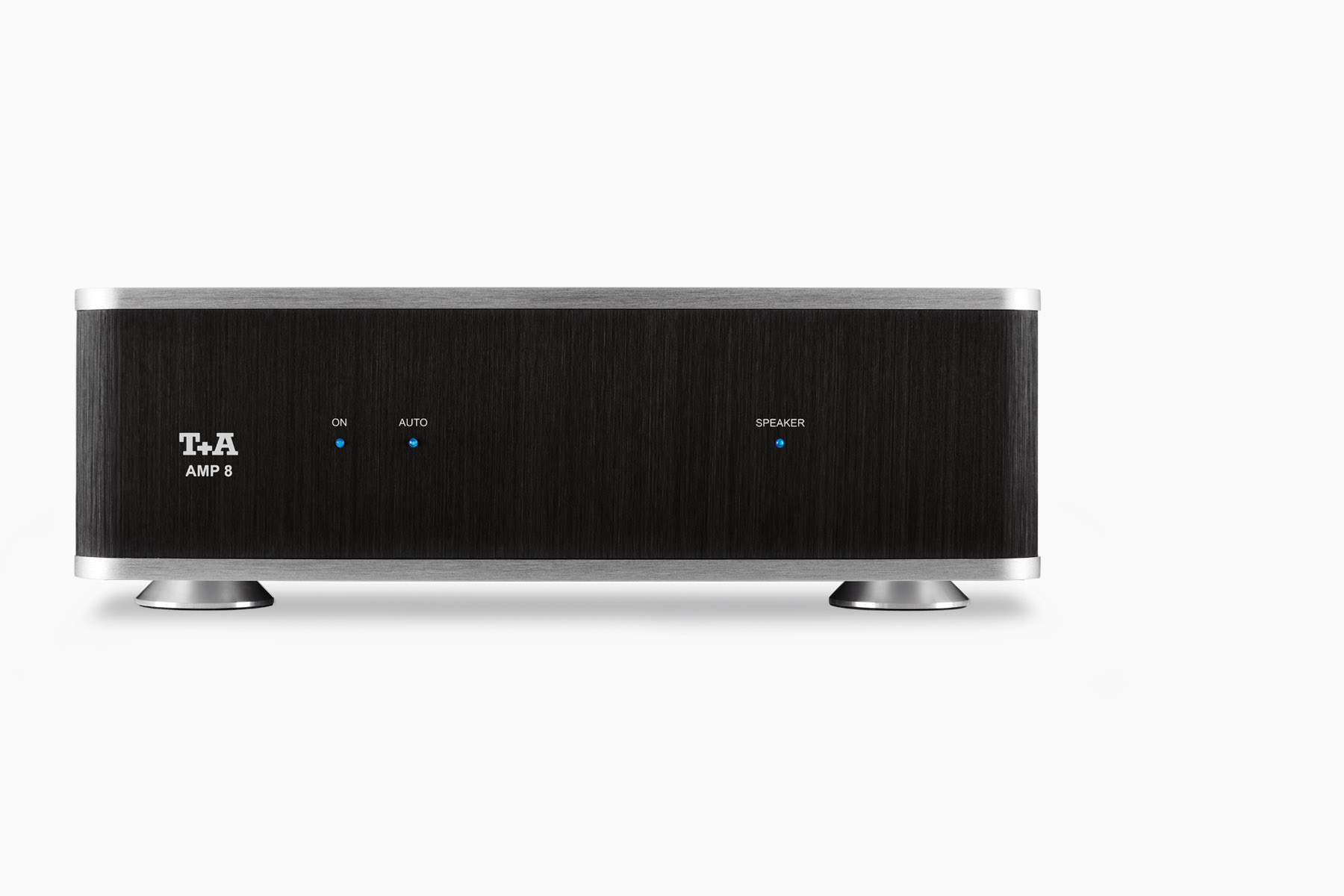 Technology
The overall circuit design of the AMP 8 is that of our sensational PA 3000 HV integrated amplifier, which is why the input stage and the voltage amplifier stage operate at much higher voltage potentials (HV – High Voltage concept). The input stage is a cross-coupled J-FET cascode amplifier, while the voltage amplifier stage is a single-ended Class-A Hawksford FET cascode. The output stage is responsible for current amplification, and is equipped with ThermalTrak TM high-performance audio transistors to ensure that the bias point is totally stable and free of inertia effects. The voltage amplifier stage and the current amplifier stage are completely separate from each other, and each has its own power supply. This prevents any feedback effects from the loudspeakers influencing the voltage amplifiers, which are crucial to sound quality.
We call this circuit concept ICA (Isolated Current Amplifier), and developed it years ago for our R-series of equipment. The individual stages are of extremely linear, broad-band design, with the result that the AMP 8 requires very low levels of "overall" negative feedback; the bandwidth is more than 200 kHz. Our engineers have invested tremendous effort in creating a circuit track layout with absolutely minimal inductivity, thereby helping to achieve superb transient and dynamic response. At those points in the circuit which are crucial to sound quality we employ carefully selected audiophile components such as amagnetic Vishay resistors and special WIMA and ELNA audio capacitors.
The mains power supply is designed to cope with extremely severe and difficult loads. Its torroidal transformer generates up to 400 Watts whilst maintaining low leakage fields, and is capable of driving even very demanding loudspeakers effortlessly. The power supplies for the amplifier stages are completely separate for each channel, and feature their own reservoir capacity and buffering. In consequence there is no trace of interaction of any kind between the channels.
Show more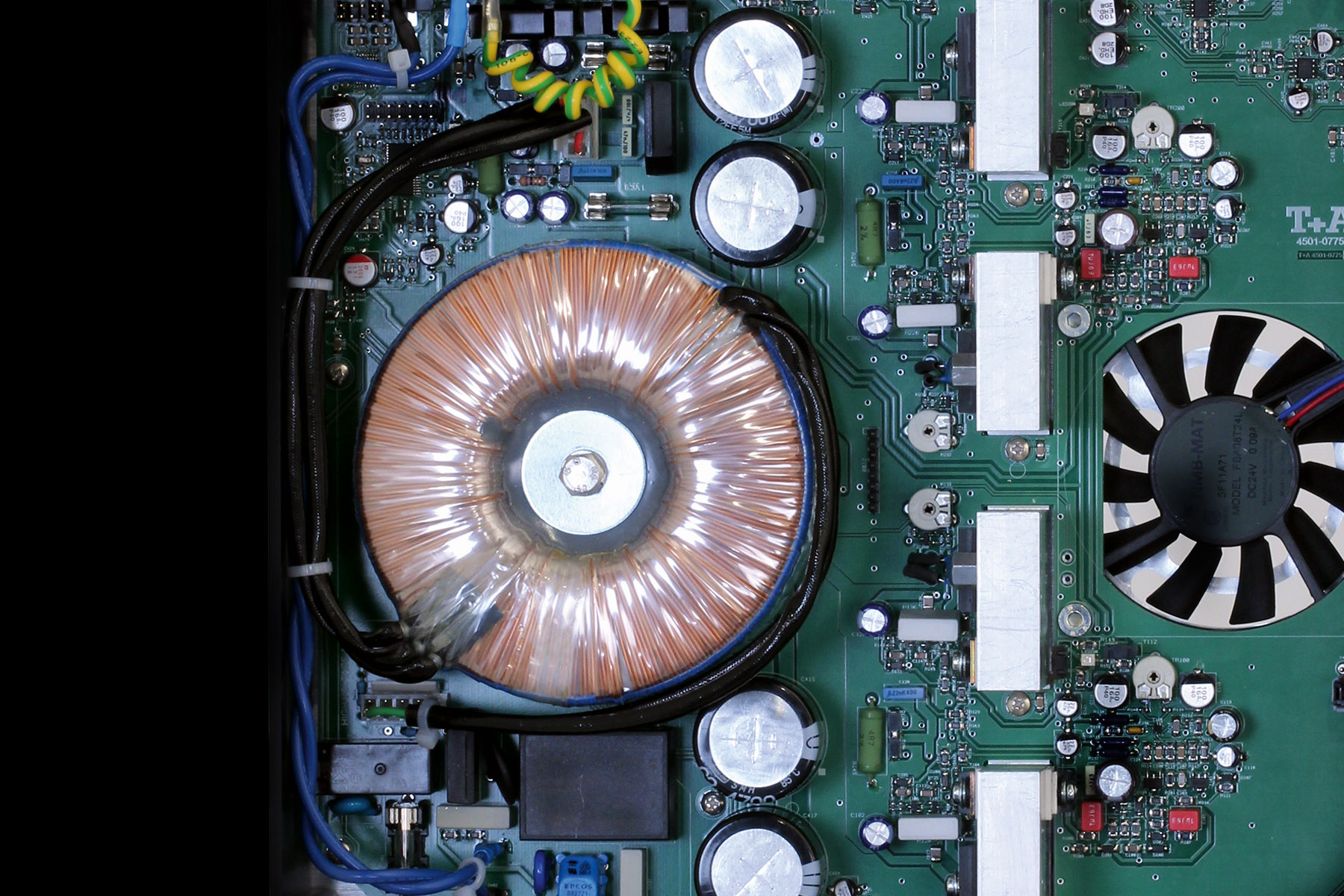 Nominal output per channel into 8 Ohms / 4 Ohms
80 Watts / 110 Watts
Peak output per channel into 8 Ohms / 4 Ohms
100 Watts / 130 Watts
Frequency response + 0 / – 3 dB
1 Hz – 200 kHz
Signal to noise ratio
> 103 / 110 dB
Channel separation
81 / 65 dB
Total harmonic distortion
< 0,009 %
Reservoir capacity
33.000 µF
Mains / Accessories / Dimensions
Mains
110-120 V or 220-240 V, 50-60 Hz. 400 Watts
Additional features
Triggerinput +5 ... 20V for external switching on
Automatic signal-controlled power on
Dimensions (H x W x D)
9,5 x 27 x 27 cm
Finish
Case black aluminium 42, cover silver aluminium 43
Technical modifications reserved
Fidelity International 5/2017
The ambitiously engeneered AMP 8 is the obvious match to the DAC 8 DSD, sporting the same high quality machining and pristine sound in a neat, compact enclosure. But the reasonable priced stereo power amp suits perfectly non-T+A equipment, too.

Der Achter zum Steuermann
Ganz für sich betrachtet entpuppt sich der AMP 8 als wahrer Quell der Freude. Wer also einen DAC 8 stilvoll zum modernen, digital dominierten HiFi-System ausbauen will, kommt am AMP 8 nicht wirklich vorbei. Alle anderen finden im kompakten Kraftquader einen klanglich makellosen Spaßmacher, der eigentlich unter Wert gehandelt wird. Daumen hoch!

Ein stimmiges Gespann
Als Gespann dürfte es für die Konkurrenz schwierig werden, am 8er-Doppel von T+A klanglich vorbeizuziehen. Nur selten hörten die Juroren eine solch stimmige Paarung – und die beiden mussten sich klanglich nicht etwa gegenseitig aushelfen. Gemeinsames Merkmal war ihre tendenziell eher warme, dabei aber sehr durchlässige und fein artikulierende Charakteristik, die sich Tonfülle nicht durch Vernachlässigung feiner Details erkaufte.
Klang: Spitzenklasse
Gesamturteil: gut-sehr gut
Preis/Leistung: überragend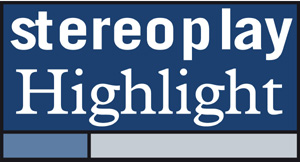 Intelligenz schlägt Kraft – T+A zeigt den Großen mit dem AMP 8 die Zähne
Mit seinen klanglichen Fähigkeiten weiß der AMP 8 ebenso zu überzeugen wie mit seiner Verarbeitung. Auch seine Messwerte sind untadelig! Mehr zu diesem Preis bei diesen Abmessungen ist schwer zu finden.
Preis / Leistung: exzellent

Da gibt es mal wieder rein gar nichts zu meckern – welch Untertreibung!
T+A offeriert mit DAC 8 und AMP 8 elegant gestaltete, ausgezeichnet verarbeitete Elektronik mit sehr anspruchsvoller Konzeption. Und die macht sich klanglich deutlich bemerkbar: Das audiophile Potenzial des DAC 8 reicht deutlich über seine Preisklasse hinaus, der AMP 8 vermag sich klanglich ebenfalls von seinem Budgetrahmen zu distanzieren.
Doch das Wichtigste: Dieses harmlos wirkende Duo ist absolut betrachtet richtig ernstes High-End, sieht nur eben nicht unbedingt danach aus!
Klang: sehr gut
Ausstattung: überragend
Verarbeitung: sehr gut
Bedienung: sehr gut


Der kleine Prinz
Wie ein Großer fächerte er wunderbare Konzertpanoramen auf. Und wenn von der Triangel bis zum Kontrabass die Abbildung der Instrumente ganz exakt stimmte, so nutzte der Amp 8 keineswegs die ganz scharfen Griffel, sondern die Substanz und ihre dreidimensionale Ausformung. Wie der große Bruder PA 3000 HV vermag auch der Amp 8 die Transistortechnik in eine neue Dimension zu transzendieren.
Punktgenau auf den täglichen Gebrauch ausgelegt, klingt er warm, voll und trotzdem gut auflösend.
Klang Cinch: 100 Punkte
Klang XLR: 100 Punkte
Ausstattung: gut
Bedienung: sehr gut
Verarbeitung: sehr gut
Preis/Leistung: überragend

Quadratisch, praktisch, ausgezeichnet.
Der Amp 8 ist der perfekte Spielpartner für den DAC 8 und bildet mit ihm zusammen eine sehr cleane Kombination. Aber auch andere Zuspieler profitieren vom ausgewogenen Klang des Verstärkers, der auch von etablierten Vollverstärkern gern die Endstufenarbeit übernimmt.
Preis / Leistung: ausgezeichnet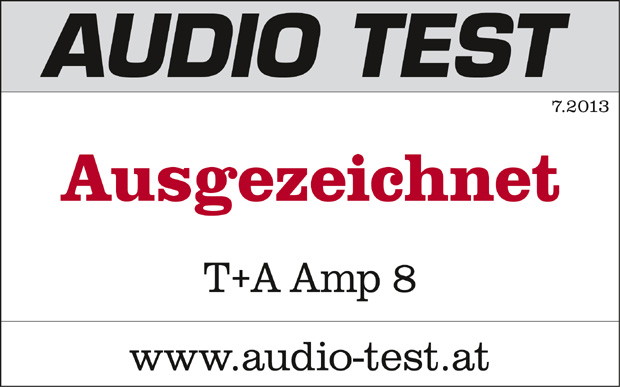 Voiced perfectly to make a great system when used with the DAC 8 – it´s natural partner – the AMP 8 sounds crisp and vivid with just the right balance of warmth and civility to avoid it appearing relentlessly analytical. If you can accommodate a bigger pair of floorstanders, the AMP 8 should drive them with ease, making for a high end system without breaking the bank. It´s another outstanding design from T+A.