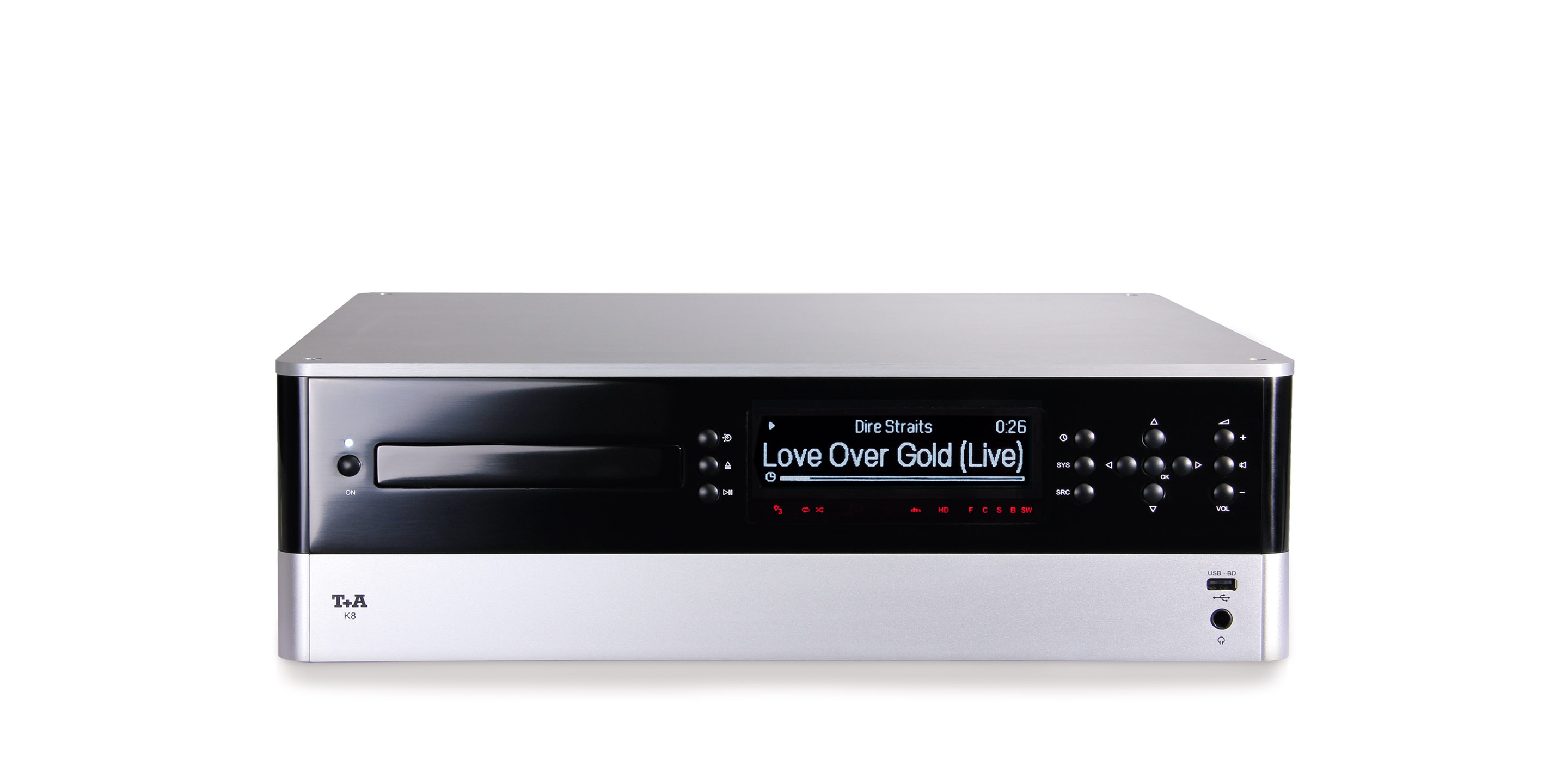 The K 8
The K8 is certainly a highly refined 7.1 surround receiver, but it actually constitutes the control centre for a large number of external sources such as set-top boxes, Playstations or digital recorders. At the same time its integral components also offer the facility to play BluRay or DVD films, listen to CD or FM radio, and access the home network via the Streaming Client for Internet radio and playback from servers and hard discs. Classic analogue and digital inputs are also present.
The controls in the classic T+A style make the K8 dead easy and intuitive to operate, despite its multitude of functions. All essential functions are directly accessed on the device.
The FM100 premium system remote control is very neatly structured and colour-coded. Its function blocks are distinctly separated with a clearly readable lettering. Beyond the normal operation, the FM100 allows to use additional functions and text entries. Basic adjustments like loudspeaker levelling, balance, tone controls and the selection of the surround sound matrix are made via simple menus on the remote. It is even more comfortable using our FD 100 bi-directional radio remote control handset with screen, the optinal Gateway (radio receive module) has to be installed in the machine. The T+A Control App can be used as well and offers very comfortable operation of the system.
Show more
Technology
Concerning A/V devices, we at T+A also attach great importance to great sound quality, which is why we use a high-grade BluRay drive with three lasers. It does not only deliver a superb picture with BluRay and DVD, but also a notably good CD reproduction. We use only first-class audiophile D/A converters by Burr-Brown, for the front channels (stereo) even in the balanced differential mode. All current Dolby and DTS HD formats are available and will be decoded by our highend audio board.
The video board designed by T+A has an outstanding picture quality, for it uses a cutting-edge video processor from Genesis whose sophisticated scaler can upscale the video data from the analogue inputs and from DVDs to 1080p at the most. So you can also connect older source devices without HDMI output to the K8 and run them with ultimate quality via the HDMI 1.4a output. Thus all modern TV sets, beamers and panels can be fed in an optimal manner. For external video sources there are three HDMI inputs which transfer 3D formats as well.
The front panel USB port is linked to the BluRay player and allows to enter and playback LPCM, MP3, photo, JPEG and movie data files or the use of a USB stick for BD-Life usage. The high-class headphone socket has been purposefully designed very upmarket for large jack plugs and has its own power amplifier. When used, the loudspeaker outputs will be turned off completely.
The comprehensive array of sockets indicates the enormous range of facilities provided by the K8 – it really is a command centre. Seven passive loudspeakers can be connected to the high-quality speaker terminals, which are made of gold-plated pure brass. As you would expect, an output for an active sub-woofer is available for the primary listening area. The K8 can be configured for various modes of operation, in which the loudspeaker outputs are used in different ways. The standard configuration is a 7.1 surround set-up for the main room. If this is not required, an alternative 5.1 configuration can be selected, in which case the BACK channel power amplifiers can be used to provide a stereo downmix signal in Zone 2 (adjacent room), with its own volume control. If the optional 3.1 configuration is chosen, i.e. if you just want to use main speakers, Centre and sub-woofer in the main room, then the surround channel power amplifiers can again be employed to provide sound in Zone 3. Permanent provision is made for a fourth Zone in the form of a RCA output, but this does require supplementary power amplifiers or active speakers, such as our CM Active. RCA outputs are also provided for Zones 2 and 3 or the BACK and SURROUND channels. The volume can be set independently in the different rooms (or zones) if the supplied E 2000 receiver is connected to the RC socket for that zone, and installed in the adjacent room. A USB socket can be used as power supply for an audio radio transmission module.
A further facility offered by the K8 is to use the BACK channel power amplifiers as supplementary bi-amping power amplifiers for the primary channel, or to switch the Zone 4 RCA outputs to the front channels. This requires a change to internal jumpers in the machine; this work must always be carried out by an authorised dealer.
Show more