K 2 Blu
3.1 BluRay Receiver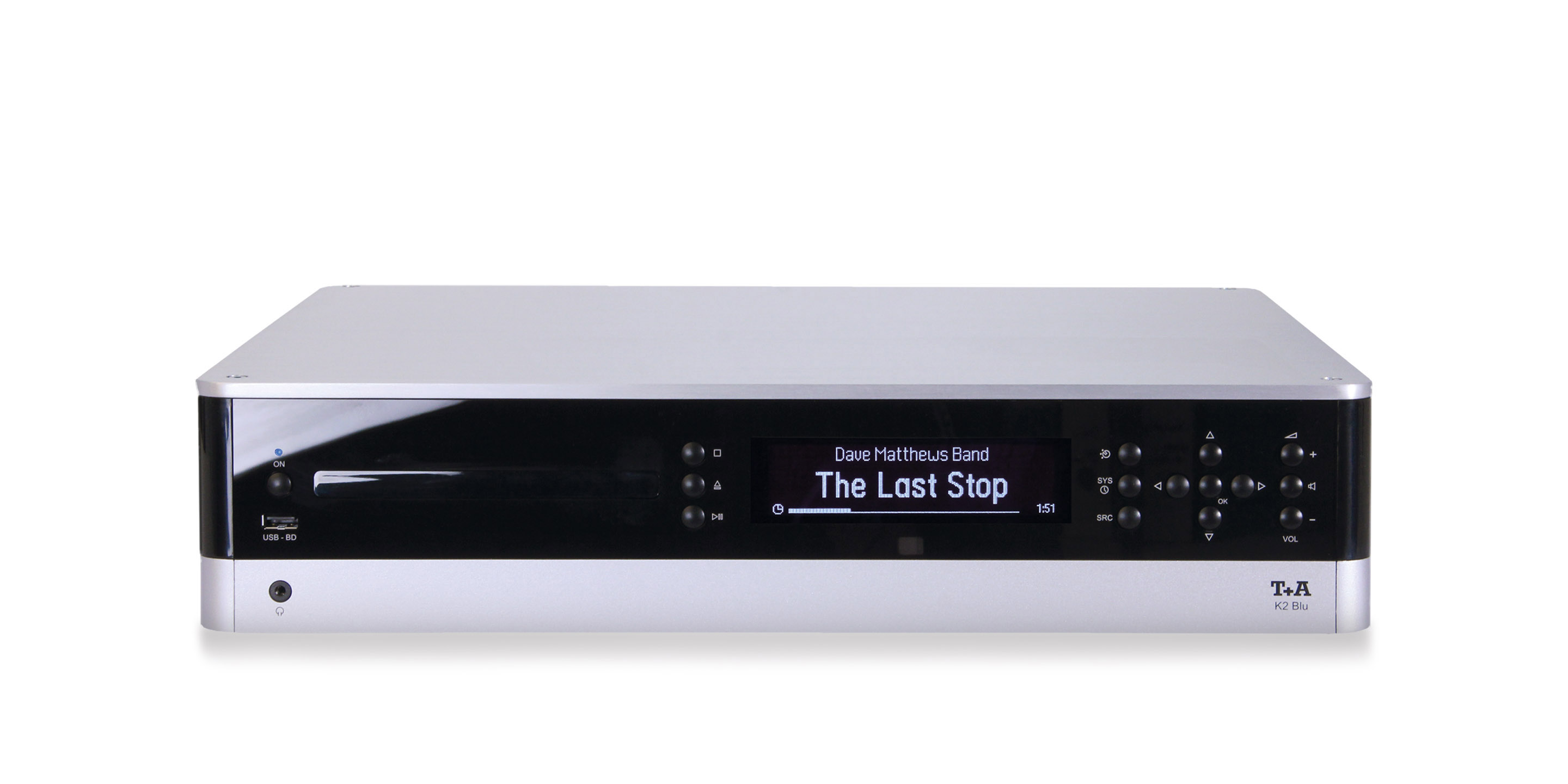 The K 2 Blu
Our design brief at the development stage of the K2 Blu foresaw an all-purpose device for music lovers who wish to play music from a range of media and sources at the highest level of quality, to enhance the (generally very paltry) sound quality from their televisions to a high level, but are not prepared to make space in their living rooms for six or eight loudspeakers. For this reason the K2 Blu is not a classic surround receiver with 7.1 speakers and HDMI source switching; that need is met by our K8. Instead it is designed to power two stereo loudspeakers and an optional centre speaker, a sub-woofer and two additional external speakers for an adjacent room. Various modes of operation can be selected, such as three-channel or virtual surround, and this versatility makes it easy to obtain optimum reproduction from the loudspeakers connected to the unit and the type of music being played. The base functions of the K2 Blu can be controlled on the device itself, while the FM 100 system control handset provides access to supplementary functions and text input in addition to normal operation.
Basic adjustments such as loudspeaker calibration, balance, tone and the choice of spatial effect matrix are available through simple menus controlled by the remote control handset. Our FD 100 bi-directional radio remote control handset with integral screen can also be used, since the necessary gateway (radio receiver module) is installed in the machine as standard. Naturally it is also possible to use the T+A Control App. The large-format, high-resolution graphic VFD screen displays the data and information in context-sensitive form in different font sizes, and several levels of display brightness are available.
Show more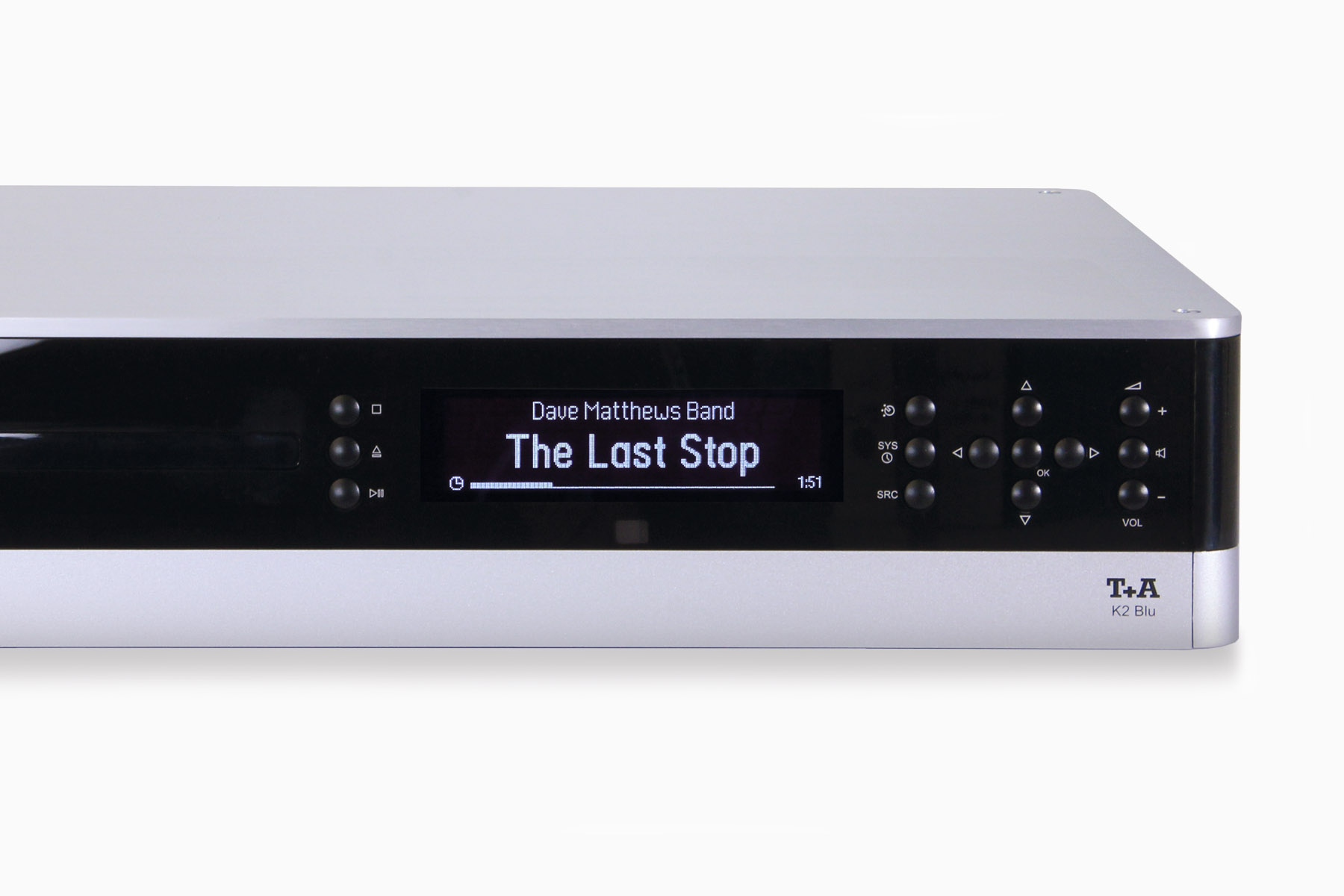 Technology
The K2 Blu is fitted with a high-quality RDS FM tuner, a superb-sounding Bluetooth module and a modern Streaming Client, and therefore has access to local networks (either WLAN or LAN) and all UPnP servers and computers connected to it, as well as Internet radio. Classic analogue and digital inputs are also present.
Both the K2 Blu and the K8 are equipped with high-quality BluRay disc mechanisms with three lasers. These sophisticated units not only deliver outstanding picture quality from BluRay and DVD (with automatic upscaling), but also exceptionally good CD playback. The picture signal is available through the digital HDMI output, and the finest HD picture quality can be obtained, limited only by the monitor or television connected to the system. The BluRay-specific menus are displayed on the connected TV set or monitor. The USB port on the front panel is connected to the BluRay player, enabling LPCM, MP3, Photo-JPEG and film files to be fed in and played; USB sticks can also be used for BD-Live.
The integral screen window conceals the IR receiver for the FM 100 remote control system as well as the aerial for the Bluetooth module. The K2 Blu is fitted with a Bluetooth interface conforming to A2DP, which enables fast, simple binding of any kind of mobile audio device to the receiver, and extremely convenient playback of audio files.
The headphone socket has its own amplifier, and switches off the loudspeaker outputs completely when in use. Naturally the K2 Blu also features a clock and a convenient alarm timer. Five speakers can be connected to the high-quality loudspeaker terminals. As in our High-End series these terminals are made of ultra-pure gold-plated brass, which is completely devoid of ferro-magnetic materials, and therefore exhibits no distortion. Loudspeaker pair B is designed to provide stereo sound in an adjacent room, while speaker pair A and the Centre speaker are designed to serve the primary listening room. An output for an active sub-woofer, if required, is also available for the main room. Volume can be set to different levels in the two rooms (or zones) if the receiver (supplied in the set) is connected to the E2000 socket, and installed in the adjacent room.
All the audio signal processing is carried out by a powerful digital signal processor, which generates the sound fields for virtual surround mode, implements any tone control settings and cut-off frequencies for the main loudspeakers and sub-woofer (bass management), processes and controls the output signals of the loudspeaker channels, and converts the three analogue inputs to digital signals, so that these can also be processed at the digital level. The digital data streams are converted by high-quality 24-bit / 192 kHz D/A audio converters made by Wolfson.
The integral amplifiers are high-speed switching output stages (double MOSFETs) which are an in-house development, with a continuous output of more than 150 Watt and the ability to deliver currents of up to 25 Ampere. This is sufficient even for large loudspeakers and spacious rooms! The mains power supply is based on a torroidal transformer with low leakage fields and high reservoir capacity. It offers excellent stability under load, and delivers ample energy at all times. Naturally a sophisticated protective circuit monitors all operational states.
Show more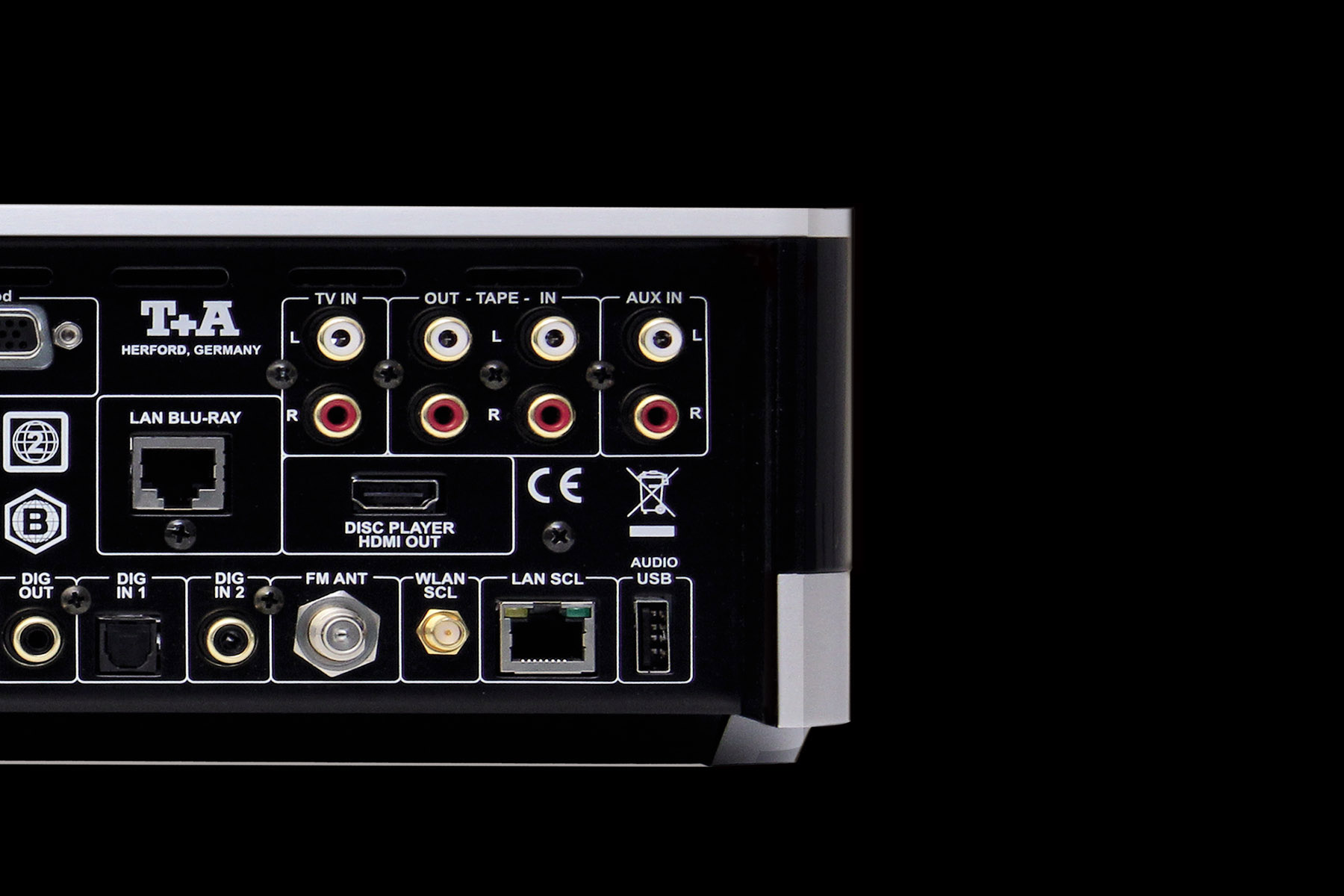 External inputs
Tape, Aux, TV (with Auto on) 2V / 20 kOhms
Headphone output
for dynamic headphones > 30 Ohms
Recording outputs
1V, 150 Ohms
Nominal output per channel (Stereo)
150 Watts into 4 Ohms / 95 Watts into 8 Ohms
Peak output per channel (Stereo)
230 Watts into 4 Ohms / 130 Watt into 8 Ohms
Total harmonic distortion
< 0,005 %
Intermodulation
< 0,005 %
Channel separation
> 65 dB
Frequency response
1 Hz - 60 kHz
Listening zone 1
Stereo (2.0 + 2.1), 3-channel (3.0 + 3.1), Virtual Surround
Listening zone 2
Stereo (2.0)
Bass management / cut-off frequencies
Full-range, 40 Hz, 60 Hz, 100 Hz, 150 Hz
Digital output
SP-DIF, Coax 0,5 V / 75 Ohms, LPCM to IEC 958
Reception range
87,5 - 108 MHz
Stereo crosstalk attenuation
> 40 dB
Functions
RDS, station name, Radiotext, Clock, station lists, station memory
Formats
MP3 , WMA, (WMDRM 10), AAC, FLAC, OGG-Vorbis
Media server
UPnP AV + DLNA-compatible server, vTuner Internet Radio Service
Interfaces
USB 2.0, LAN, WLAN
iPod
Playback of audio and video files from iPod incl. control and remote control of the iPod
Protocol
A2DP Bluetooth Audio transmission protocol
Mechanism
3-laser BluRay linear disc mechanism mounted on vibration-absorbing sub-chassis
HDMI Audio output
PCM Stereo, HD-Bitstream out, Bitstream Legacy
HDMI Video output
HDMI 1.3; PAL, NTSC, 4:3, 16:9, Letter Box, Pan Scan
Disc formats Audio
CDDA (Audio CD), MP3 CD, CD R, CD/RW, Hybrid SACD CD Layer
Disc formats Video
BluRay Disc, DVD, VCD, SVCD
Disc formats Foto
JPEG Picture CD
Container + other formats
MKV, MPG, AVI, VOB, MP4, WMV
Functions
Playback program, repeat functions, CD-text,
MP3 ID3 v2 display, trick modes (slow motion, time lapse, static picture), camera angle, zoom, picture optimisation, preview, rotate
Mains / Accessories / Dimensions
Mains
220-240 V/50 Hz / 600 W
Accessories
FM 100 remote control handset, E 2000 IR receiver, 2 x WLAN aerial
Dimensions (H x W x D)
10,7 x 44 x 35,5 cm
Finish
Black case with silver covers
Technical modifications reserved
For a period of three years after last distribution of this product or its firmware, T+A offer the right to any third party to obtain a complete machine-readable copy of the corresponding source code on physical storage medium (DVD-ROM or USB stick) for a charge of 20€. To obtain such copy of the source code, please write to the following address including information about product model and firmware version:
T+A elektroakustik, Planckstr. 9 – 11, 32052 Herford, Germany.
Der K2 Blu ist ein einmaliges All-in-One-Gerät. Für alle Nutzer, die größten Wert auf beste Musikwidergabe legen, gerne gelegentlich eine BluRay schauen und Platz sparen wollen, dürften mit dem BluRay Receiver von T+A schon fast alle Wünsche an die optimale Elektronik fürs Wohnzimmer erfüllt worden sein.
Bildqualität: sehr gut
Klangqualität: sehr gut
Verarbeitung: überragend
Testurteil: sehr gut