PDP 3000 HV
DSD/PCM Player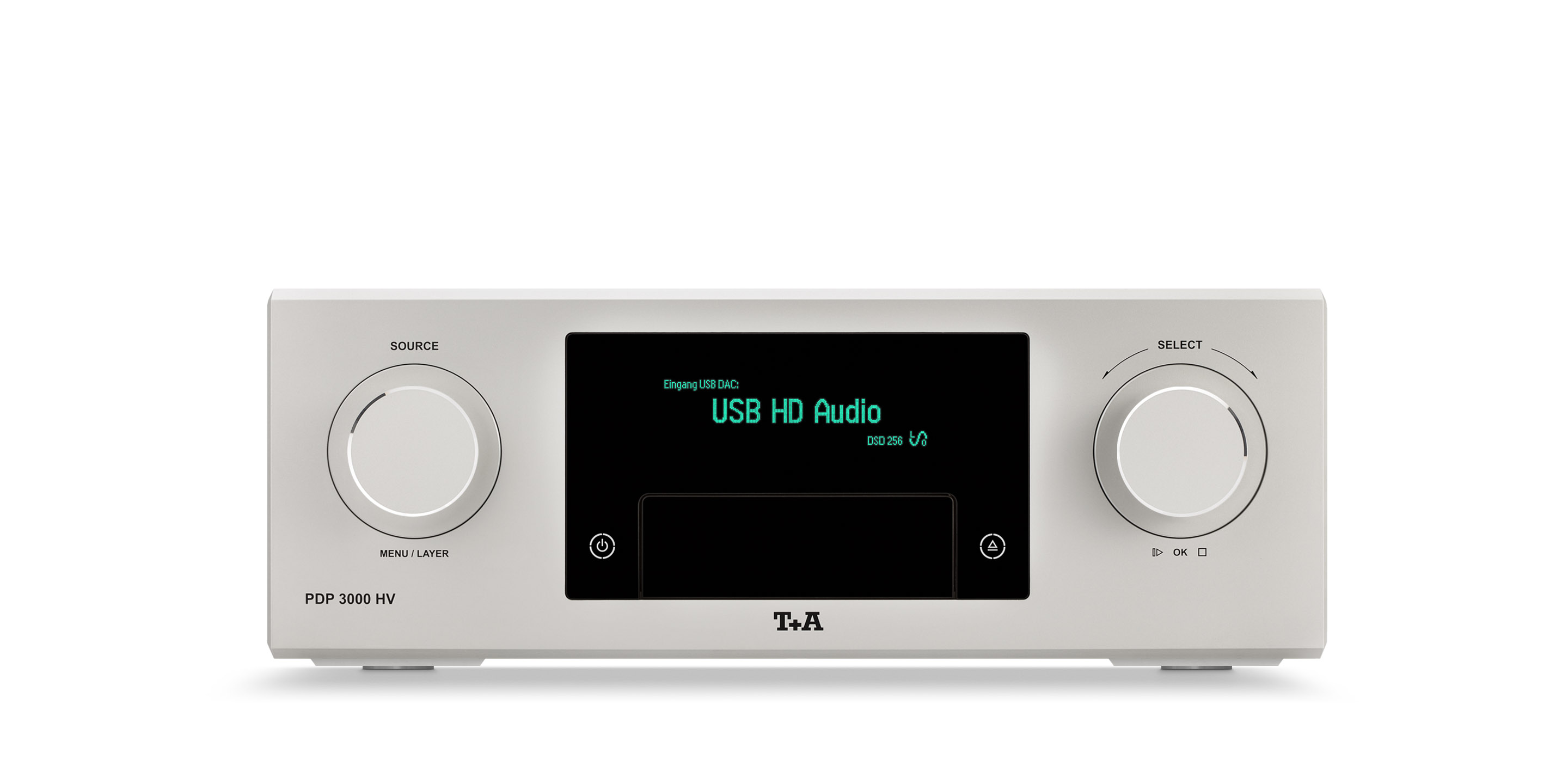 The DSD/PCM Player
The PDP 3000 HV is the most sophisticated player in the HV series, and has been developed specifically to reproduce high-resolution audio data without any trace of compromise. For this reason we have equipped the machine with a uniquely superior disc mechanism which reads CD and SACD media perfectly, and transfers their data to its superb PCM and DSD converters. To convert PSM data we are using our superb Double-Differential Quadrupel Converter and for the conversion of DSD data up to DSD 512 we have even develop a new technology: the unique T+A True 1-bit DSD Converter, a genuine analogue single bit converter. Since this unique converter concept is ideal for use with external sources, we have also designed the PDP 3000 HV to operate as a DAC, featuring seven digital inputs! This technology is unparalleled on the world market and explains the huge number of excellent reviews for our DPD 3000 HV.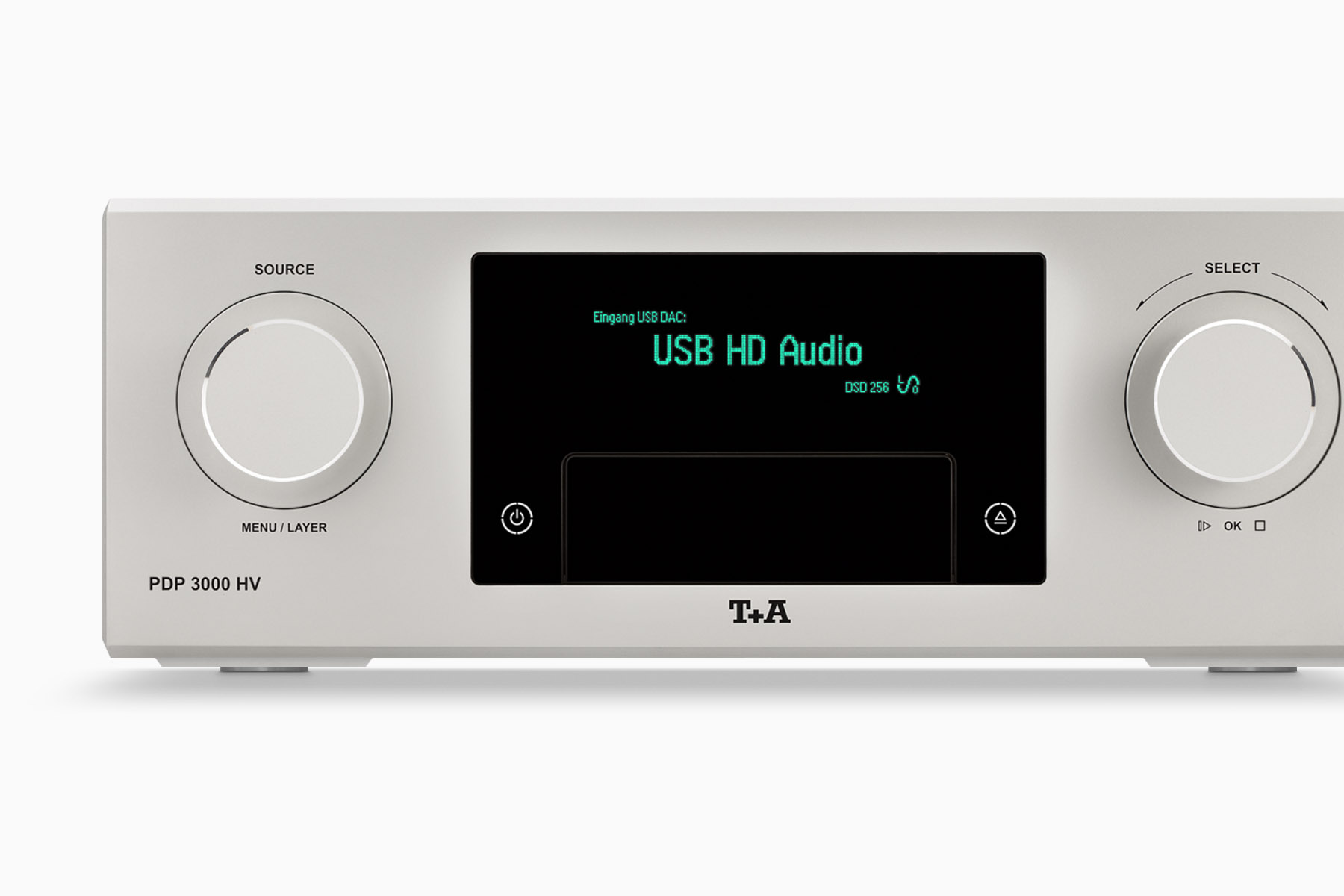 Technology
Like all HV devices the PDP 3000 HV incorporates no ferro-magnetic materials; it is constructed entirely of pure aluminium, and contains aluminium dividers which separate five compartments housing the disc mechanism with decoder board and digital inputs, the D/A converter with analogue output stage, the analogue mains power supply, the digital mains power supply and – in the solid front panel – the control section with its ultra-bright screen and sensor buttons.
The core of the PDP 3000 HV is the Double-Differential-Quadrupel digital /analogue converter for PCM files up to  384 kSps and the T+A True 1-bit DSD Converter for DSD files up to DSD 512.
The signals pass through our equally unique jitter-reduction stage, which receives the data from the CD / SACD mechanism block or the seven digital inputs, before being processed by the converters. The USB input is equipped with one of the latest USB interfaces, and is capable of reproducing PCM and DSD audio data of the highest quality; DSD data are passed directly to the converter modules. The current / voltage transducers which are downstream of the D/A converter are crucial to sound quality, and they are of fully discrete, channel-separate construction, and equipped with our HV technology, as are the analogue output stages.
The PDP 3000 HV's high-quality SACD mechanism is fully shielded and housed in a machined solid aluminium case, in order to prevent any trace of interaction between the moving parts of the mechanism and the rest of the player.
The disc carrier block is mounted on just two close-tolerance pushrods which completely de-couple it from the heavy outer case. This in turn prevents the transmission of external pressure waves, vibration or structural sound from the mounting surface to the electronics and disc mechanism. A high-torque synchronous motor moves the disc carrier block smoothly and quietly by means of a precision-made de-coupled spindle. The top-loader mechanism makes it easy to insert discs without damaging them; they are held in place by an anti-resonance puck.The socket array on the back panel reflects the symmetrical construction of the case and the overall circuit design. The analogue output stages pass their signals directly to the professional-standard XLR or RCA output sockets for PCM and DSD operation. Below them – behind the lower compartment – are the digital input sockets, the HV bus, the LAN socket and the separate sockets for the analogue and digital mains power supplies.
Show more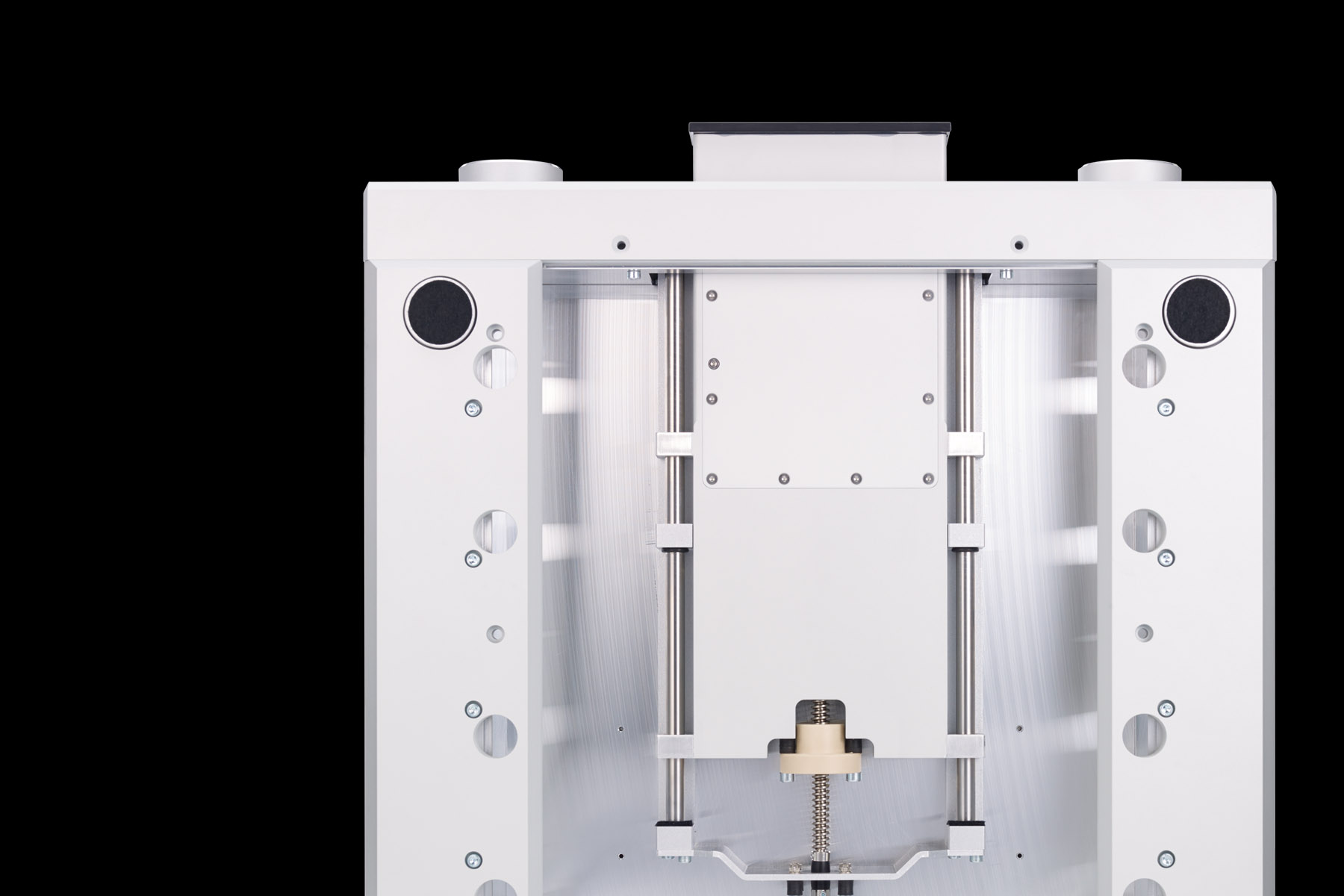 Principle
High precision linear tracking drive
Double GaAlAs Laser System
CD: 785 nm / 10 mW
SACD: 650 nm / 7 mW
Formats
CD, CD-R, CD/RW,
SACD Stereo
SACD Multichannel (as 2 channel downmix)
Frequency response and dynamic CD
2 Hz – 20 kHz / 100 dB
Frequency response and dynamic SACD
2 Hz – 44 kHz / 110 dB
Analogue outputs unbalanced (RCA)
2,5 Veff / 50 Ohms
Analogue outputs balanced (XLR)
5,0 Veff / 50 Ohms
Output digital
1 x coax, IEC 60958 S/P-DIF (LPCM)
Digitaleingänge AES
1 x AES-EBU mit 192 kSps /24 Bit
Digital input
1x AES-EBU (192 kSps /24 bit)
5x S/P-DIF:
1 x standard coax and
2 x high quality BNC 192 kSps/24 Bit
2 x optical TOS-Link 96 kSps /24 bit
Digital input USB
1x USB: Device-Mode - up to 384 kSps (LPCM) and DSD512*
supports asynchronous data transfer
* DSD256 and DSD512 only with a Windows PC with appropriate driver installed
PCM
Double-Differential-Quadruple-Converter with four 32-Bit Sigma Delta D/A converters per channel. 352.4 / 384 kSps conversion rate.
DSD
T+A True-1Bit DSD D/A-Converter
Upsampling
T+A Digital Signal Processor -
synchronous upsampling with 4 selectable oversampling algorithms: FIR short, FIR long, Bezier/IIR, Bezier
Frequency response
PCM 44.1 kSps: 2 Hz - 20 kHz
PCM 48 kSps: 2 Hz - 22 kHz / DSD 64: 2 Hz - 44 kHz
PCM 96 kSps: 2 Hz - 40 kHz / DSD 128: 2 Hz - 60 kHz
PCM 192 kSps: 2 Hz - 80 kHz / DSD 256: 2 Hz - 80 kHz
PCM 384 kSps: 2 Hz - 100 kHz / DSD 512: 2 Hz - 100 kHz
Total harmonic distortion
< 0.001 %
Signal / noise ratio, A-weighted
> 110 dB
Channel separation
> 110 dB
Mains / Accessories / Dimensions
Mains 230 V Version
1 x 220 - 240 V and
1 x 100 - 240 V, 50-60 Hz
Mains 115 V Version
1 x 110 - 115 V and
1 x 100 - 240 V , 50-60 Hz
Power consumption in operation
2 x 40 Watts
Accessory
Remote control F3001
BNC to RCA adaptor
2x power cord
Disc stabilizer
Dimensions (H x W x D)
17 x 46 x 46 cm
Finishes
Case: silver laquer 47 or titanium laquer 64
Technical modifications reserved
Software / USB-driver PDP 3000 HV
Odtwarzacz PDP 3000 HV niemieckiej firmy T+A Elektroakustik to jedno z najoryginalniejszych urzadzen tego typu, jakie zdarzyło mi sie recenzowac.
Zadne nie miało osobnych wyjsc dla sygnałów PCM i DSD i zadne nie potrzebowało dwóch kabli zasilajacych…
The killer attribute of the T+A is that it has no weakness. As a music lover and after two months of listening, I can put in any CD
or SACD and be guaranteed a good result, and a transcendental experience as often as not. It's at least as good as the others and in several key areas better; not by a lot, but if that extra two percent of this and one percent of that are worth our attention, then for me the T+A takes the biscuit.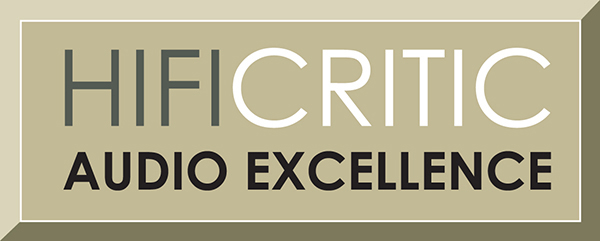 Best High End Digital Source
T +A'S DIGITAL-TO-ANALOGUE CONVERTER ticks all the boxes for the more demanding audiophile thanks to its support of PCM up to 32-bit/384kHz, DSD64 and DSD128, plus an SACD drive. And it doesn't just lock the business -hi-res downloads soundso holographic and breathtakingly realistic that it's near impossible to determine if any character is coming from the unit itself. Instruments are portrayed with vivid three-dimensional body and precise image focus, while analogue recordings are exquisitely open and untainted. Given that the POP 3000 HV combines three components yet costs less than many standalone high-end DACs, this is unquestionably a bargain.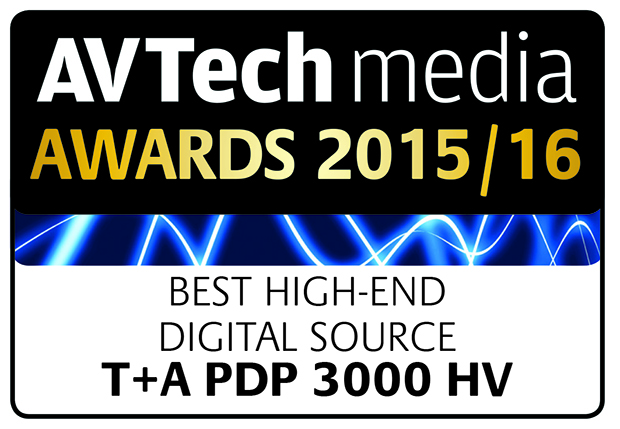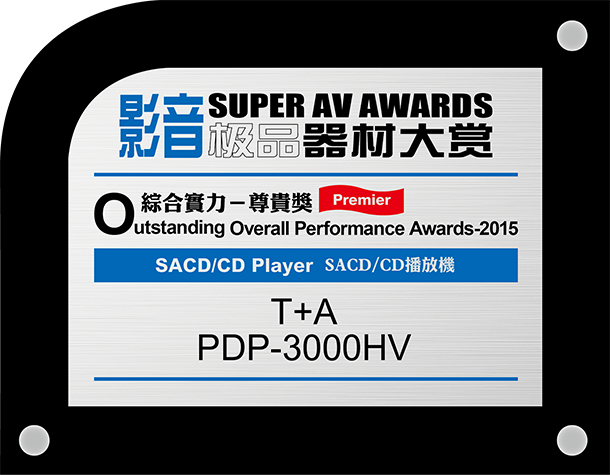 Ganz gleich, ob CD oder SACD, ob Low-Fi oder Hi-Res, ob DSD oder PCM – der T+A PDP 3000 HV ist einfach eine ultimative Maschine, die es selbst überzeugten Analogfans nahezu unmöglich macht, objektiv nachvollziehbare Argumente gegen die digitale Musikwiedergabe ins Feld zu führen.
Der T+A beherrrscht die hohe Kunst, nach objektiven Kriterien alles richtig zu machen und dabei trotzdem stets charmant und  kultiviert, fließend und leichtfüßig zu spielen – also alles richtig gemacht. Großes Kompliment nach Herford!

Allergrößten Respekt: Meines Wissens nach hat sich noch keiner zugetraut, einen eigenen DSD-Wandler auf die Beine zu stellen. Größte Hochachtung auch vor dem Schaltungskniff, die für die Verstärkung zuständigen Halbleiter mit hoher Versorgungsspannung zu betreiben, um damit den linearen Bereich verzerrungsarm zu nutzen. Doch nicht nur die großen Taten zeichnen den Player aus. Die Liebe zum Detail zeigt sich beispielsweise in der Ausgangskonfiguration – DSD/PCM wahlweise über zwei Wege oder PCM + DSD zu einem Ausgang zu bugsieren. Oder bei den Miniaturübertragern (i-Couplern), die vor den Konvertern die Digital- und Analogsektionen galvanisch trennen, um damit jegliches Übersprechen zu unterbinden. Und wer sonst käme auf die Idee, per Lichtschranke zu überwachen, ob das Gegengewicht auf der Disc liegt. Bei alledem ist die Technik nicht Selbstzweck, sondern Mittel zum highendigen Klang. Und da definiert der PDP 3000 HV die Maßstäbe in jeder Beziehung neu. Vielleicht wird sich die High-End-Klientel bald nicht mehr nach dem besten Universalplayer erkundigen, sondern nach den besten D/A-Wandlern mit eingebautem Laufwerk fragen. Auch dafür liefert T+A mit dem PDP 3000 HV die entscheidenden Argumente.

Klanglich mit SACD und CD wie auch als D/A-Wandler ganz vorne, enorme Ausstattung und gebaut für die Ewigkeit! Einer für die Insel!
Klangniveau CD: 100 %
Klangniveau SACD: 100 %
Preis / Leistung: sehr gut

Der PDP 3000 HV ist ein ausgezeichneter Player für CDs und SACDs, der auch die Verarbeitung von DSD 512 erlaubt. Mich hat allerdings die 192 Kilohertz / 24 bit-Variante bereits hundertprozentig überzeugt. Keine Frage, dieser t+A ist ein in jeder Hinsicht hochattraktiver CD / SACD-Player.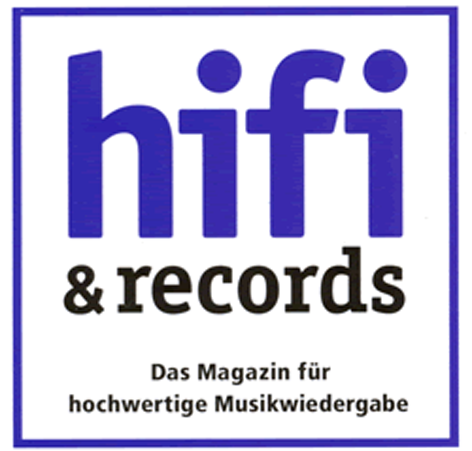 Expensive? Well, yes… but as with all of T+A's HV Series components build quality is fabulous and meticulous attention to design details second-to-none. Weighing the PDP's top-notch sound, along with the fact you're gettingee high-end components – anSACD/CD disc transport, DSD andPCM DAC – for less than many boutique brands' standalone DACs, it's unquestionably an audiophile bargain.
Technisch und klanglich ultimativer Player mit D/A-Wandlerabteil, der mit separater Signalführung für PCM und DSD aus beiden Formaten alles herausholt. Dazu noch einfach bedienbar und alltagstauglich.
PDP 3000 HV Besitzer können der Frage: "OB DSD oder PCM?" gelassen entgegensehen, beherrscht der doch beides perfekt.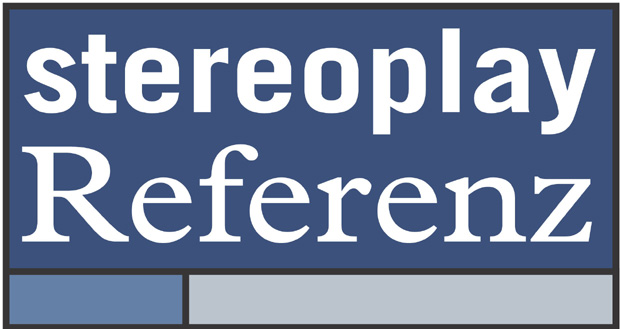 Den T+A PDP 3000 HV hätten wir genre noch ein Weilchen in unserem Hörraum. Seine ultrafeine Auflösung kommt ohne Stress und Kantigkeit, sein Größen- und Dynamikmaß ist gewaltig. Unglaublich feiner, dabei urgewaltig kraftvoller Klang.
Ausstattung: überragend
Bedienung: sehr gut
Verarbeitung: überragend
Klang SACD Cinch: 140
Klang SACD XLR: 145
Klang CD Cinch / XLR: 135/140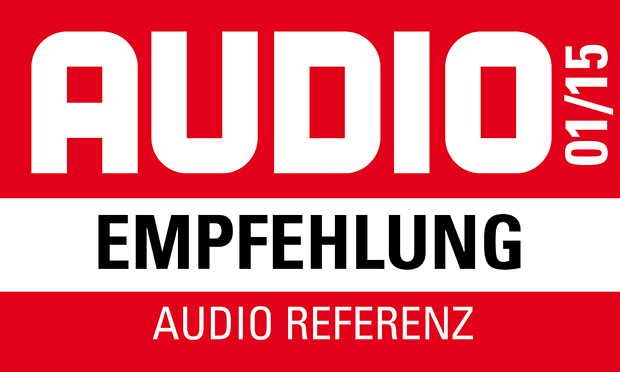 Der sanfte Druck der Haut, das Streicheln und die Leichtigkeit, mit der sich die Stahlborsten zitternd wieder abheben, das erschien mit der T+A Kette geradezu erschreckend, rückenschauerhaft lebensecht.
So hat der PDP 3000 HV, P 3000 HV und der A 3000 HV die Krone der Halbleiter-Highend-Schöpfung verdient.