MP 3100 HV
Multi Source Player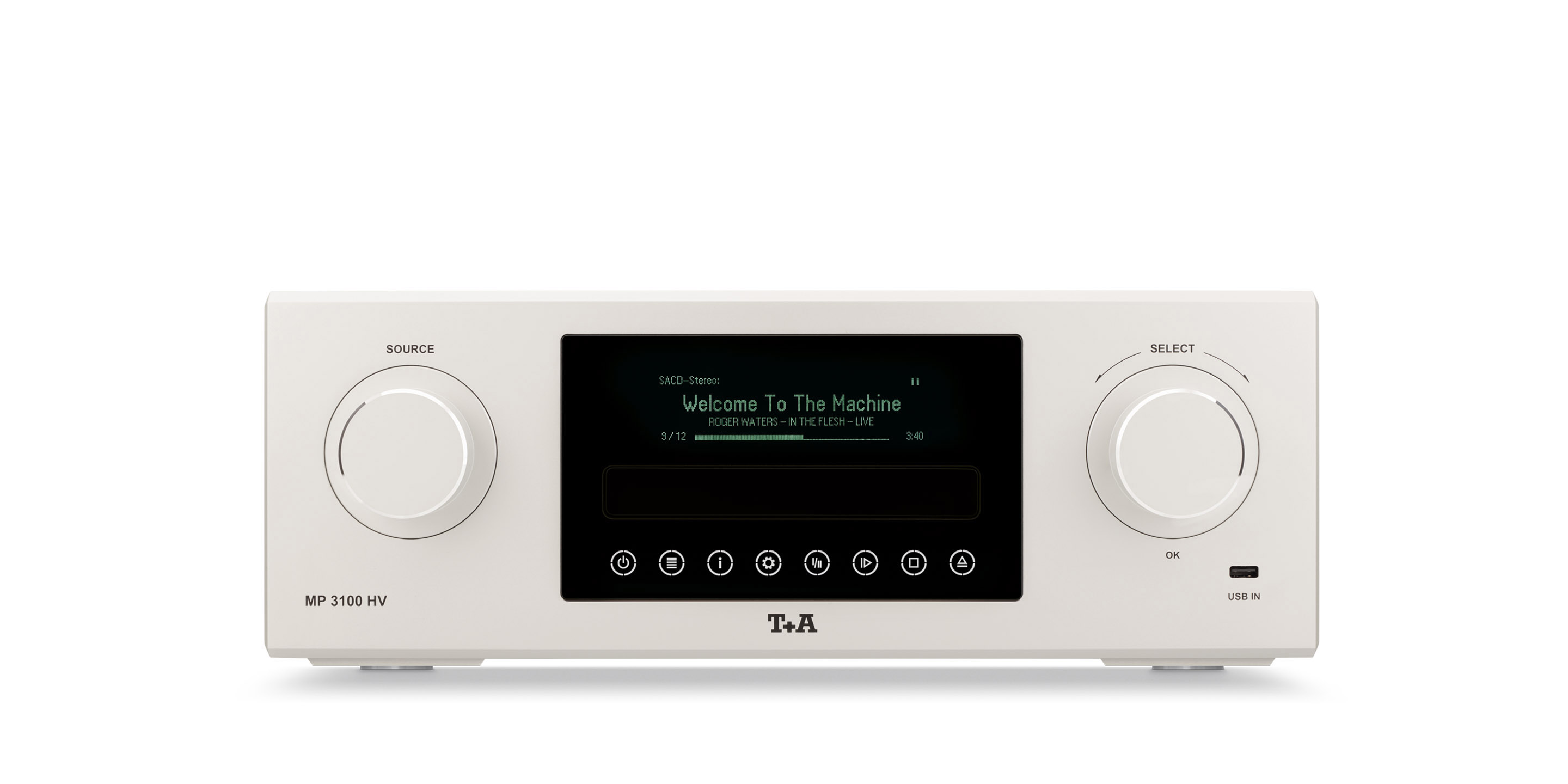 The Multi Source SACD-Player
The MP 3100 HV is our latest and most sophisticated multi-media player. The basic design philosophy stems from the MP 3000 HV, but the MP 3100 HV is now capable of carrying out the full signal processing of DSD bitstream data in addition to processing PCM data to impeccable standards. This extensive development was necessitated by the machine's new integral disc mechanism: an SACD drive which is a completely new development, featuring the very latest decoder, and capable of reading CD (PCM 44.1 kSps ) and SACD (DSD 64 2.8 MHz) discs at the highest possible quality. The other digital sources, both integral and external, also benefit from this new improvement. As in the MP 3000 HV, PCM data is converted using our outstanding double differential quadruple converter for all the digital signal processing. DSD data are handled by the unique analogue true 1-bit DSD converter from the PDP 3000 HV, which processes the DSD data in native form as a bitstream rather than converting them.

This makes it possible to reproduce DSD data up to DSD 512, as delivered by the USB input of the digital connecting board, to the highest level of quality. The machine's streaming client takes the form of the new T+A high-res streaming board, which provides maximum resolution as well as the facility to access various music services, Internet radio, inclusion in the home network via LAN and WLAN, USB Master Mode and HD streaming from network servers. The tuner offers FM, FM-HD and DAB+ capability, and delivers excellent sound. The MP 3100 HV also includes a high-quality Bluetooth streaming module for transferring music from mobile devices. The MP 3100 HV, or even an entire HV system, is controlled using the FD 100 radio remote control handset or the T+A MusicNavigator App.
Show more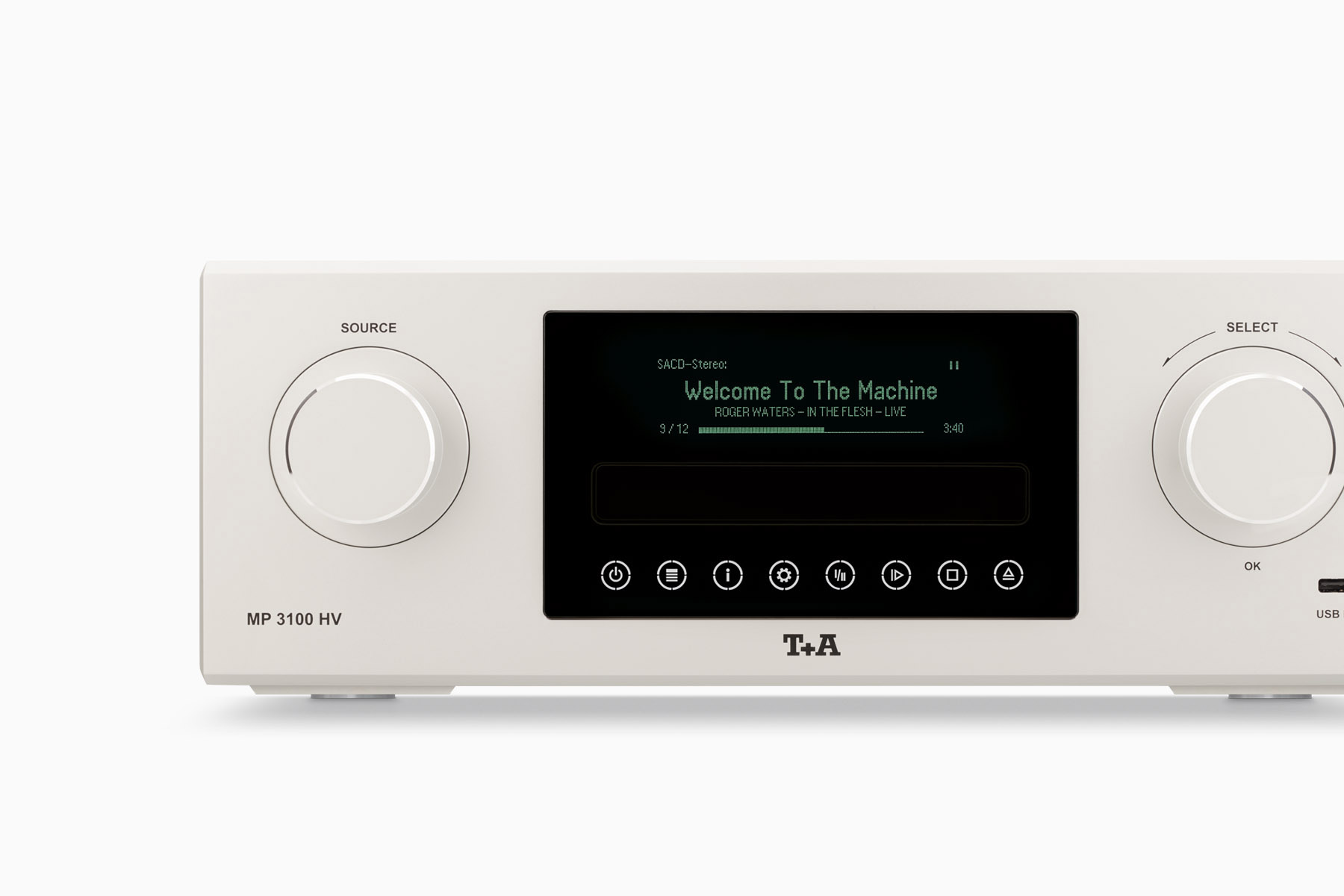 Technology
It is only natural that the SACD and CD continue to lose significance, as they are increasingly superseded by streamed content; a trend reflected very clearly in the huge success of our multi-source players with their extensive streaming facilities. However, it is clear that our audiophile customers still wish to be able to play music from CD and SACD, because none of us wants to throw away our old collection, and in any case there is an undeniable charm in owning a tangible data medium. The SACD is currently experiencing what we can only term a renaissance all over the world, so we decided to develop a completely new, modern disc mechanism incorporating the latest decoder technology, offering very fast access times and outstanding error correction. We have invested a huge amount of effort in the mechanical design of the drive unit, incorporating a high-quality drive and heavy-duty motors, with the aim of eliminating all traces of interaction between the moving parts of the disc drive and the remainder of the player. And that's why our disc mechanism features two-stage mechanical isolation. The first measure consists of a solid aluminium case, which acts as a mass damping device, thereby preventing any structural sound from the mounting surface finding its way to the electronics and the disc mechanism.
The second measure involves de-coupling the drive assembly from the machine's case using a three-point mounting system designed to eliminate resonance. The disc drawer runs on two accurately machined stainless steel pushrods, while the disc rests in a specially coated, high-quality ABS cradle.
The sound quality of any digital source is crucially dependent on the quality of the digital signal processing and the overall converter design. In both these areas we offer extremely sophisticated solutions.
Depending on the data format, the signals from our players' digital sources – both external and internal – pass through the same digital signal processing with all our pioneering features, such as T+A DSP oversampling with optimised algorithms (for PCM), clock generation with jitter elimination and re-synchronisation, true 1-bit conversion for DSD and quadruple conversion for PCM.
Jitter is one of the most severe problems, and is generated in the source device – especially in computers – and at the data transfer point between source and converter. For high-quality reproduction all traces of jitter must be removed from the data before the information is converted into analogue signals by the DAC. That is why we have developed a unique two-stage process for clock generation (jitter elimination): in the first stage the received data are processed and decoded. At this point a basic clock is extracted from the received data stream, which undergoes an initial cleaning process in a PLL circuit aimed at removing coarse jitter generated by the source device and the transfer path. This clock is now analysed extremely intensively by the micro-processor. If it fulfils certain minimum criteria in respect of frequency and stability, the D/A converters are switched to an extremely precise, internally generated master clock with extremely low phase noise. This clock is completely isolated from the source device, and therefore carries no trace of jitter interference from the source and the transfer link. If the quality of the input signal does not fulfil the requirements for switching to the local clock oscillators, a further PLL stage (second jitterbug) is employed instead of the quartz oscillators. This process greatly improves the output of the first jitterbug stage, further reducing the residual jitter remaining after the first stage by a factor of 4.
The local master clock is generated by two separate quartz oscillators which are adjusted to extremely precise tolerances. This ensures that every trace of interference from the external source devices is eliminated; even horrible computer interference is rendered innocuous.
Like the converters, the following analogue section is constructed on totally channel-separate principles (double mono) using HV technology, and is completely separated galvanically from the digital section by means of jitter-free i-couplers.
Show more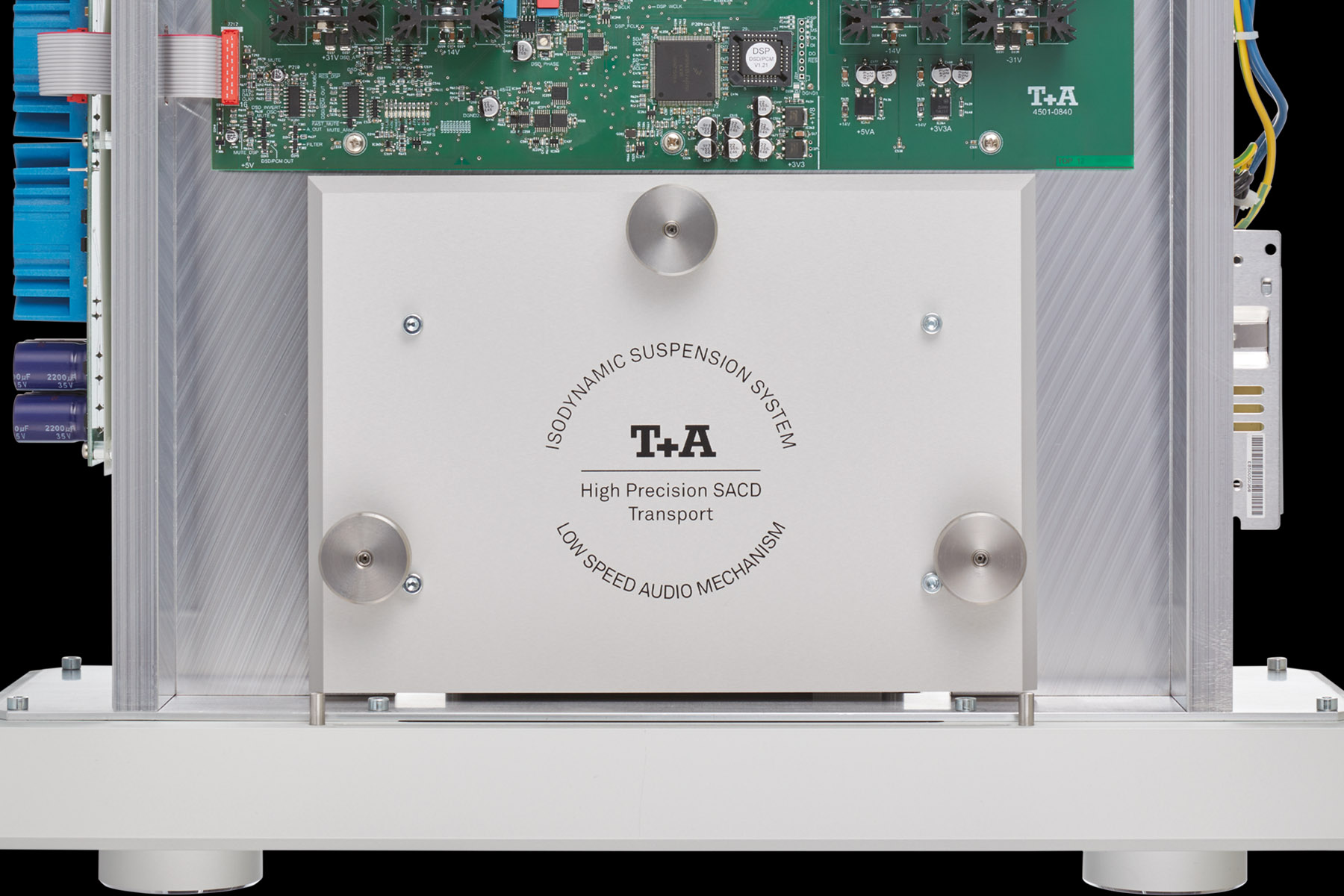 SACD drive unit
High precision linear tracking drive
Double-Lasersystem: SACD: 650 nm, CD: 785 nm
Formats
SACD Stereo, CD, CD-R, CD-RW, CD Text
Frequency range and dynamics
CD: 2 Hz – 20 kHz / 100 dB,
SACD: 2 Hz – 44 kHz / 110 dB
Formats / Standards
MP3, WMA, AAC, OGG Vorbis, FLAC, WAV, AIFF, ALAC / UPnP AV
Data rates
PCM 32...192 kHz,16/24 Bit; MP3 bis 320 kBit,
constant and variable Data rate
Music services
Tidal, qobuz. Deezer, Roon Ready (Subscription required)
Features
Gapless Playback for MP3 (Lame), WAV, FLAC.
T+A MusicNavigator App for iOS and Android)
Interfaces
LAN: Fast Ethernet 10/100 Base-T, WLAN: 802.11 b/g/n
Internet Radio
Airable Internet Radio Service (> 11000 Stations)
FM, FM-HD
87,5 - 108 MHz; sensitivity 1 µV; S/N > 65 dBA
DAB, DAB+
168 -240 MHz (Band III); sensitivity 2,0 µV, S/N > 96 dBA.
Features
RDS/RDBS, station name (PS), programme type (PTY), radiotext (RT), time
Bluetooth
A2DP (Audio), AVRCP 1.4 (Control) / aptX®, MP3, SBC.
Outputs analogue Co-axial (RCA) | Balanced (XLR)
2,5 Veff / 50 Ohm | 5,0 Veff / 50 Ohm
Output digital
1 x coax, IEC 60958 S/P-DIF (LPCM)
Digital inputs (digital connecting board)
1x AES-EBU 192 kSps /24 bit
5x S/P-DIF: 1x standard coax, 2 high quality BNC 192 kSps/24 bit and 2 optical TOS-Link 96 kSps /24 bit.
1x USB: Device-Mode up to. 384 kSps (PCM) and DSD512*, supports asynchronous data transfer
2 x USB Master-Mode for USB-Mass storage (Stick or HDD)
* DSD256 and DSD512 only with a Windows PC with appropriate driver installed
PCM
Double-Differential-Quadruple-Converter with four 32-Bit Sigma Delta D/A converters per channel. 352.4 / 384 kSps conversion rate.
DSD
T+A True-1Bit DSD D/A-Converter native bitstream
Upsampling (PCM)
T+A Digital Signal Processor - synchronous upsampling with 4 selectable oversampling algorithms: FIR short, FIR long, Bezier/IIR, Bezier
Analogue filter
Phase-linear Bessel filter 3rd Order with 60 or 120 kHz cut off frequency
Frequency responce
PCM 44.1 kSps: 2 Hz - 20 kHz
PCM 48 kSps: 2 Hz - 22 kHz / DSD 64: 2 Hz - 44 kHz
PCM 96 kSps: 2 Hz - 40 kHz / DSD 128: 2 Hz - 60 kHz
PCM 192 kSps: 2 Hz - 80 kHz / DSD 256: 2 Hz - 80 kHz
PCM 384 kSps: 2 Hz - 100 kHz / DSD 512: 2 Hz - 100 kHz
Total harmonic distortion
< 0,001 %
Signal / noise ratio
> 116 dB
Channel separation
> 110 dB
Mains / Accessories / Dimensions
Mains
2 x 110-120 V or 220-240 V, 50-60 Hz, 2 x 40 W
Dimensions (H x W x D) / Weight
17 x 46 x 46 cm / 26 kg
Remote control
FD 100, bi-directional radio remote control with display, T+A Control APP
Accessories
WLAN aerial, RF-aerial, charger for FD 100, BNC / RCA adapter
Finishes
case: silver laquer 47 or titanium laquer 64
heat sink black 42
Software / USB-driver MP 3100 HV
Software / USB-driver MP 3100 HV (device version 2.1 or higher)
Update your MP 3100 HV to the latest firmware. Select the "Device Info" menu item in the device configuration menu. Now select "Update" and confirm the set selection "WEB". Wait until the update is finished. Make sure that your PC and your MP 3100 HV are connected to the same network. Next, sign up for a Roon membership and download Roon for your PC or MAC. You can also download the Roon app for Android or iOS devices. If you operate the MP 3100 HV in a system group with the P 3000 HV, PA 3000 HV or PA 3100 HV, please update these devices as well.
For a period of three years after last distribution of this product or its firmware, T+A offer the right to any third party to obtain a complete machine-readable copy of the corresponding source code on physical storage medium (DVD-ROM or USB stick) for a charge of 20€. To obtain such copy of the source code, please write to the following address including information about product model and firmware version: T+A elektroakustik, Planckstr. 9-11, 32052 Herford, Germany.
For a period of three years after the last sale of this product or its firmware, T + A offers any third party the right to receive a complete machine-readable copy of the corresponding source code on a physical storage medium (DVD-ROM or USB stick) for a fee of € 20 to obtain. In order to receive such a copy of the source code, please write to us, specifying the device type of the relevant product and the firmware version:T+A elektroakustik, Planckstr. 9 -11, 32052 Herford, Deutschland
True Virtuoso
A true virtuoso that can convincingly render every imaginable piece thanks to its superior technique and musicality. This multimedia player from T+A is ideally suited as a distinguished representative of true virtuosity.

AV Tech Media Award 2017/2018
Best HiFi Disc Player
The ultimate Do-it-all disc player MP 3100 HV boasts a new SACD/CD mechanism, alongside an improved streaming section offering compatibilty with Tidal, Qobuz and Deezer.
Unter Hochspannung
Tatsache ist, dass T+A mit dem MP 3100 HV den besten mir bekannten Multiplayer baut. Er ist deshalb die Arbeitsreferenz im Audio-Hörraum. Für alle Digitalquellen gilt dort ab sofort Hochspannung.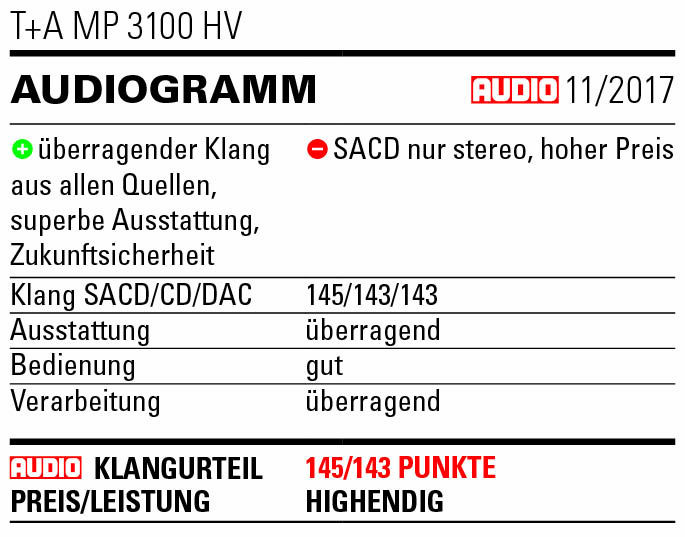 Global Player
Faszinierendes Gerät der Superlative, das alles kann und überirdisch klingt. Der Preis relativiert sich, wenn man bedenkt, dass man hier jeweils CD-Player, SACD-Player, DAC, Tuner und Netzwerkplayer als Fünfkampfkomplettpaket bekommt, das derzeit de facto kaum zu schlagen ist. Absolute Weltklasse. Beati possidentis – Glücklich sind die Besitzenden.
Klang-Niveau CD: 100%
Klang-Niveau SACD: 100%
Klang-Niveau Streamer: 100%

Its rich presentation simply makes the MP 3100 HV easier to enjoy. With its comprehensive specification, remarkable audio engeneering and exceptional build and design, this unashamedly expensive all-in-one player could well be the ideal way to combine the worlds of physical and "virtual" music media.
Multimusikalisch
Extrem aufwendiger, zukunftssicherer Alleskönner mit vollumfänglichen PCM-HD- und DSD-Fähigkeiten, der obendrein updatefähig ist. Klanglich ein Traum ohne Fehl und Tadel.
Klang: absolute Spitzenklasse
Gesamturteil: überragend
Preis/Leistung: highendig