MP 3000 HV
Multi Source Player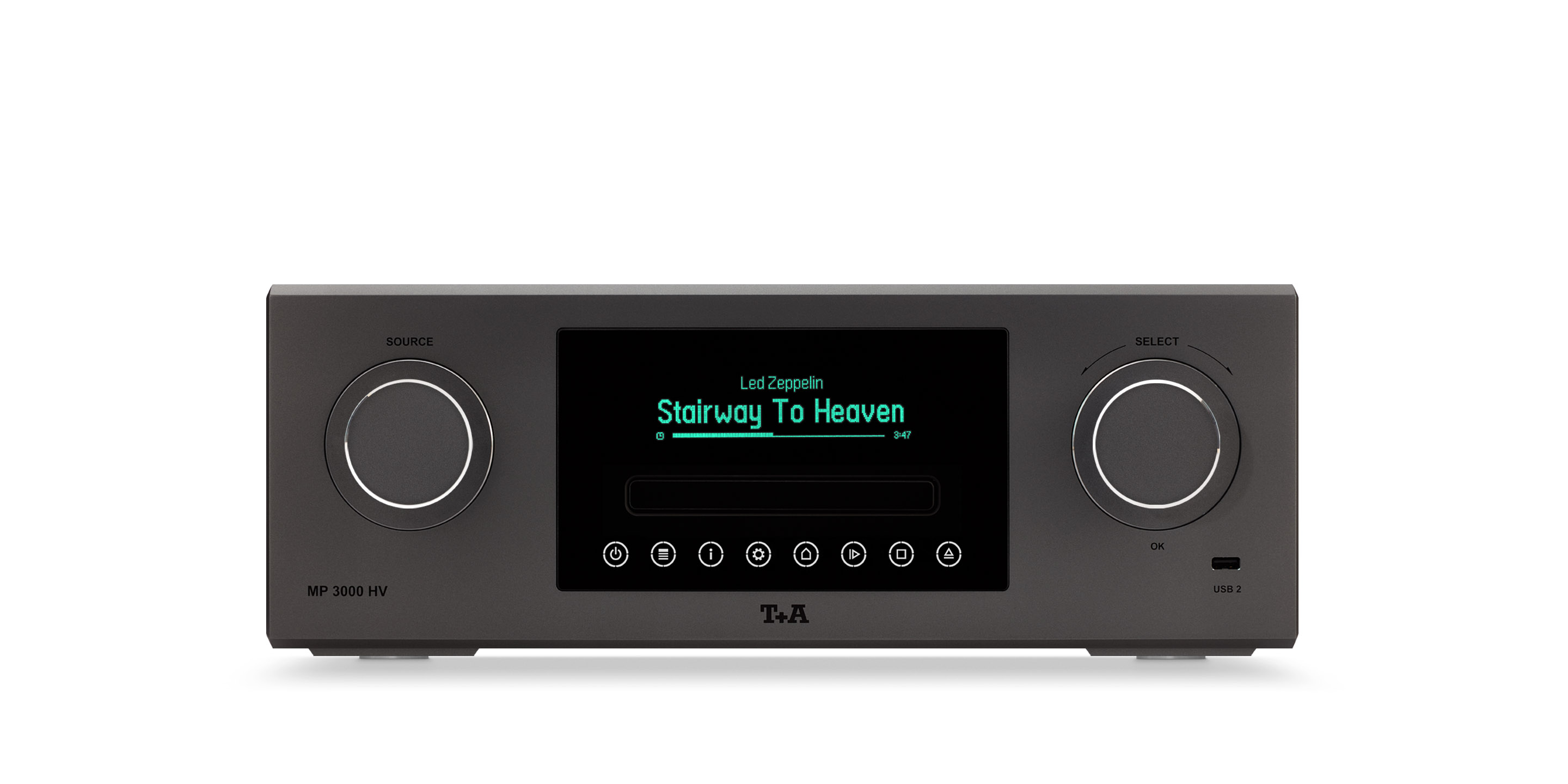 The Multi Source Player
T + A was the first High-End manufacturers to equip a CD player with additional digital sources. The idea was unusual at the time, but it was certainly logical and justified. Our first machine to incorporate the principle was the E-Series Music Player. The sound quality of a digital music source is determined to a great extent by the quality of the digital-to-analogue converter (DAC) employed. Since T+A CD players had always boasted excellent converters, it made a good deal of sense to add additional digital sources to them, such as a network streaming client, a tuner and various inputs for external digital sources, instead of producing a separate case for each individual source. This makes obvious economic sense, but is also sensible in technical terms, since there is no need for additional cases, converters, mains power supplies and cable connections. It is much more effective to build one really superior converter and play back all the sources through it – even though that converter is more expensive in the first place.
That is why we have developed the unique Double Differential Quadruple Converter for PCM digital to analogue conversion. It processes the signals from the jitter reduction stage, whose own design philosophy is probably unique, and receives data from the high-quality pushrod-operated CD mechanism, the FM tuner, the streaming client and the seven digital inputs. The D/A converter is followed by the current / voltage converter, which is so crucial to sound quality, and an analogue output stage, both of which are of fully discrete construction, and incorporate our HV technology.
The FD 100 bi-directional RF remote control system can be used to control all functions of the HV-system. It displays the full content of the device screen and coverart as well.
Show more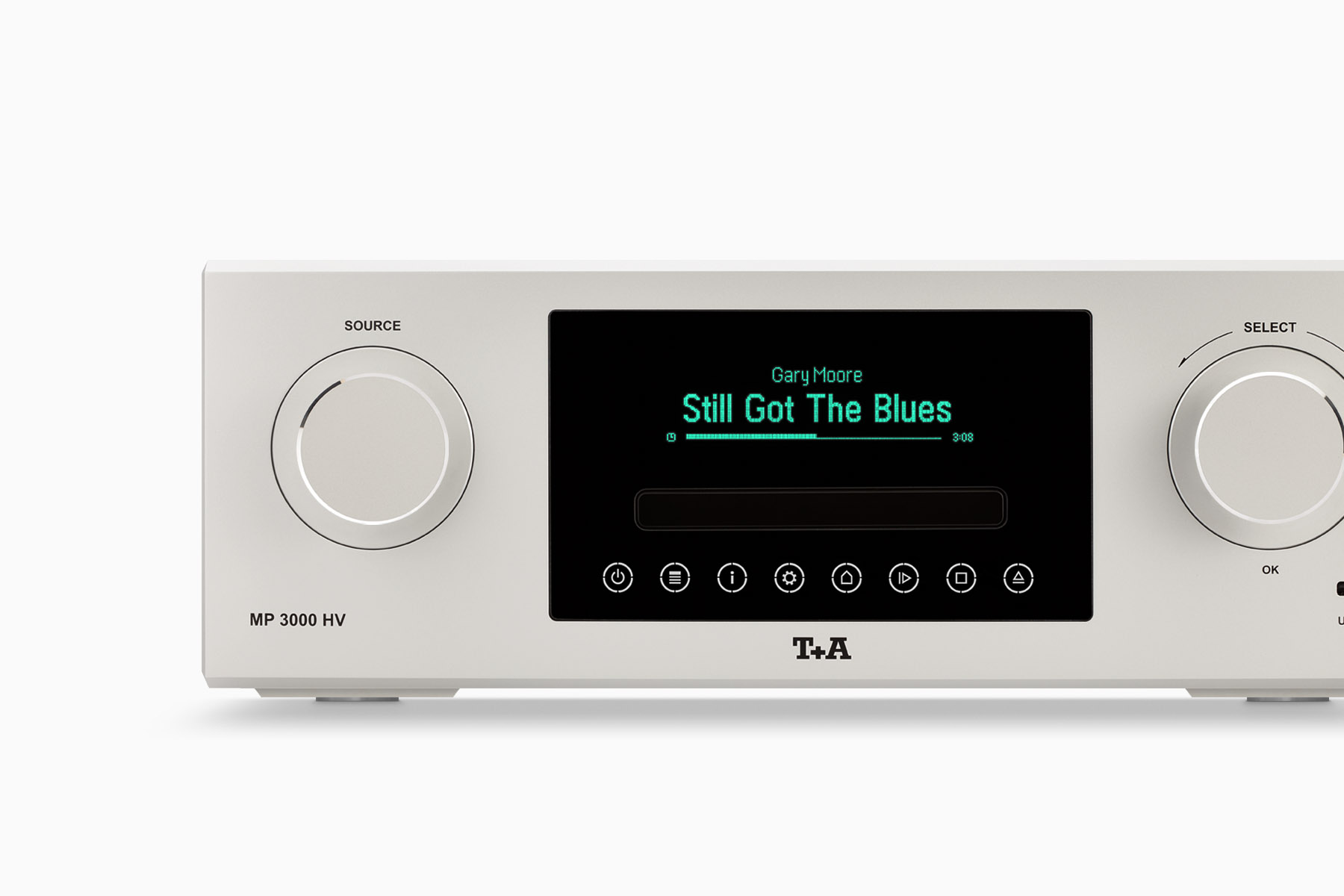 Technology
We have fitted out the MP 3000 HV with a high-quality CD mechanism which offers very fast access times and superb error correction. That is why we have selected a disc unit with a high-quality mechanism and heavy-duty motors, and invested a great deal of effort in its mechanical design in order to prevent any form of interaction between the moving mechanical parts and the remainder of the player. For this reason the CD mechanism features two-stage isolation: firstly it is installed in a solid, heavy housing which has a mass-damping effect, and prevents the transmission of structural sound from the base surface to the electronics and the disc mechanism; the second isolation measure is a three-point suspension system, optimised to prevent resonance effects, which de-couples the disc mechanism from the player's case itself. The CD drawer is guided accurately on two stainless steel pushrods, and features a high-quality aluminium – ABS support.
The streaming client (SCL) is a network-capable processor board which was designed specifically for audio applications, with audiophile requirements at the forefront. It offers USB sockets (one on the back panel, a second on the front), as well as WLAN and LAN interfaces, and provides a high-quality connection to networks and the Internet. We have very deliberately eschewed the use of a standard computer solution in order to avoid loss of quality caused by high frequency interference signals.
The SCL supports high-resolution formats and media servers, and offers the convenient vTuner Internet Radio Station Service at no additional charge.
The VHF FM tuner has excellent sensitivity, high crosstalk attenuation and overload margins, and sounds excellent both with cable and an aerial system. It features Radiotext, pre-sets and auxiliary functions.
The fourth digital source takes the form of seven digital inputs, which can be used to connect any external source, such as set-top boxes, disc drives, digital recorders and players. The machine includes the following professional or semi-professional inputs: 1 x AES-EBU, 5 x SP/DIF (2 high-quality BNC, 1 standard co-ax, 2 TOS-Link optical) and high-quality connection facilities for PCs: 1 x USB Device Mode with USB Class1 (max. 96/24) and USB Class 2 Mode (max. 192/32), including support for asynchronous (USB 2 Mode) + synchronous (USB 1 Mode) data transmission.
In the MP 3000 HV the four digital sources described above pass through the same digital signal processing path with all its revolutionary features, such as T+A DSP oversampling with optimised algorithms, clock generation with jitter elimination and resynchronisation.
Jitter is one of the most serious problems affecting digital music. It develops in the source device (especially in computers) and during the data transfer process between source and converter. For perfect reproduction any jitter must be removed from the data before they are converted into analogue signals in the DAC. For this reason we have developed a unique two-stage method of clock generation (jitter elimination): in the first stage the circuit processes and decodes the data it receives. The flow of received data allows a raw clock to be generated, from which coarse jitter caused by the source device and the transfer path is removed in the first cleaning stage by means of a PLL circuit. The resultant clock is now examined in great detail by the micro-processor. If it fulfils certain minimum criteria in terms of frequency and stability, the D/A converters switch to an ultra-precise internally generated master clock with extremely low phase noise. This clock is completely de-coupled from the source device, thereby eliminating all traces of jitter interference from the source and the transfer path.
The local master clock is generated by a pair of separate quartz oscillators adjusted to extremely fine tolerances – one each for the clock groups 44.1 / 88.2 / 176.4 kHz and one for 48 / 96 / 192 kHz. This refined solution provides perfect converter clocks for all frequencies from 44.1 kHz up.
If the incoming signal does not satisfy the criteria for switching over to the local clock oscillators, a second PLL stage (2nd jitterbug) is employed instead of the quartz oscillators. This further refines the result of the first jitterbug stage, and reduces the residual jitter after the first stage by a factor of four.
After the clock generation process the data are converted in our quadruple converter, which has again been improved. It is equipped with a high-performance 56-bit signal processor and offers four switchable oversampling algorithms. It also features four of the latest 32-bit converter chips for each channel, arranged in a double symmetrical quadruple circuit. This circuit perfectly compensates for lack of linearity, and the residual noise – which is excellent in any case with the 32-bit converters – is reduced again by approximately a further 6 dB. The overall result is virtually unsurpassable dynamic range with a perfect "black value", extreme linearity and freedom from distortion, even in crucial passages and minute musical details.
Like the converter, the analogue section is also of fully channel-separate construction (double mono), and is completely galvanically separated by means of jitter-free i-Coupler devices. This design excludes all traces of interference from external source devices, and even the typically hideous interference from computers is rendered harmless.
Show more