CALA SR
Streaming Receiver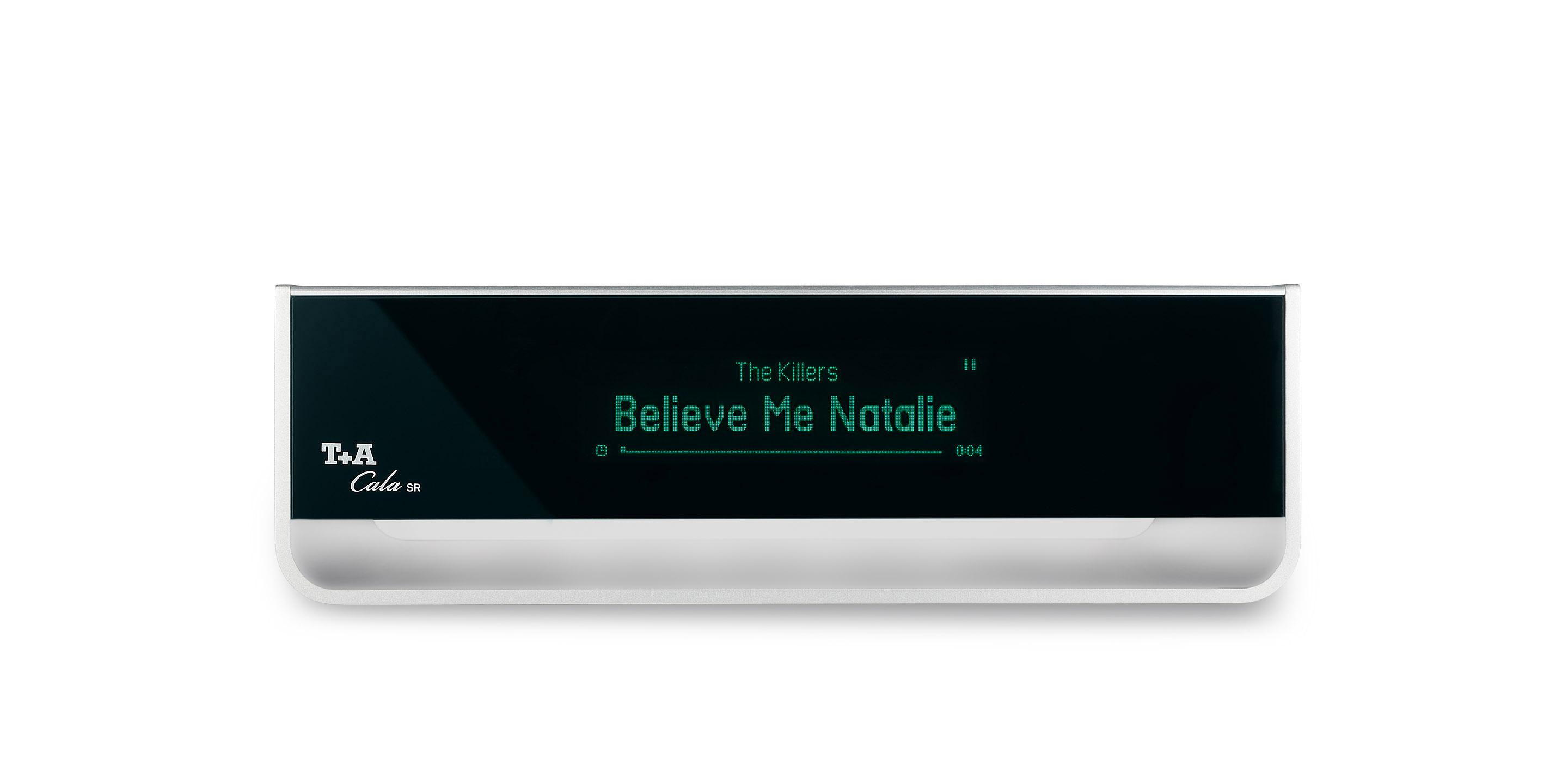 The Streaming Receiver
The CALA® SR is one of our most elegant products. It is designed with the purist in mind, manufactured using only the finest materials available, and equipped with the very latest technology. If wished, the plinth of CALA® receivers can be illuminated, since we have integrated an LED strip light in the rear part of the machine's backplate. For ambient lighting you can choose between different color modes and white, blue, green and red light, and the intensity of the lighting is user-variable.
It is a compact, relatively small multi-talent to which the term "receiver" no longer does justice. In truth it forms the universal command centre of a complete Hi-Fi system. In spite of its small dimensions it contains a fully-featured integrated amplifier with a tremendous range of connection facilities, with powerful output stages capable of superb sound. Our developers have worked the miracle of integrating all the essential music sources into a case which already houses the integrated amplifier function. The CALA® SR deliberately eschews a CD mechanism, because many present-day music lovers have replaced the CD with streaming or music services; this philosophy also allows the case to maintain a more compact format. The CALA® SR has everything the listener requires for the enjoyment of music.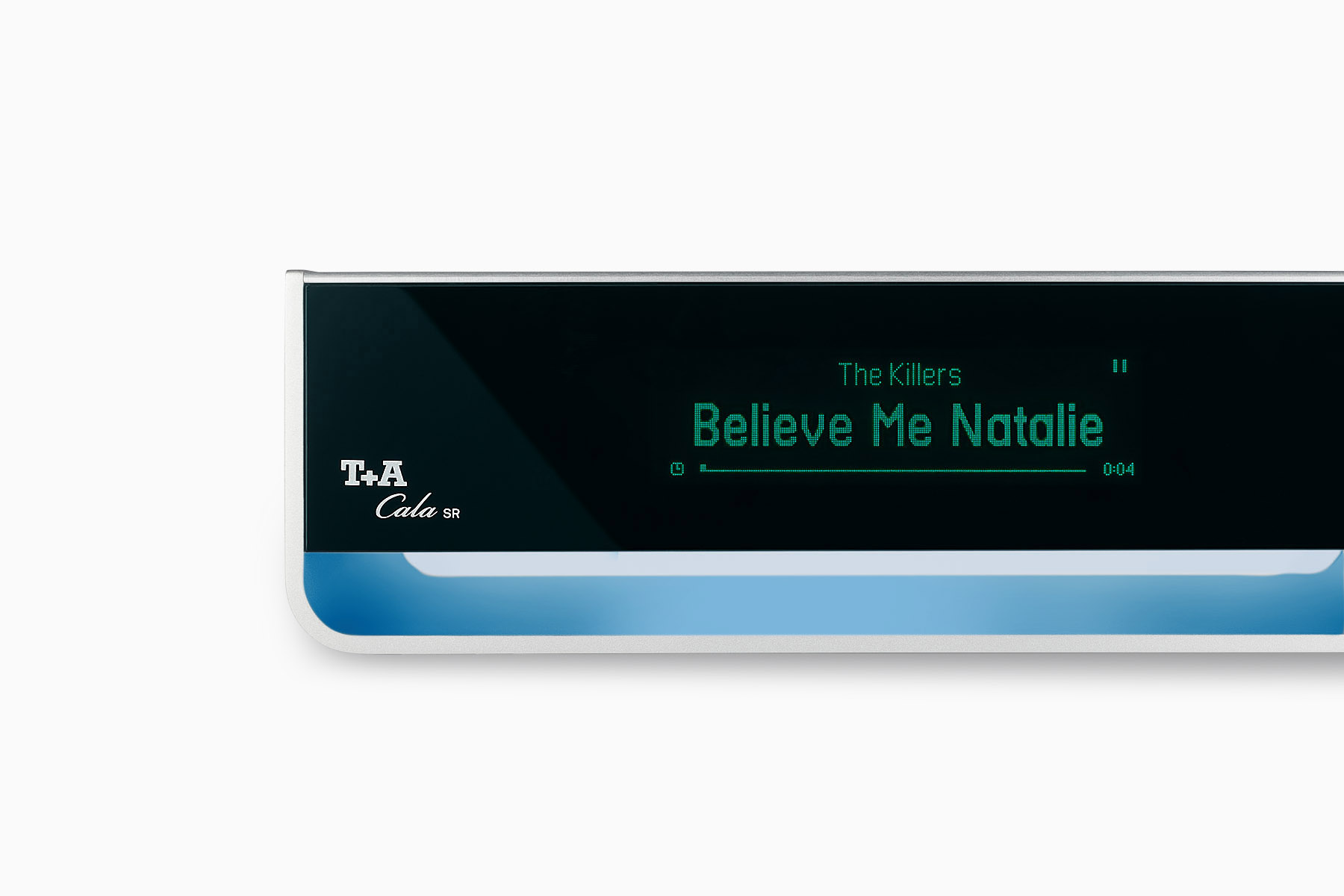 Technology
From the point of view of overall design philosophy and technical facilities the CALA® receivers are close relatives. They are equipped with the same motherboard and software and have access to the same music sources. 
The connection sockets and facilities of both receivers are identical. The analogue input A1 IN can be configured as Surround Pass Through, and the sensitivity of the analogue input A2 IN can be switched, so that it can be used as a phono pre-amplifier for MM and High output MC systems. One pre-amplifier output and one digital output are also present. Digital inputs include two optical and one co-ax types. These can be switched off if necessary, in which case they no longer appear in the menu. Access to new music media and services is possible via the LAN socket or the WLAN aerial. The USB port is ideal for connecting hard discs and memory sticks.
Since the integral FM / DAB+ tuner provides very strong reception, it makes sense to connect a high-quality external aerial to it.
The solid metal loudspeaker terminals can accommodate cables of large cross-section, and an active subwoofer output socket is also present. T+A has concluded a service contract with the Airable Internet Radio Service company, which enables purchasers of our streaming client products to create individual station lists and favourites lists at no charge; these lists are then made available automatically when Internet ratio is selected.
The receivers are controlled using the FM1000 infra-red remote control handset, or – ideally – the T+A MusicNavigator APP. In contrast to many manufacturers' apps, this is capable of controlling every element of every function of our machines. Not only does it display the information pertaining to the streaming client, but also the screen content of all sources, such as the station name and radio text when used in FM radio mode.
Show more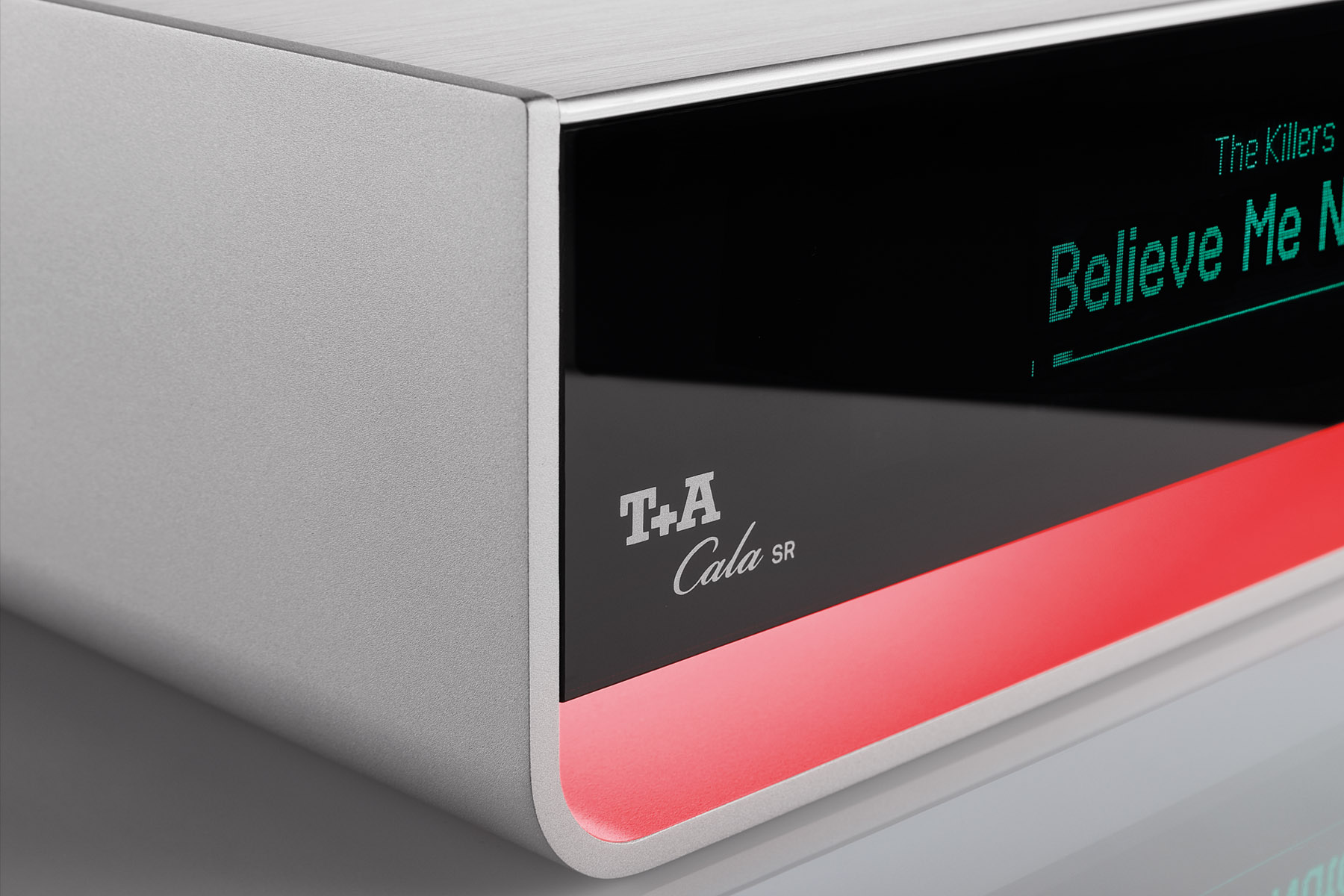 Formats
MP3, AAC, OGG-Vorbis, FLAC, WAV, AIFF, ALAC
Data rates
PCM 32...192 kHz,16/32 Bit; MP3 up to 320
kBit; constant and variable data rate
Features
Gapless Playback for MP3 (Lame), WAV, FLAC
T+A MusicNavigator App for iOS and Android
Services
Tidal, Deezer, qobuz, Roon Ready
(subscription required)
Interfaces
LAN: Fast Ethernet 10/100 Base-T,
WLAN: 802.11 b/g/n with WPS
Protocol
A2DP Bluetooth audio protocol AVRCP control
MP 3, AAC, SBC
Mode
1 x USB 2.0 Mastermode
Internet Radio
airable Internet Radio Service
(> 11000 Stations worldwide
FM, FM-HD
87,5 - 108 MHz;
Sensitivity 1 μV;
S/N > 65dBA
DAB, DAB+
168 -240 MHz (Band III);
Sensitivity 2,0 μV;
S/N > 96 dBA
Features
RDS/RDBS, Station name (PS), Program type(PTY),
Radiotext (RT), Clock
Inputs
2 x Aux adjustable sensitivity. Phono and
Surround-Pass-Through Mode configurable.
SP/DIF: 2x coax (192kHz), 1x TOS-Link (96kHz
Nominal output per channel
55 Watts into 4 Ohms
Total harmonic distortion
< 0,02 %
Sound management
DSP controlled sound characteristics;
Virtual surround
Bass management
Full range, 40 Hz, 60 Hz, 100 Hz, 150 Hz
Outputs
Pre-Amp, Subwoofer, Headphone
digital IEC 60958 (CDDA/LPCM)
Mains / Accessories / Dimensions
Mains
100 - 240 V, 50 - 60 Hz
Power consumption max.
150 Watts
Power consumption idle
13 Watts
Auto power off function
yes (after 90 minutes without audio signal)
Accessories
IR-Remote control FM1000; WLAN-antenna;
power cord, manual
Features
Variable screen brightness, dual-time alarm
Dimensions (H x W x D)
9,5 x 30 x 21cm /
3,7 x 11,8 x 8,3 inch
Finishes
Case: Alu silver 43 or Alu black 42,
Front: Acrylic black 91
Technical modifications reserved
Update your CALA SR to the latest firmware. Select the "Device Info" menu item in the device configuration menu. Now select "Update" and confirm the set selection "WEB". Wait until the update is finished. Make sure that your PC and your CALA SR are connected to the same network. Next, sign up for a Roon membership and download Roon for your PC or MAC. You can also download the Roon app for Android or iOS devices.
For a period of three years after last distribution of this product or its firmware, T+A offer the right to any third party to obtain a complete machine-readable copy of the corresponding source code on physical storage medium (DVD-ROM or USB stick) for a charge of 20€. To obtain such copy of the source code, please write to the following address including information about product model and firmware version: T+A elektroakustik, Planckstr. 9-11, 32052 Herford, Germany.
For a period of three years after the last sale of this product or its firmware, T + A offers any third party the right to receive a complete machine-readable copy of the corresponding source code on a physical storage medium (DVD-ROM or USB stick) for a fee of € 20 to obtain. In order to receive such a copy of the source code, please write to us, specifying the device type of the relevant product and the firmware version:T+A elektroakustik, Planckstr. 9 -11, 32052 Herford, Deutschland
Kleiner Meister
Mit dem inspiriert gestalteten Streaming-Receiver Cala SR und den perfekt passenden Lautsprechern Pulsar R 20 offeriert T+A eine moderne Kompaktanlage von außerordentlicher Qualität. Hier werden aparte Anmut, umfassende Funktionalität und ausgezeichnete Klangqualität synergetisch vereint.

One-box wonder
Crisp, curved surfaces with no buttons on show make this a real beauty to behold.
If you want decent sound on demand from multiple sources at your fingertips, that´s exactly what the Cala SR provides.