TCD 210 S



Floor-standing loudspeaker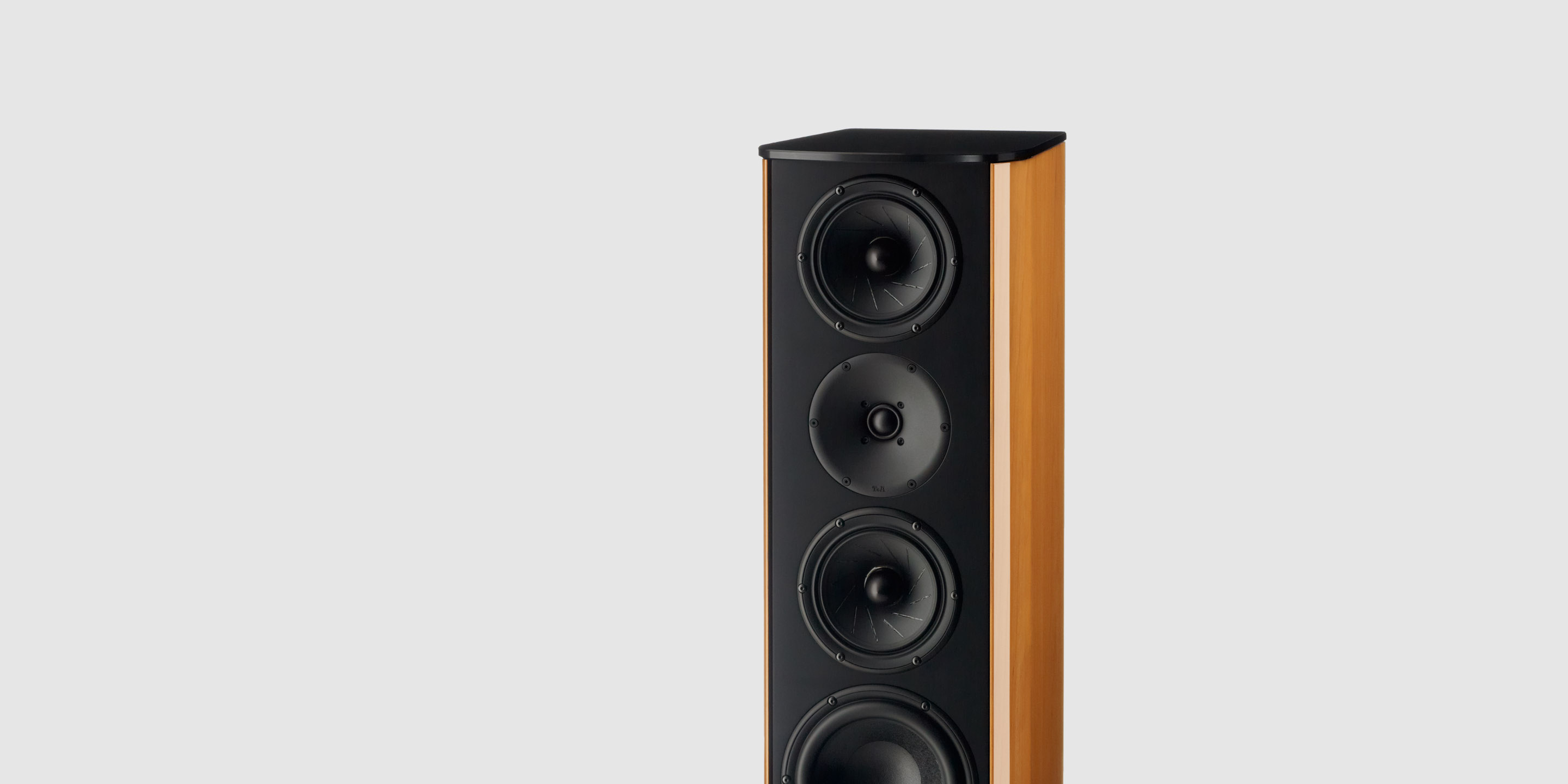 TCD 210 S

Floor-standing loudspeaker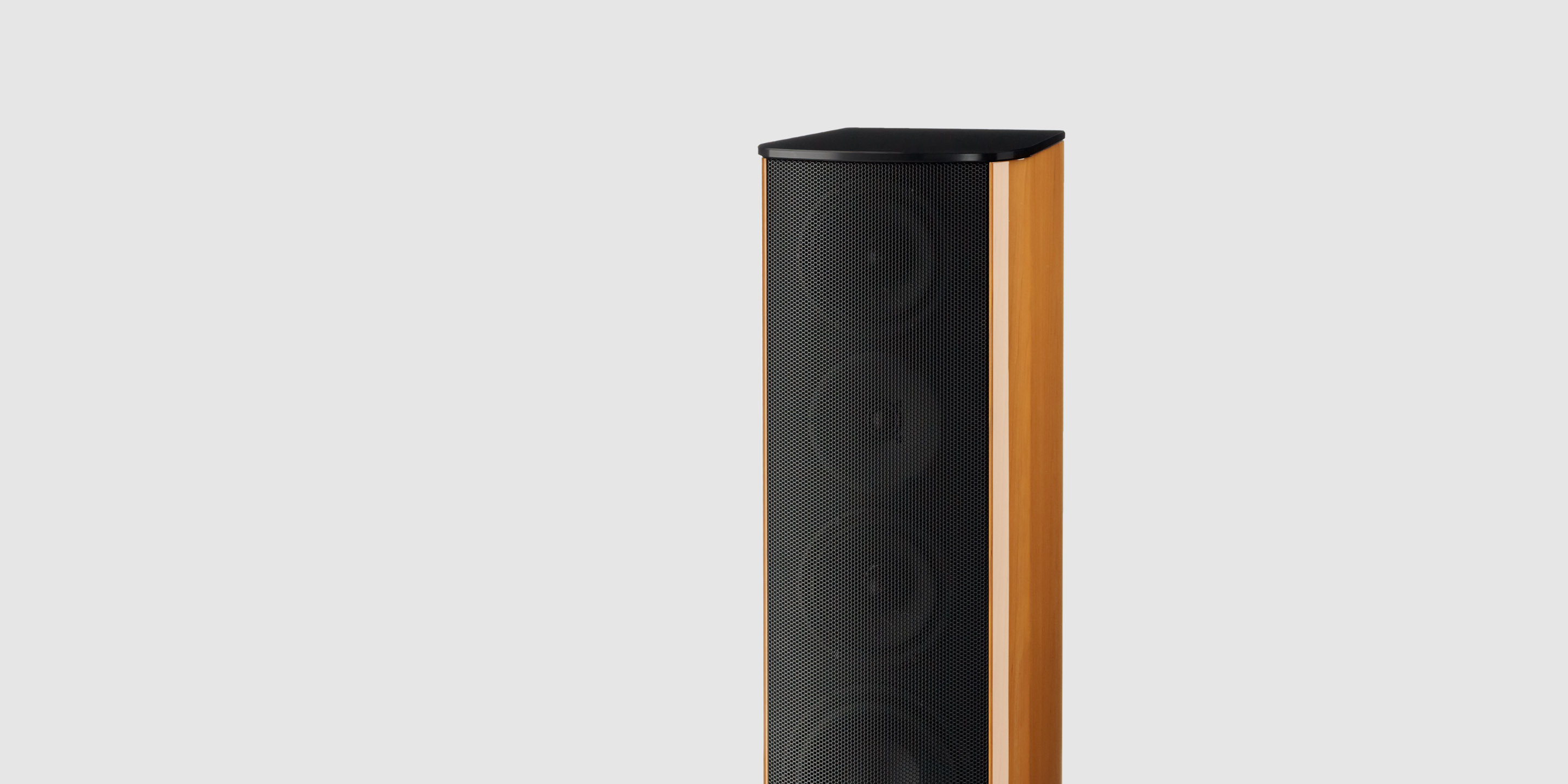 The TCD 210 S
The TCD 210 S is the second largest speaker in the TCD series, and is of very similar construction to the top model, the TCD 110 S; their internal mid-range / treble components are actually identical. The TCD 210 S is a no-compromise floor-standing transmission-line speaker fitted with a very long transmission line. Two massive 22 cm bass units with low natural resonance are accurately tuned to this line, and their extremely hard, embossed cones generate unbelievably low, accurate bass at very high sound pressure. The same drive units are also employed in our High-End SOLITAIRE® loudspeaker speaker line! We have developed a unique technology for the mid / treble range by using a D'Appolito arrangement together with our Waveguide dome tweeter. This concept results in an incredibly precise and dynamic reproduction, harmonizing perfectly with the bass drivers.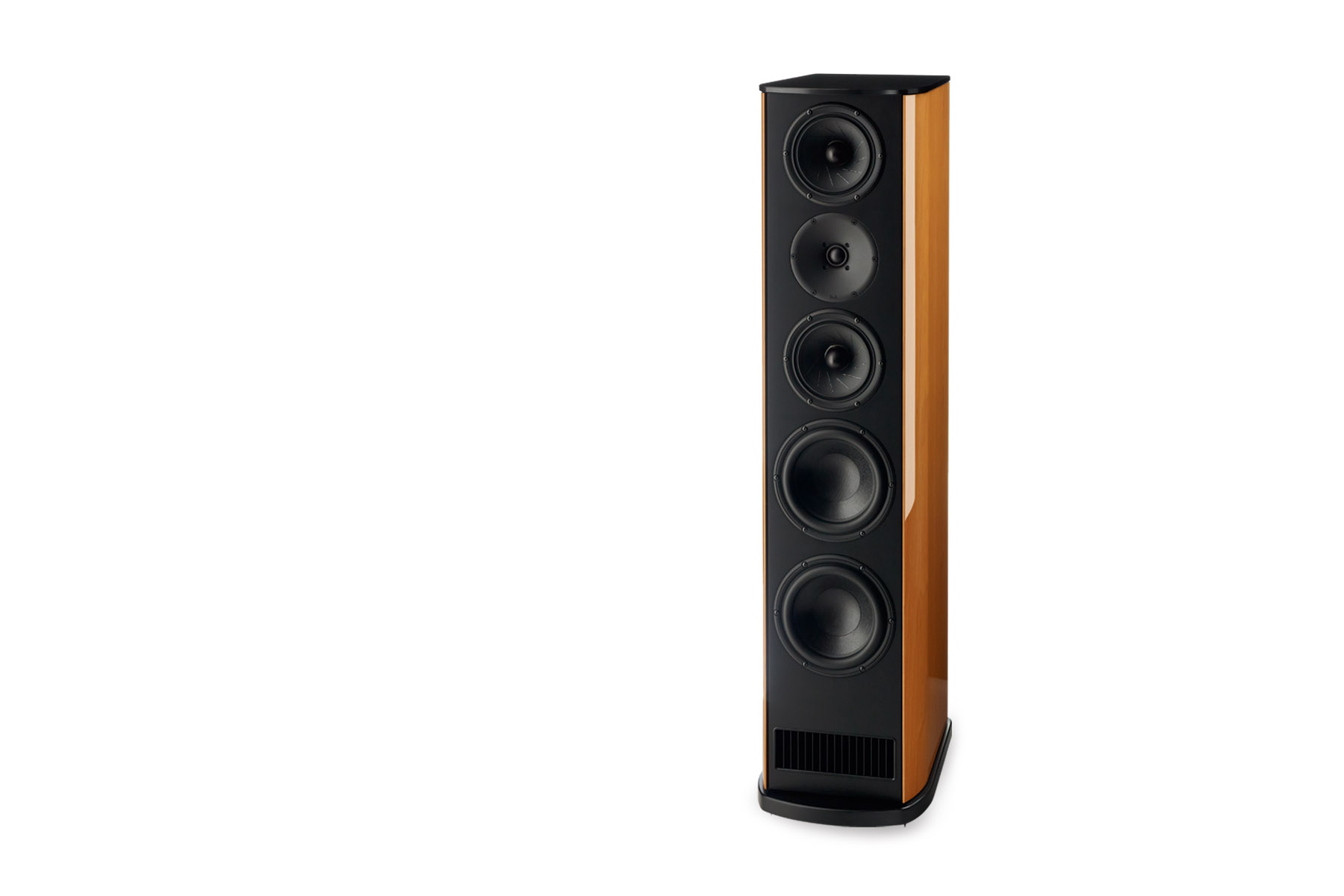 Technology
Two mid-range drive units and the Waveguide dome form an acoustic unit which we have designated CD = Constant Directivity. This concept is unique, and was perfected by our engineers in a complex series of simulations and measurements. The radiation pattern of loudspeakers varies with rising frequency, leading to an increased sound focusing effect with conventional drive units, with the result that the mid-range unit tends to be more directional with increasing frequency, and the tweeter unit more omni-directional in the crossover area between mid-range and treble. This results in inconsistent imaging, and a loss of positional accuracy. From experience with our SOLITAIRE® loudspeakers we are aware of the enormous sonic advantages offered by constant radiation characteristics in the mid / high-frequency area in terms of accurate positioning and good imaging. We have succeeded in this with our SOLITAIRE® speakers by investing enormous effort in the mid-range arrays and extended electrostatic units, which are designed to generate cylindrical waveforms.
Naturally such sophistication does not come cheap, and can only be exploited in expensive loudspeakers. However, our development team has succeeded in achieving similarly good results with cone-based loudspeakers by taking an ingenious approach: the use of two mid-range drivers in the so-called D'Appolito arrangement results in energy compression in the listening area, and a reduction in sound radiation upwards and downwards, thereby reducing reflections from ceiling and floor. The 25 mm woven dome is fitted with a carefully calculated Waveguide (sound guide) whose depth and shape mould the radiation pattern in the transitional area to match that of the mid-range drivers. The net result is that the radiation characteristics of the tweeter and the mid-range units are very similar and homogeneous over the frequency range. This ingenious concept produces incredibly precise, dynamic reproduction with tremendously fine definition and excellent detail reproduction. The arrangement avoids the usual "step" in the sound image, producing a listening zone in which the sound and imaging characteristics are totally homogeneous. The system also offers another major advantage: it reduces overall distortion to an extreme extent, because even at very high levels the excursion of the paired mid-range units is not great, and at the same time the dome's Waveguide causes a considerable gain in sound pressure, which in turn reduces distortion to a vanishingly small level.
Mehr anzeigen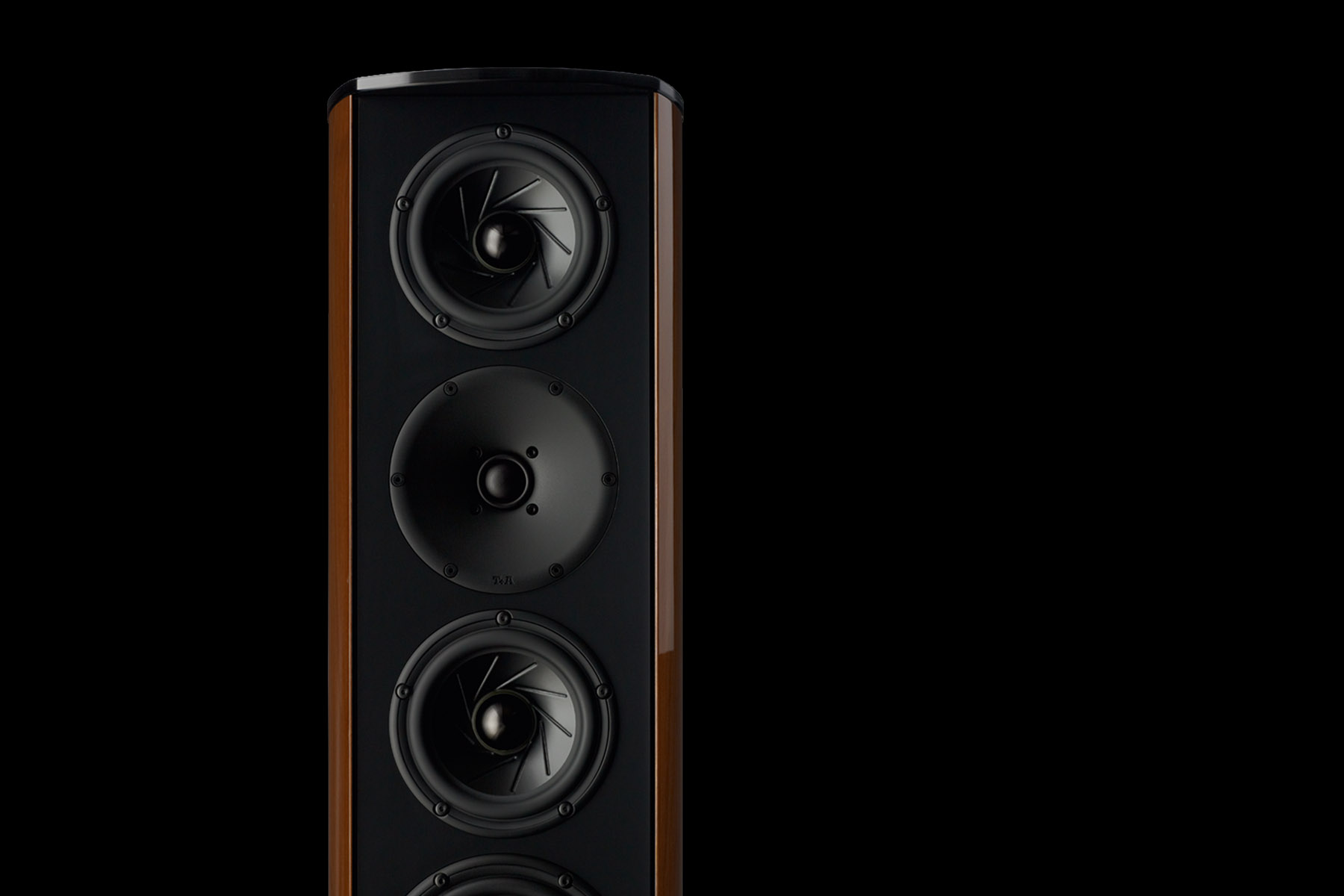 Floor-standing speaker
3-Way Transmission-line
Nominal power rating
200 Watts
Music power rating
270 Watts
Frequency range
25 - 35000 Hz
Drive units bass
2 x 220 mm
Drive units midrange
2 x 170 mm
Drive units high frequency
1 x 25 mm
Crossover frequencies
220 / 2200 Hz
Dimensions H x W x D
122 x 30 x 44 cm
Technical modifications reserved
Connection and installation
SubEQ Software for room calibration
Manual and Firmware Updates for TCD 610 W SE
Firmware update TCD 610 W
includes Ethernet Flash Utitlity
includes Ethernet Flash Utitlity
Audio Video Polen 10/2017
Hifi Choice october issue
Towering infernos
Big and powerful with sledgehammer bass, the T+A TCD 21 S is an accomplished all rounder with a sophisticated, yet involving sound.  Everything is delivered with ease, but you never forget there's an iron fist underneath that velvet glove.

Die Mittel-Hochton-Einheit des 210 S leistet ganze Arbeit, vollbringt das Kunststück, Sänger und Sängerinnen beinahe tatsächlich anwesend wirken zu lassen und schenkt eine Detailfülle, die frappierend ist: Der TCD 210 S ist eine akustische Lupe mit ausgeprägtem Feinsinn für das stimmige Ganze.
Klang: überragend
Ausstattung: sehr gut
Verarbeitung: sehr gut – überragend
Preis/Leistung: überragend

Überragend dynamische Box mit sehr genauer Abbildung und homogen eingebundenem, sehr tiefem Bass. Ideal für große Hörabstände und schwach bedämpfte Räume, im Nahfeld oder wandnah eindeutig unter Wert spielend.
Die TCD 210 S verlangt nach entsprechenden Räumen und Liebe bei der Aufstellung. Dann ist sie aber einer der besten, wenn nicht der beste Fernfeldlautsprecher ihrer Klasse, der nahfeldtypische Sanftheit mit unbändiger Dynamik und sensationeller Abbildungsgenauigkeit verbindet.
Klang: Absolute Spitzenklasse
Preis/Leistung: überragend

Sehr ausgewogene, enorm druckvolle und seidige Box mit gigantischer Kraft auch in großen Räumen. Die neue T+A überrascht gleich mehrfach: Dieses Kraftpaket weckt das Kind im Manne, wenn sie dynamisch und basstechnisch loslegt wie eine große PA beim Rockkonzert. Doch sie ist das Gegenteil einer plumpen Partybox, kann auch bei Zimmerlautstärke mit überraschend vollen und seidigen Klängen überzeugen.
Klangurteil: 97 Punkte
Preis/Leistung: überragend