Talis R 300

Bookshelf loudspeaker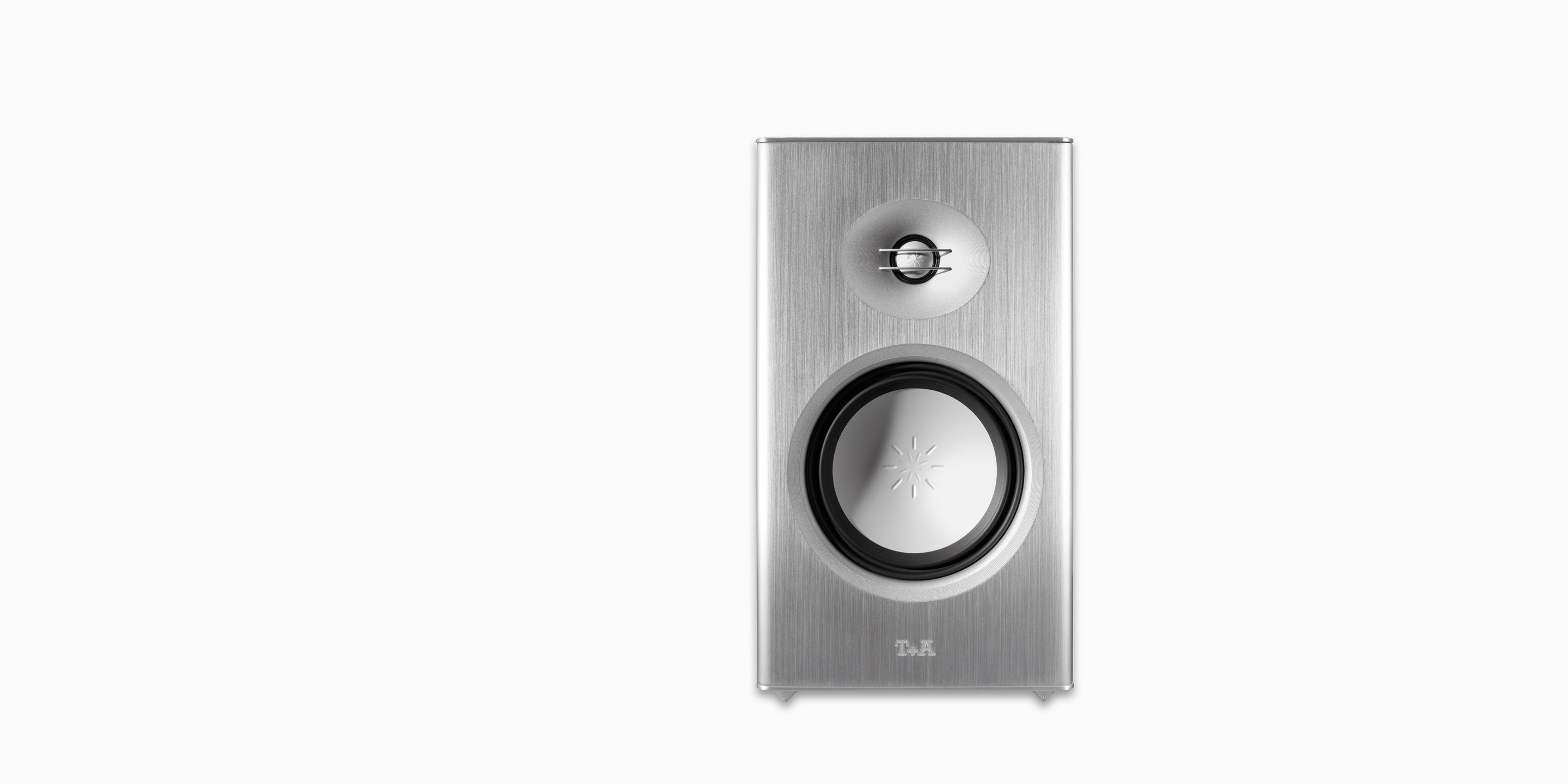 Talis R 300

Bookshelf loudspeaker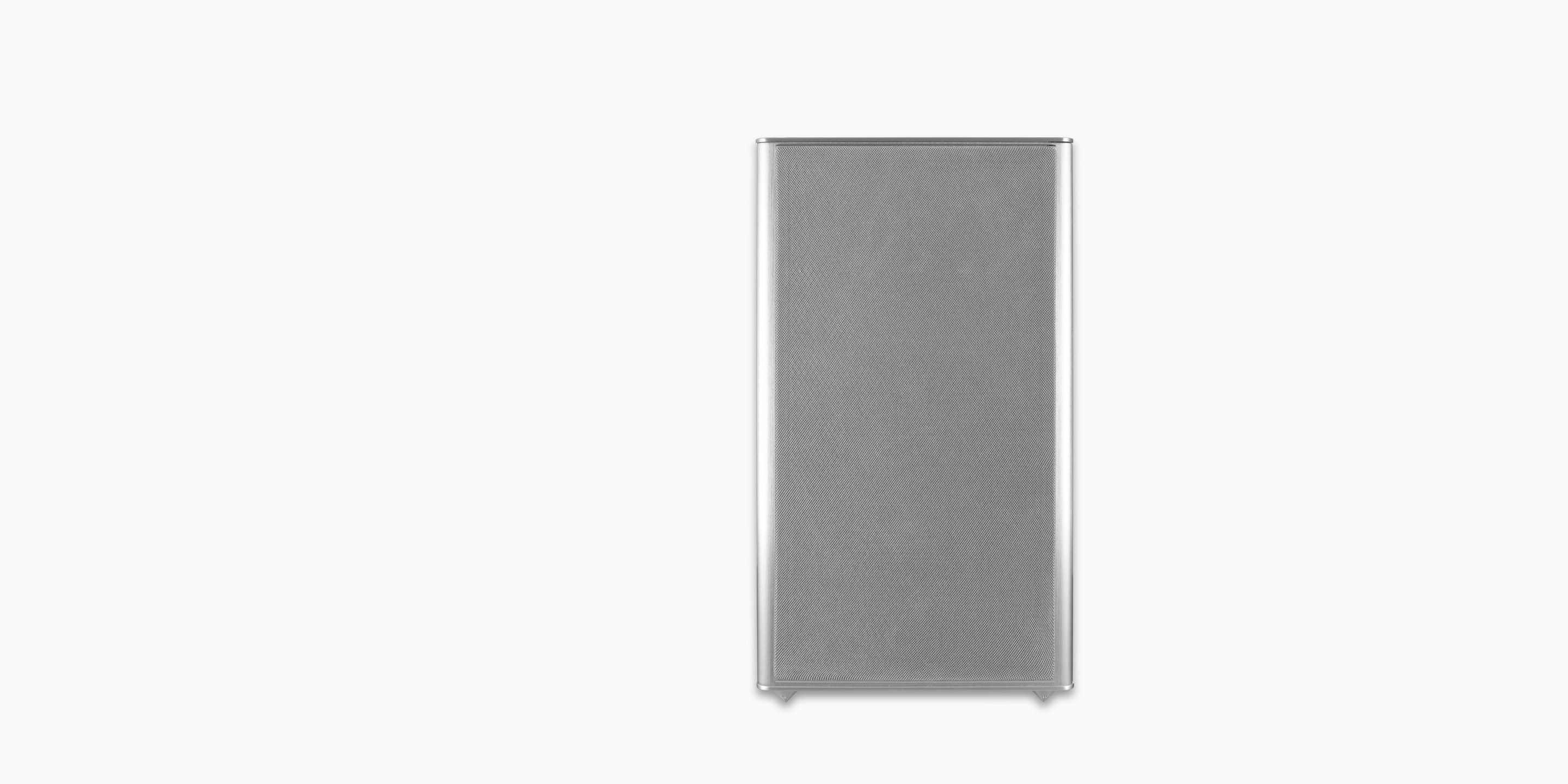 The R 300
The R 300 is a very compact two-way bookshelf monitor with excellent sound characteristics. The entire cabinet is made of aluminium, hand-brushed, and anodised in high-gloss black or silver. Although only 21 cm wide and just 37 cm tall, the R 300 generates sound of a quality usually the preserve of substantially larger loudspeakers. This is due to the design of the cabinet and the use of ultra-modern drive units. The High-End drivers are based on the technology of the speaker's big sister – the S 300 – but with optimised bass driver parameters to match the small cabinet. The bass response of the R 300 is phenomenally good; we are unaware of any loudspeaker which is capable of such precise, low, natural bass from a cabinet as compact as this one.
The R 300 is equally suitable for mounting on a bookshelf and on the LS 300 stand.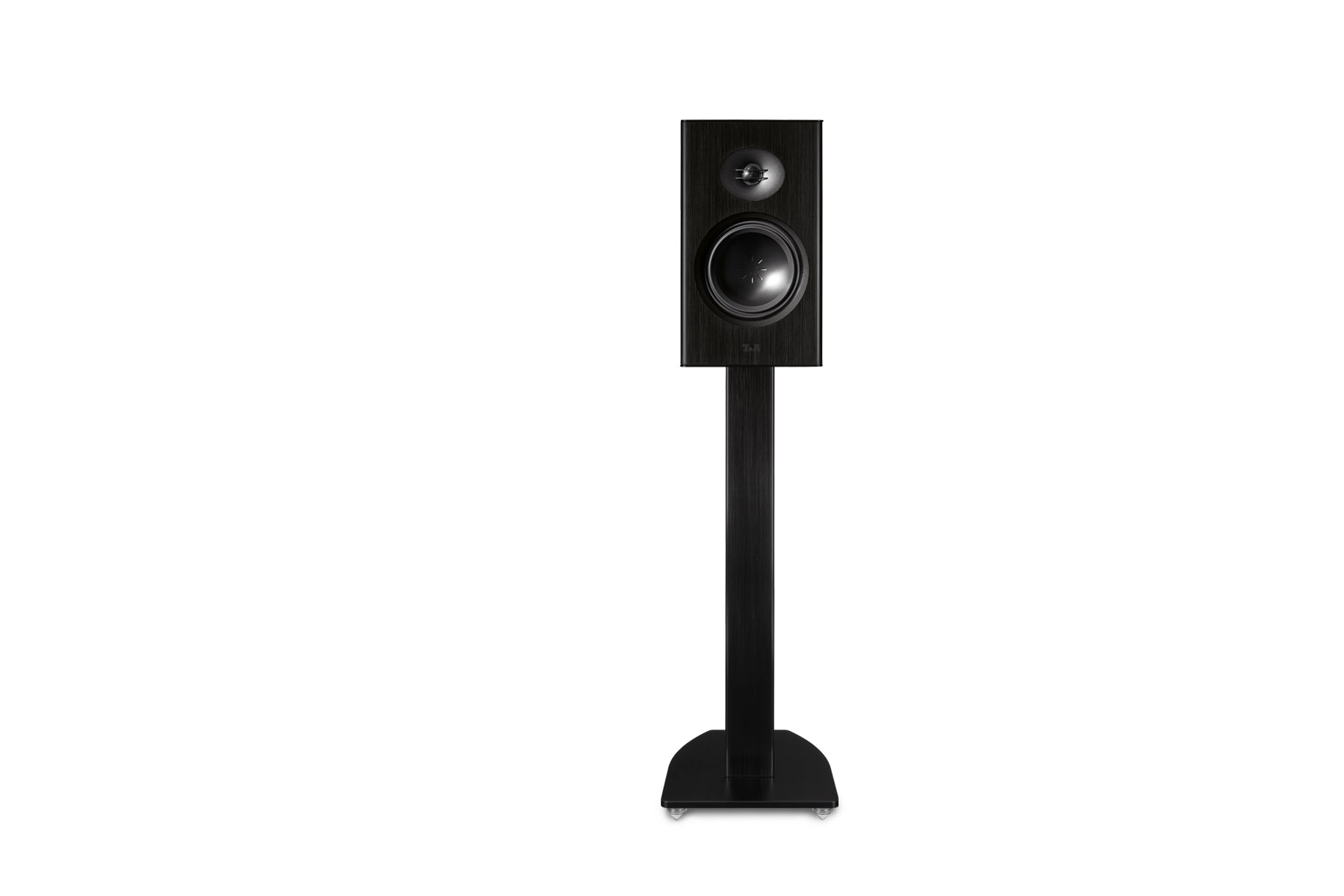 The LS 300
The LS 300 speaker stand has been designed specifically for the Talis R 300. The bottom panel of the R 300 is screwed securely to the stand, ensuring that the combination is stable when erected. The loudspeaker cables can be routed very neatly down through the profiled tube of the LS 300, while the screw-fitting spikes or furniture glides provide sufficient space for the leads under the base plate. With its dimensions (HxWxD) of 67x26x33 mm, the LS 300 is the ideal addition to the R 300 for free-standing installation.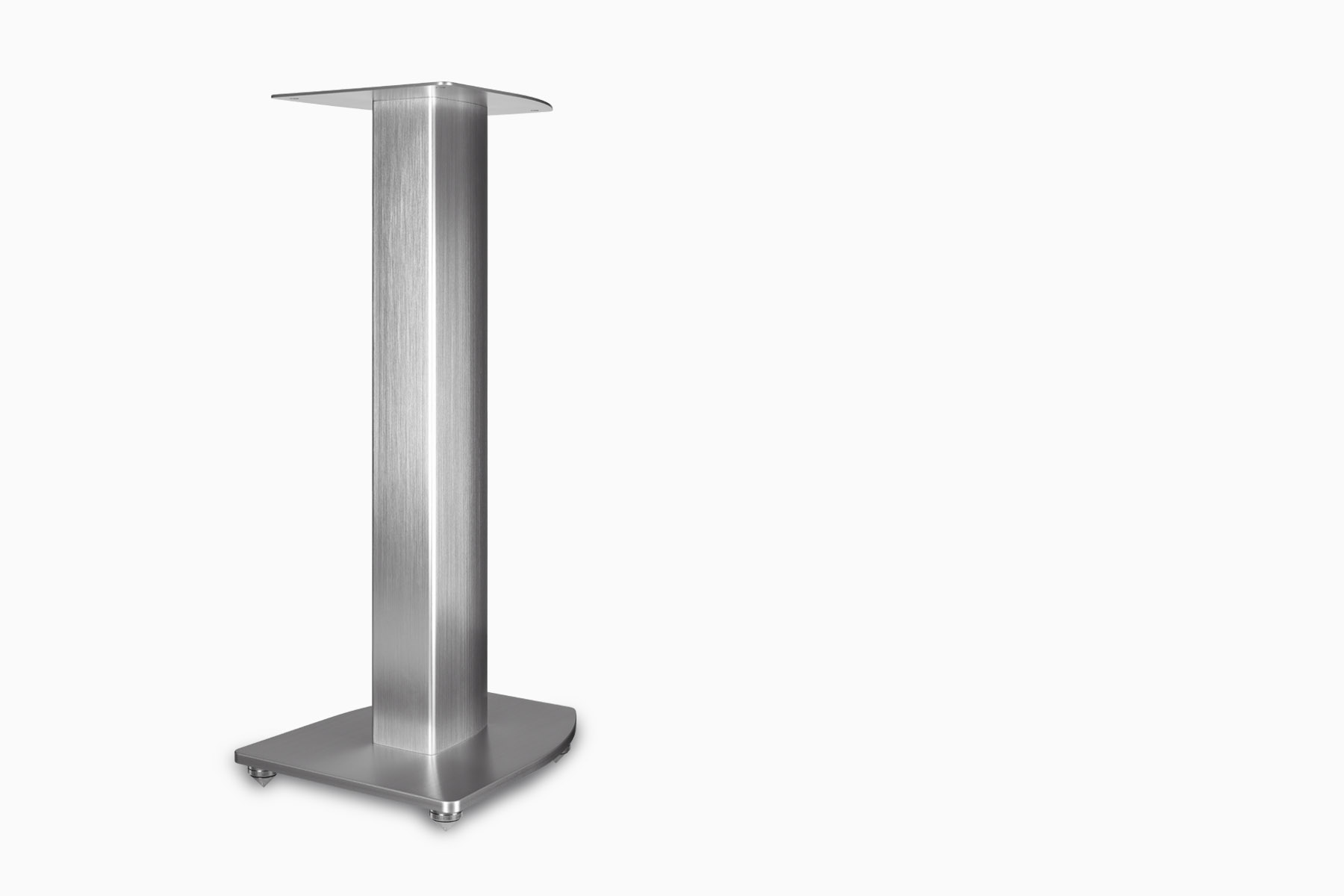 Technology
We felt it was particularly important to combine the acknowledged advantages of the two-way principle – namely very spacious, natural reproduction – with outstanding bass response. It is the latter which lets down the majority of small bookshelf speakers, and for this reason we have invested tremendous effort in ensuring that the bass reproduction of the R 300 is totally convincing. The cabinet is made entirely of aluminium, and therefore has a relatively large net internal volume. The High-End drive units are based on the technology developed for the speaker's big sister – the S 300 – but with optimised bass driver parameters to match the two-way design and the small cabinet. The refined High-End bass unit is fitted with high-performance magnet systems, while the triple cone surround enables extremely long cone travel. The embossed and stiffened cones generate an incredibly deep, high-pressure bass even at very high levels.

The "Ultra Wide Range" treble dome unit is positioned in the centre of a precisely calculated waveguide whose contours are machined into the solid aluminium baffle itself. In conjunction with the 170 mm High-End bass driver this design creates exceptionally consistent radiation characteristics, giving an absolutely convincing impression of space combined with precise imaging. The sound stage is transparent, totally uncoloured, open, and with a powerful response in the low bass. The cross-over unit maintains a linear frequency response, expands the low bass range and ensures outstanding dispersion characteristics – even when the speaker is set up on a shelf.
Show more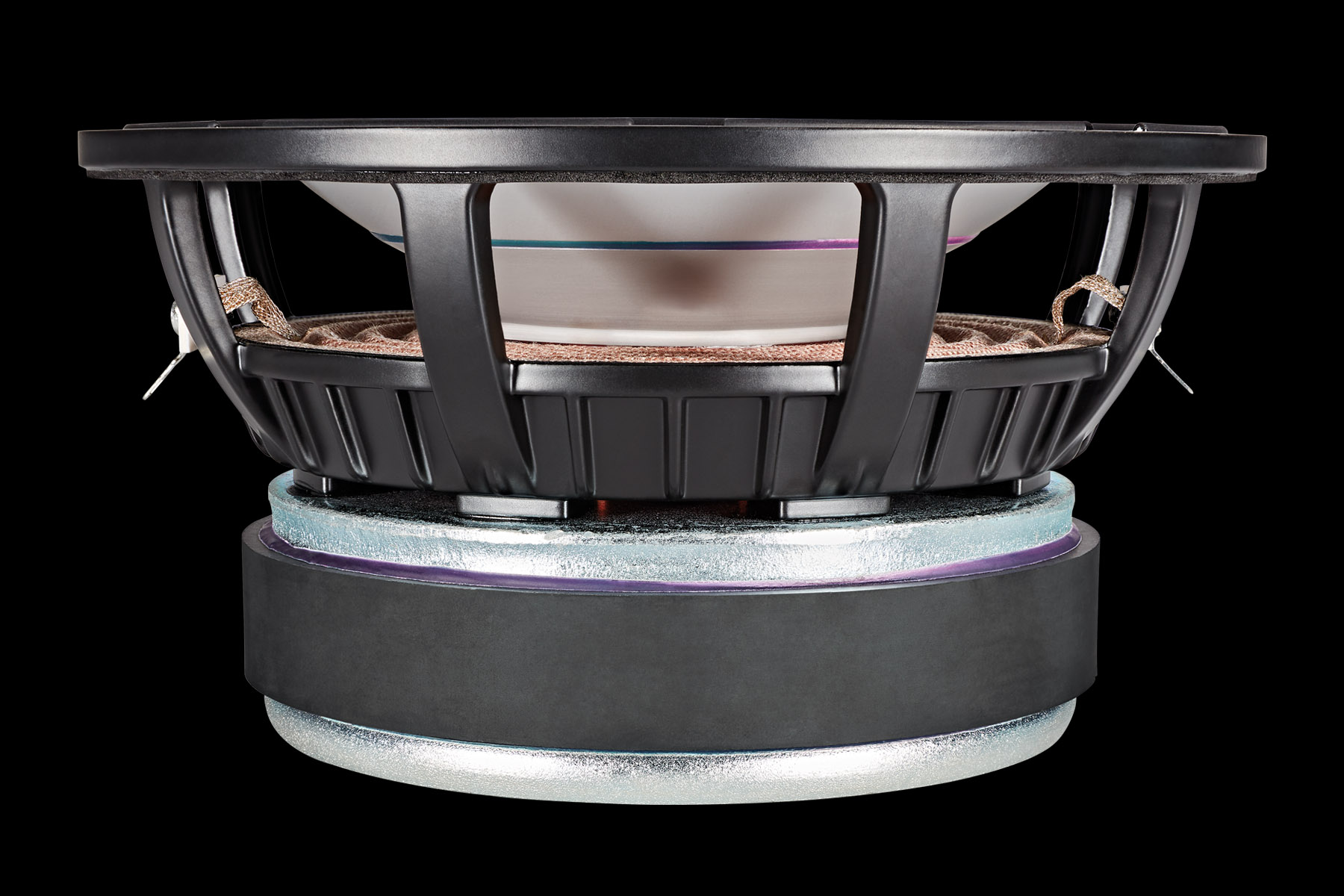 Bookshelf speaker
2-way, bass reflex
Nominal power rating
140 Watts
Music power rating
200 Watts
Frequency range
35- 35000 Hz
Drive units bass
1 x 170 mm
Drive units highrange
1 x 25 mm
Crossover frequencies
2000 Hz
Dimensions H x W x D (Incl. terminal)
37 x 21 x 28 cm
Finishes
Black anodised 42
Silver anodised 43
Dimensions LS 300
H x W x D (incl. spikes)
67 x 26 x 33 cm, 26.4 x 10.2 x 13 inch
Technical modifications reserved
Schmuckstücke
Dass T+As Wurzeln im Lautsprecherbau begründet liegen, merkt man der Talis R 300 vom ersten Moment an. Sie ist makellos verarbeitet, bietet verschiedene Aufstelloptionen, von denen i-fidelity.net die auf dem als Zubehör erhältlichen Standfuß LS 300 nachdrücklich empfiehlt. Es spiegeln sich die über vier Jahrzehnte Erfahrung der Herforder Manufaktur aber vor allem im klanglichen Ergebnis wider, das für einen Schallwandler mit diesen kompakten Maßen eindrucksvoll ist. Ohne Frage sind die Talis R 300 für Hörer mit hohen Ansprüchen gedacht. Dass diese von T+A vollumfänglich erfüllt werden, steht nach diesem i-fidelity.net-Test fest.

Metal Hammer

Um es auf den Punkt zu bringen: die 15 kg schwere kleine R 300 zählt aus dem Stand nach einstimmiger Meinung der Redaktion zu den besten, mitreißendsten Kompaktboxen, die STEREO überhaupt kennt und wird deshalb mit höchsten Weihen in die Riege der Top-Referenzen aufgenommen. Und dort zählt sie fraglos zwar nicht zu den billigsten, sehr wohl aber zu den schönsten Angeboten.

Konstanten der Moderne
Die Talis R 300 geriert sich mit ihrem blitzblanken Spiel ganz gerne als Perfektionistin, aber wenn es sein muss, dann kann die hochgezüchtete Kompakte eben auch liefern und satt und durchsetzungsfähig aufspielen wie eine Standbox.