R 1000 E
Multi Source Receiver
The Multi Source Receiver
This all-purpose device contains the genes of the superlative PA 1000 E and MP 1000 E separate devices. It is equipped with the very latest technologies and components, and certainly ranks as one of the most modern and innovative receivers available anywhere in the world. It combines classic analogue technology for the amplifier section with the latest digital circuit design for the internal sources. It also features a large number of extremely high-quality inputs for external analogue and digital sources, making it the perfect universal nerve center of a really modern, high-quality stereo system. It can cope with almost anything: you can connect a turntable (optional phono modules are available) or improve the sound of your television; connect a set-top box using an optical lead, or even stream music from a PC – there are no limits. What's more, the R 1000 E caters for all formats, since its high-quality converter processes the audiophile DSD format as well as PCM files to very high standard.
The outstanding feature of this superb device is that we have equipped it with every available modern source: a high-quality CD mechanism, an aptX® Bluetooth module, a high-performance digital tuner, the Digital Connecting Board for external sources and our new High Res Streaming Client Board. This simply means that the R 1000 E can access everything which delivers music: CD, FM, FM-HD and DAB+ radio; Internet radio with Airable Internet Radio Service; UPnP network music servers; USB memory media; laptops and PCs, music services and mobile devices with Bluetooth!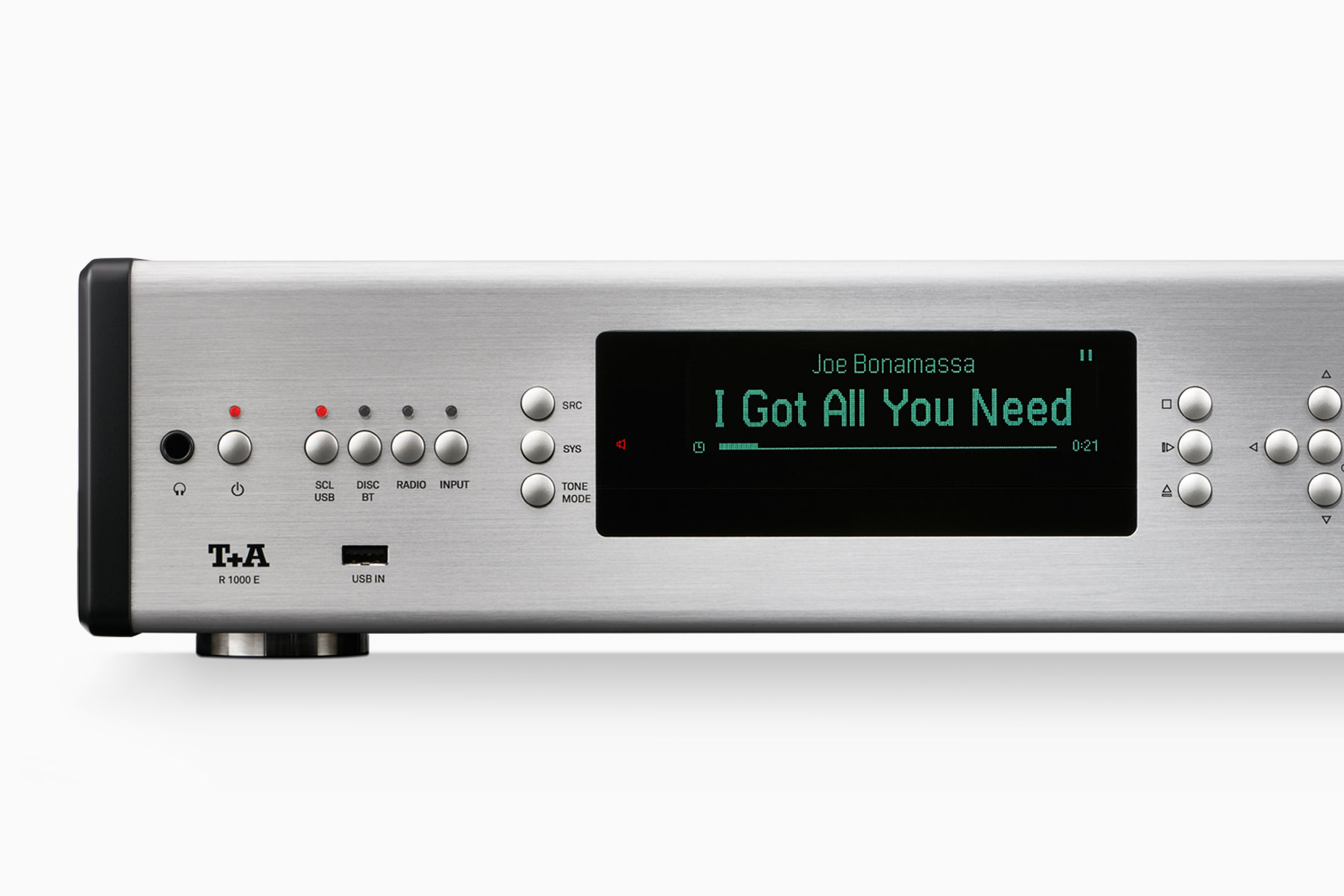 Technology
The R 1000 E was developed as a combination of the essential elements of two separate High-End units: the PA 1000 E and the MP 1000 E. Since the case is no larger, it inevitably has a slightly reduced array of sockets than the two separate units, and its output power is also a little lower. At present the R 1000 E is certainly the most powerful, best equipped and most modern receiver in its price class available anywhere in the world!
Our development team designed an entirely new, superb-sounding pre-amplifier for the R 1000 E. It has many smart functions including balance, tone controls, variable Loudness, "Flat" function and sub-sonic filter for use with satellite speakers and sub-woofers.
The outstanding 32-bit double-mono differential converter, the CD mechanism (without pushrods), the motherboard with Bluetooth module, the digital tuner and a new Streaming Client originate from the MP 1000 E. The R 1000 E also shares the same Digital Connecting Board for connecting external sources.
The R 1000 E is also fitted with three high-quality analogue inputs (one of them upgradable as a phono input), a pre-amplifier output for connecting active loudspeakers or additional power amplifiers, two sub-woofer outputs and a Line output, which can be used for applications such as a radio transfer module.
The output stages have been adopted from the PA 1000 E, with the same overall circuit design, albeit with slightly reduced power. The mains power supply and ancillary circuits are of the same design as those of the PA 1000 E.
The optional high-quality phono modules for MM or MC pick-up systems are those of the PA 1000 E, and can be retro-fitted at any time.
Mehr anzeigen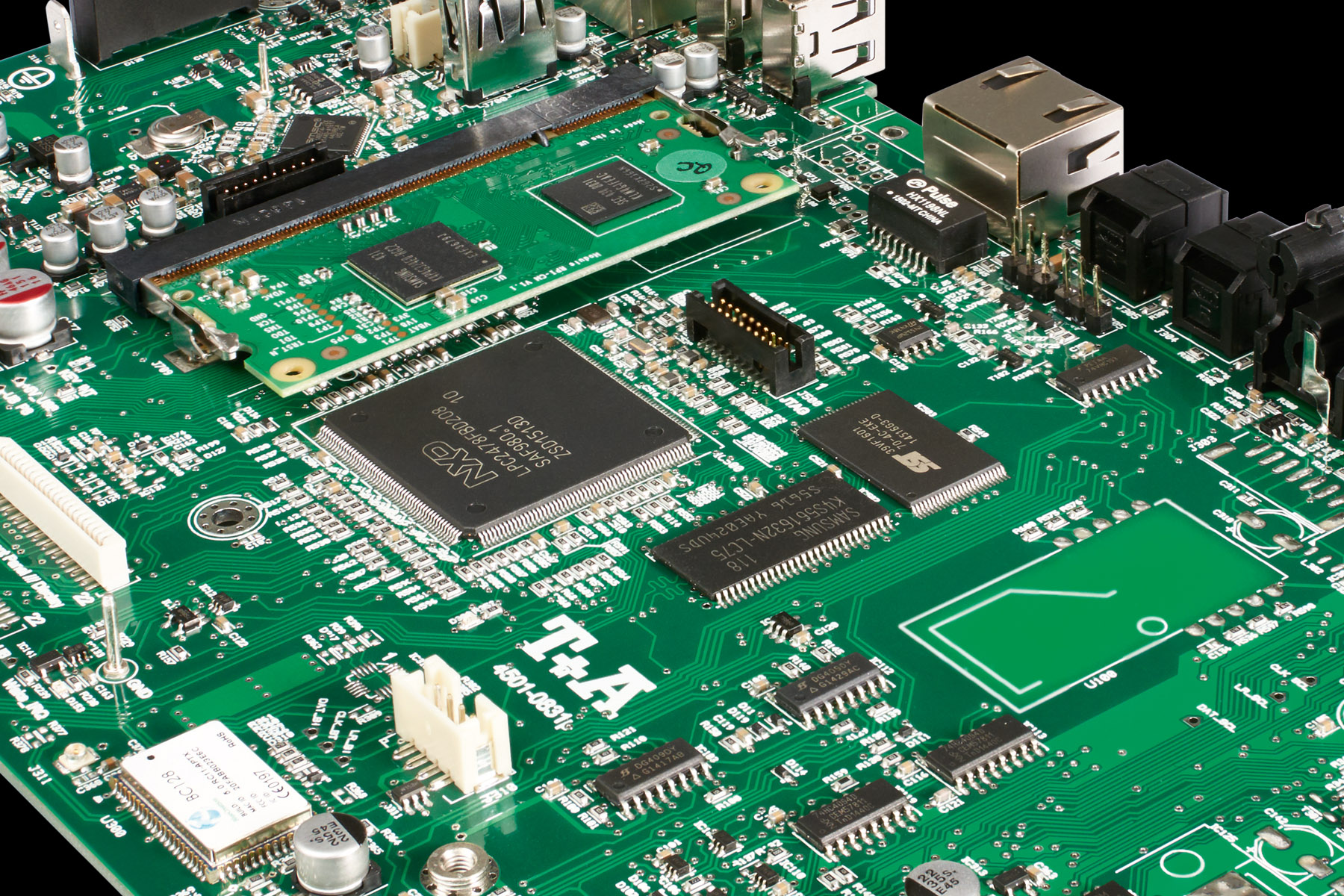 Nominal output power per channel 4 Ohms / 8 Ohms
2 x 180 Watts / 2 x 115 Watts
Peak output power per channel 4 Ohm / 8 Ohm
2 x 300 Watts / 2 x 180 Watts
Frequency response -3dB
1 Hz - 60 kHz
Total harmonic distortion
< 0,004 %
Intermodulation
< 0,004 %
Specifications preamplifier (PRE, REC)
Frequency response
1 Hz - 250 kHz
Total harmonic distortion
0,0022 %
Signal / noise ratio
106 dBA
Channel separation
> 90 dB
Analogue 3 x unbalanced (RCA)
PRE-, LINE-, SUB OUT 2,5 Veff / 50 Ohms;
Headphones 6,3 mm plug > 32 Ohms
Digital 1 x coax
IEC 60958 (CDDA/LPCM)
Analogue 3 x unbalanced (RCA)
250 mVeff ... 3 Veff / 20 kOhm,
optional Phonomodule as PA 1000 E
Inputs 2 x USB 2.0
for USB storage/HDD. Formats: NTFS, FAT 16/32, Ext2 + 3 + 4
Inputs 1 x USB-B
Class 2 Device Mode, asynchron, PCM 48...382 kHz, DSD64...256
(depending on Player-Software and operating system)
Inputs 3 x coax S/P-DIF
PCM 32...192 kHz
Inputs 2 x opt. S/P-DIF
PCM 32...96 kHz
Output 1 x coax S/P-DIF
PCM 32...192 kHz (IEC60958)
Formats
CD/DA,CD-R, CD-RW, CD-Text
Frequency response
2 Hz - 20 kHz / 100 dB
Standards / Codecs
A2DP (Audio), AVRCP 1.4 (Control) / aptX ® , MP3, SBC
Formats
MP3 , AAC, OGG-Vorbis, FLAC, WAV, AIFF, ALAC
Data rates
PCM 32...192 kHz,16/24 Bit;
MP3 up to 320 kBit, constant and variable Data rate.
Features
Gapless Playback for MP3 (Lame), WAV, FLAC.
T+A Control App for iOS und Android.
Standards
UPnP AV, T+A Control
Services
Tidal, Deezer, qobuz. (subscription required)
Interfaces
LAN: Fast Ethernet 10/100 Base-T, WLAN: 802.11 b/g/n
D/A-Converter
32-bit, 384 kHz Sigma Delta, double-mono differential converter, switchable oversampling filters
PCM 32...192 kHz;
DSD 64
Analogue filter
Symmetrical, phase linear Besselfilter 3rd order 100 kHz
Frequency response up to PCM 192
2 Hz - 100 kHz
Frequency response up to DSD 64
2 Hz - 80 kHz
Internet Radio
Airable Internet Radio Service (> 11000 Stations world wide)
FM, FM-HD
87,5 - 108 MHz;
Sensitivity 1 µV;
S/N > 65 dB
DAB, DAB+
168 -240 MHz (Band III);
Sensitivity 2,0 µV,
S/N > 96 dBA
Features
RDS/RDBS, station name (PS), program type (PTY),
Radio text (TR), clock
Mains / Accessories / Dimensions
Accessories
IR-Remote control FM1000;
WLAN Modul;
Bluetooth aerial; power cord
Remote control
FM1000 or
optional bi-directional radio remote FD100 with Gateway
Mains
220-230 V or 110-115 V, 50-60 Hz
Power consumption max.
300 Watts
Power consumption idle
22 Watts
Network standby
1,40 Watts
Auto power off function
yes (after 90 minutes without audio signal)
Dimensions (H x W x D)
44 x 11,5 x 37 in cm
Finishes
Silver case + black side panels. Silver case + silver side panels.
Black case + black side panels. Black case + silver side panels.
Technical modifications reserved
R jak rewolucja?
Wszystkie źródła w jednym, włącznie z bezstratnym streamingiem, cyfrowym radiem DAB i odtwarzaczem CD,a na dokładkę mocny wzmacniacz. Oto kolejny all-in-one, który zmienia sposób postrzegania samograjów.  
Meisterhaft kombiniert
Wer sich für die große Kette entscheidet, der bekommt vor allem mehr Watt und Ausstattung. Wir haben allerdings bislang noch keine Kompaktanlage auf der Matte gehabt, bei der sich dieses "etwas weniger" nach so unglaublich viel angefühlt hat.

Art + kraft
The R 1000 E seems to have forgotten that it´s a receiver, and performs like a big mid-price integrated amp.
Clean styling, powerful musical sound, versatility.
Excellent premium-priced receiver.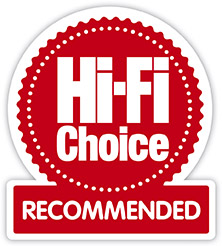 Einer für alles

Auch wer sonst gar nicht genug Geräte haben kann, dürfte einen Narren fressen an diesem echten Universalgenie. CD-Player, DAC, Streamer, Tuner, Digitalradio, Vor/Endverstärker: heruntergebrochen auf die Preise dürfte man kaum etwas besseres finden. Bis zu schon markigen Lautstärken klingt der Verstärker zudem richtig highendig. Mit dem R 1000 E hat man einen für alles.
Nahezu unbegrenzt sind heutzutage die Möglichkeiten, sein Leben mit Musik zu bereichern. Der T+A R 1000 E beherrscht sie alle. Und das sogar noch mit Blick auf die Zukunft.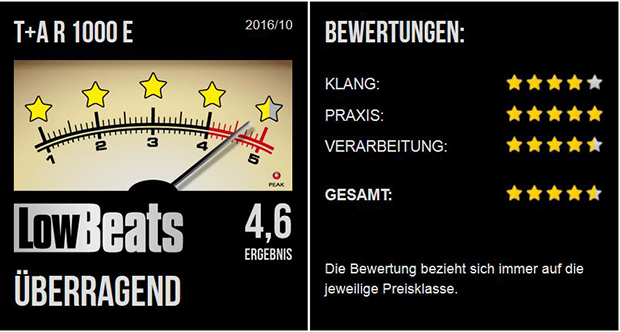 Er lässt die Musikquellen sprudeln – ein Receiver wie kein anderer
Mehrfach hatten wir zuletzt Geräte im Test, die mit dem Anspruch auftreten, ein möglichst umfassendes Spekturm an Musikquellen abzudecken. So komplett wie der neue Alleskönner von T+A waren sie alle nicht.
Alles drin, alles dran und das bei einem standesgemäßen Klang, der in dieser Preisklasse nicht selbstverständlich ist. Der R 1000 E ist ein All-in-One-Gerät, das angesichts seiner allumfassenden Ausstattung seinesgleichen sucht.

I Got All You Need
Der derzeit wohl innovativste Alleskönner auf dem Markt kann alles und hat alles. Wer gerade deshalb klangliche Abstriche befürchtet, irrt sich: der R 1000 E liefert feinsten Klang ab der mit einem guten Schuss Emotionalität garantiert ist.
Gesamturteil: sehr gut
Preis/Leistung: überragend
Klang: Absolute Spitzenklasse