Caruso Blu
All-In-One-System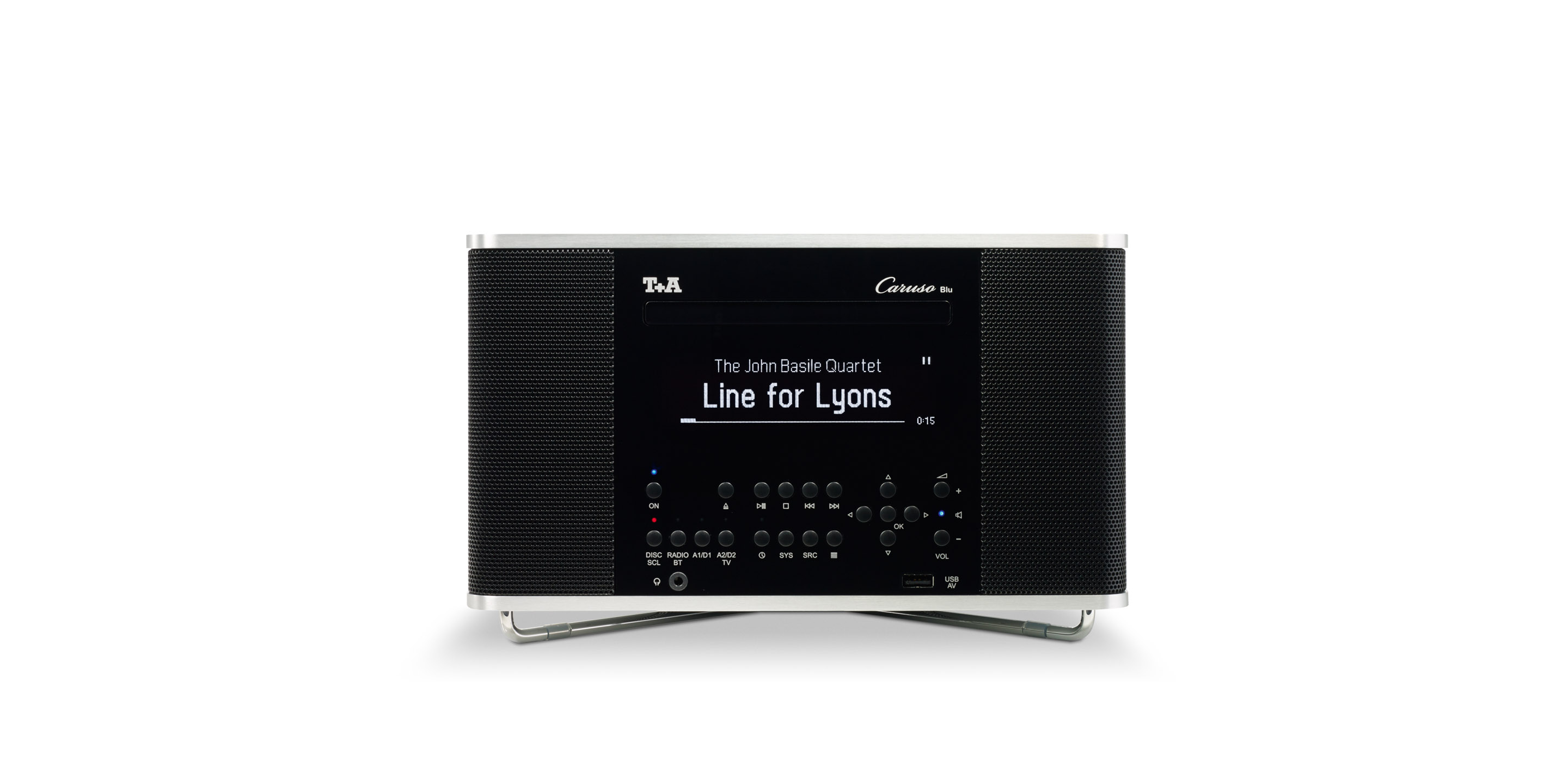 The Caruso Blu
In Autumn 2008 T+A introduced the first Caruso combining ingenious overall design with the best available components, sub-assemblies and materials, this compact stereo system was intended to supersede all conventional mini-systems and table radios. Without fear of denial we can certainly claim that the machine fulfilled this aim: within a very short period the Caruso developed into a great cult favourite, and it found many enthusiastic users in the five years of its production. We now follow up this story of success with the machine's successor: a completely revised version, which represents a new development.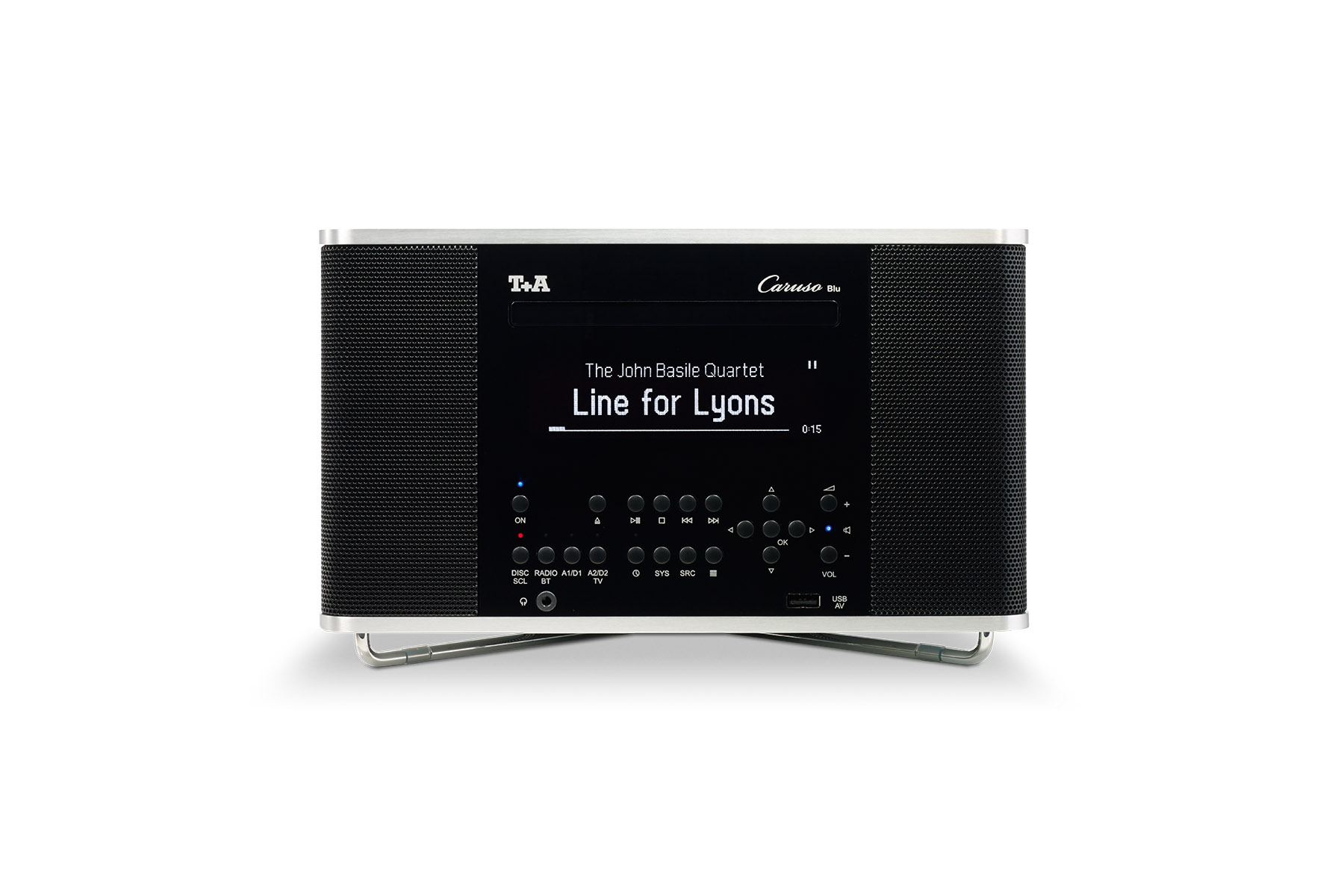 Design Philosophy
Like its predecessor, the basic concept of the Caruso blu is that of a complete stereo system with superb sound, whilst remaining as small and compact as possible. External changes are restrained in nature, and the new unit looks even more elegant and exclusive. In contrast, the internal design is a completely new, and now features the very latest components and technologies! The Caruso blu is capable of reproducing music from all modern sources:
BluRay, CD and DVD, Internet radio, Network music servers, USB storage media, Bluetooth music transfer from mobile devices, DAB+ and VHF radio, analogue sources such as turntable with phono pre-amplifier, digital sources such as TV sets and set-top boxes.
The machine plays all these sources with outstanding quality through its five integral loudspeaker systems. Three power amplifiers, each generating 50 Watts of continuous power, are coupled directly to the speaker drive units, while the active crossover unit (active loudspeaker principle) ensures that the signals reaching the speakers are precisely defined. The integral digital processor enables the user to select various sound characteristics, with the result that it sounds excellent on a sideboard or desk as well as on a shelf. The machine delivers incredible sound quality for its size, and forms a very convenient means of waking yourself up in the morning. We have deliberately invested a very great deal of effort in developing a simple, logical and intelligent method of controlling the Caruso blu, and in spite of its extensive facilities it is easy, consistent and intuitive to operate – either using the machine's integral controls, the system remote control handset or the T+A Control App
Multi Source All-In-One System
Output power
3 x 50 Watts for implemented speakers
Operation modes
DSP controlled soundfields
Inputs
2 x analogue, 3 x digital, USB
Outputs
Video (HDMI), PRE-Out, Subwoofer Out
Sources
BluRay (DVD, CD) mechanism, FM and DAB+, Bluetooth, Streaming Client
Technology
The external controls maintain the classic T+A style, and provide an ultra-simple, intuitive means of controlling the 6despite its enormous range of functions. The layout of the FM100 metal remote control handset is very clear, and the unit copes with auxiliary functions and text input in addition to the normal control operations. The machine´s large-format, high-resolution, graphical VFD screen displays the data and information in different font sizes according to context, and offers several levels of brightness. The USB port on the right of the machine's front panel is intended for hard discs and memory sticks for the BluRay disc mechanism. The headphone socket has its own high-quality amplifier, and switches off the integral loudspeakers completely when in use.
The sockets on the back panel are a clear indication of the impressive facilities of the Caruso blu.
The machine is primarily conceived as an audio device; it can be employed as a great-sounding compact system, but can also be upgraded to form a high-quality Hi-Fi system. That's why it retains two analogue inputs, intended for sources such as a turntable (with phono pre-amplifier) and a further analogue device. If your intention is to make the Caruso blu into a classic Hi-Fi system with separate loudspeakers, then the RCA pre-amplifier outputs are ideal for active bookshelf monitors.
If you wish you can switch the integral speakers off, allowing only the two stereo active loudspeakers to operate, but an alternative is to switch the integral speakers to the Centre role, supporting the stereo loudspeakers; an active subwoofer generates additional low bass. In this guise the unit forms an excellent 3.1 system. The menu system provides a simple method of selecting and setting up the various possible functions and configurations.The unit incorporates the same high-quality BluRay disc mechanism employed in our K2 Blu AV Receiver. This means that DVDs and BluRays can be played through a monitor or TV set, as well as CDs for pure music reproduction. The HDMI output is of very high quality, while the modern disc mechanism supplies an outstanding picture; the video processor even features a high-quality up-scaler for DVDs. The newly developed DAB+ and VHF tuners sound superb, and fully justify the use of a high-quality external aerial, which is strongly recommended. Access to new music media is via the LAN socket or the WLAN aerial; the Caruso blu automatically detects the streaming sources connected to it, allowing the facilities of your network and the Internet to be exploited to the full. The Caruso blu even features the network circuit board and software fitted to our streaming client, because this technology and its control system deliver the best sound results possible, as proved by the thousands of these machines currently in use. Sound quality from such sources can be even higher than from the original CD – depending on the definition of the stored music. The most significant feature of the Caruso blu is that it reveals the difference.
Mehr anzeigen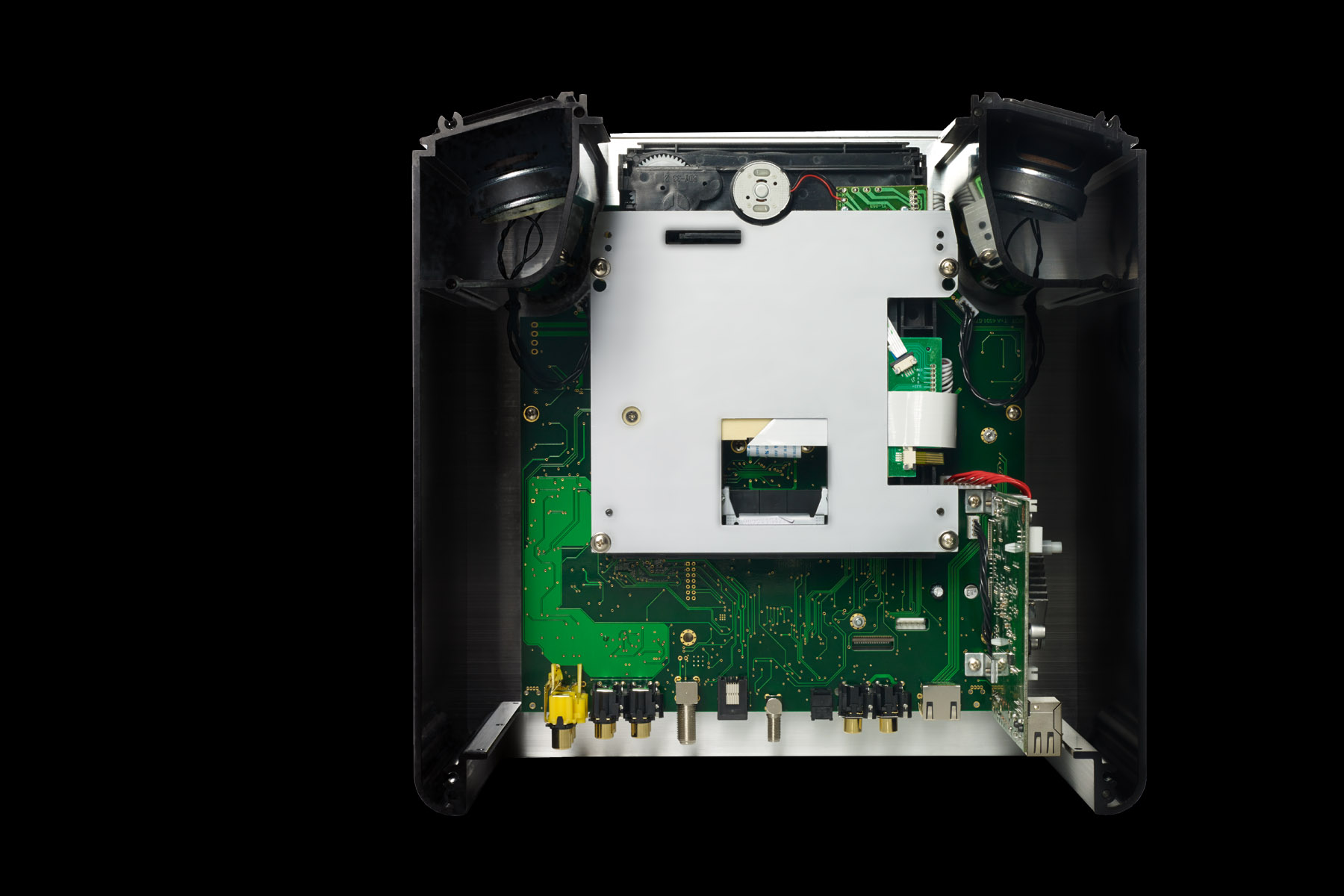 Mechanism
3-laser BluRay linear mechanism on vibration-damping sub-chassis
HDMI-Audio output
PCM Stereo, HD-Bitstream out, Bitstream Legacy,
HDMI-Video output
HDMI 1.3; PAL, NTSC, 4:3, 16:9, Letter Box, Pan Scan
Disc audio formats
CDDA (Audio CD), MP3 CD, CD R, CD/RW, Hybrid SACD CD Layer
Disc video formats
BluRay Disc, DVD, VCD, SVCD
Disc photo formats
JPEG Picture CD
Formats
MP3 , WMA, AAC, FLAC, OGG-Vorbis, LPCM, WAV, ALAC, AIFF
Media server
UPnP AV, Media Player 10 (WMDRM10)
vTuner Internet Radio Service,
DLNA compatible servers
Interfaces
USB 2.0, LAN, WLAN
Bluetooth
A2DP / AVRCP Bluetooth Audio transfer protocol
Reception standard
FM, FM-HD
Frequency response
87.5 - 108 MHz (Europe / US version)
76 - 90 MHz (Japan version)
Sensitivity Mono
26dB S/N / 0.9 μV
Sensitivity Stereo
46 dB S/N / 40 μV
Overload margin
103 dB μV
Total harmonic distortion
0,1 %
Signal : noise ratio (mono / stereo)
72 / 62 dB
Stereo channel separation
46 dB
De-emphasis (Europe / US version)
50 μs / 75 μs
Data services
RDS / RDBS, station name (PS), programme type (PTY), Radiotext (RT), clock
Reception standard
DAB, DAB+
Frequency response
168 - 240 MHz (Band III)
Sensitivity (BER = 10-4 )
2,5 μV
Overload margin
103 dB μV
Inputs analogue
2 x Aux, 2 V / 20 kOhms
Inputs digital SP/DIF (16 - 24 Bit):
2 x coax (192 kHz),
1 x TOS-Link (96 kHz)
Headphone output
for dynamic headphones > 30 Ohms
Bass range
1 x 50 Watts continuous output
Mid-range / high-range
2 x 50 Watts continuous output
Total harmonic distortion
< 0,02 %
Sound management
DSP controlled sound characteristics
Outputs
PRE Out Cinch, SUB Out Cinch
Mains / Accessories / Dimensions
Mains
Automatic mains voltage switching,
100 - 240 V, 50 - 60 Hz
Accessories
FM100 system remote control handset, WLAN aerial, FM aerial
Features
Variable screen brightness, three-time alarm timer
Dimensions (H x W x D)
18 x 28 x 28 cm
Finish
Black case with silver covers
Technical modifications reserved
Der Caruso Blu lässt keinerlei Ausstattungswünsche offen und bietet die Möglichkeit, sämtliche modernen Tonquellen zu nutzen. Seine Bilddarstellung ist tadellos, das Laufwerk liest Blu rays sehr zügig ein. Die Vielseitigkeit des schicken Würfels ist fast grenzenlos, auch bei der Qualität hat T+A die Messlatte erneut sehr hoch angesetzt: Sowohl mit CDs als auch im Streaming Client-Modus klingt der Caruso wirklich ausgezeichnet. Spätestens wenn man externe Aktiv-Lautsprecher anschließt, wird klar: Der Caruso Blu ist (auch) eine HiFi-Anlage für gehobene Ansprüche. Die Summe seiner Qualitäten bringt dem T+A Caruso Blu die Highlight-Auszeichnung des AV-Magazins ein.


Herforder Thrills
Klanglich sehr stark, in der Ausstattung der King, toll verarbeitet.
Das vielfältige Highlight Caruso Blu erfährt durch den Einbau des Blu-Ray-Laufwerks samt BD-Live Bonus eine deutliche Aufwertung. Dass bei der Renovierung der Klang nicht zu kurz kam, erfreut umso mehr.
Verarbeitung: überragend
Preis/Leistung: sehr gut

Die Herforder haben wirklich an alles gedacht und bieten ein stimmiges und sehr hochwertiges All-In-One-System. In Sachen Klang, Bedienung, und Ausstattung ist der stolze Sangesknabe allen uns bekannten vergleichbaren Kompaktanlagen haushoch überlegen. Egal, ob als Küchenradio, als Kompaktanlage oder als Extravagantes AV-System: Der Caruso Blu ist ein geborener Entertainer.

One Man Show
Mit dem Caruso Blu hat T+A einen würdigen Nachfolger seines Klassikers erschaffen, der die neuesten Wiedergabemöglichkeiten in einem Gehäuse vereint. Egal ob als High End Küchenradio, als Zweitanlage oder als vollwertiges HiFi-System, der Caruso Blu wird in allen Bereichen seine Stärken ausspielen.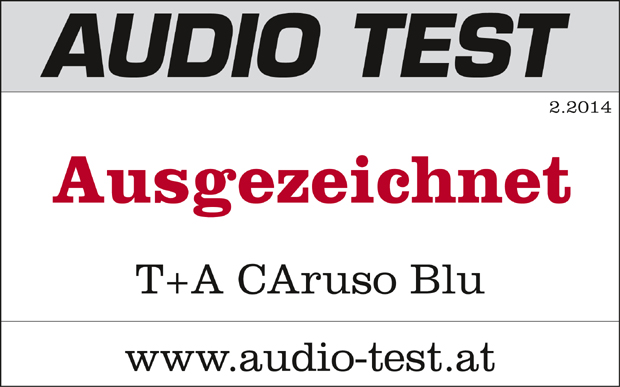 Beeindruckend ist nicht nur die erstklassige Ausstattung des Caruso blu, sondern auch die technische Perfektion  dahinter. Beispiele gefällig? Die eingebaute Uhr weckt nicht nur zu drei unterschiedlichen Zeiten, sondern auch mit individuell einstellbarer Lautstärke und Display-Helligkeit. Auf der Rückseite des Caruso finden sich nicht nur zwei Analog-Eingänge. Die Empfindlichkeit jedes Cinchbuchsenpaares lässt sich im 0,5-Volt Raster anpassen. Videasten freuen sich nicht nur über das tadellose Bild, sondern auch über eine einstellbare Tonverzögerung, die die Laufzeiten der Videosignalverarbeitung ausgleicht und dafür sorgt, dass der Ton synchron zum Bild läuft. Auch Bluetooth klappte auf Anhieb. Mein Samsung-Tablet loggte sich ohne zu zicken ein und funkte meine dort abgespeicherte Musiksammlung zum T+A. Perfektion gilt auch für das Bild.
Das Setup für das Blu-ray-Laufwerk beinhaltet von Deep Colour (Erweiterung der Farbtiefe) bis zum CEC-Support (auf andere Geräte übergreifende Fernbedienungsfunktion) alles Sinnvolle rund um Blu-ray. Die Entwickler duldeten keine Kompromisse beim Bild und Ton. Gemessen am bescheidenen Volumen der Einbau-Lautsprecher musiziert der Caruso blu geradezu sensationell. Und mit seinem Bild kann er selbst mit ausgewachsenen Einzelkomponenten locker mithalten. Klarer lässt sich ein Referenz-Status nicht definieren.